Primary School - Previous Activities
<<< Back to School page
Winter Healthy Tiffin
This year our school had requested all parents to send "My Winter Special Tiffin" according to the following chart in the month of October and November 2017.
"My Winter special" theme examples:
| | |
| --- | --- |
| Salad with chat masala | Finely chopped slices of Cucumber, Tomato, Beetroot, Reddish, Carrot etc…. |
| Laddu | Rawa, Besan, Oats, Moong, Nachani, Poushtik, Rajgira etc… |
| Sprouts (Half baked / Half cooked) | Green Gram, Pink Lentil, Moth bean, Well baked beans etc… |
| Fruits | Any seasonal fruit slices |
| Dry Fruits | Any two types of dry Fruits |
Since we know... Today's Healthy child is going to build Tomorrow's Healthy Nation!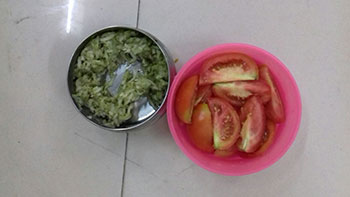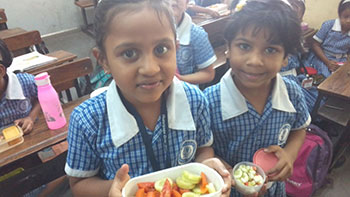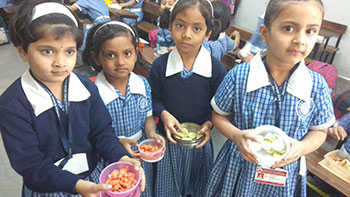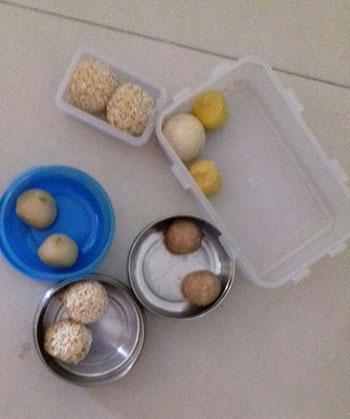 Hindi Session / Workshop
We have arranged a parents' workshop specifically for Hindi Subject on 6th, 7th & 8th Nov. 2017. Session had three sub sessions of half an hour each.
Language development through - 1) Skills 2) Digitalization 3) Games
Three teachers (Smt. Kirti Pandit, Smt. Krishna Malwade and Smt. Radhika Washikar) conducted these sessions. Parents gave overwhelming response to this activity.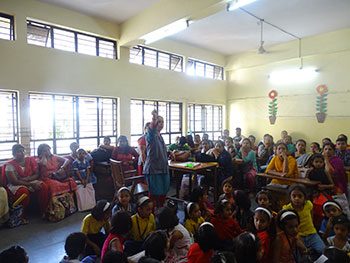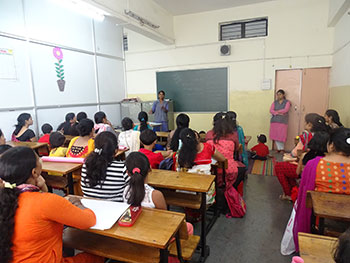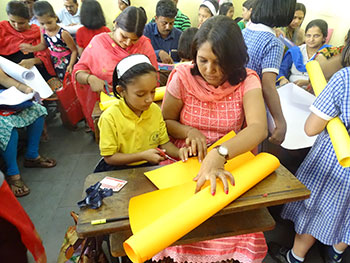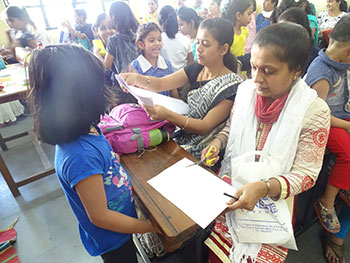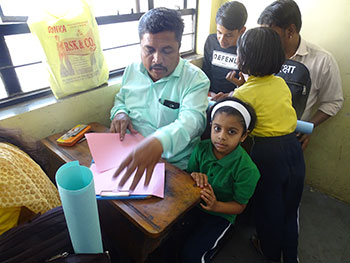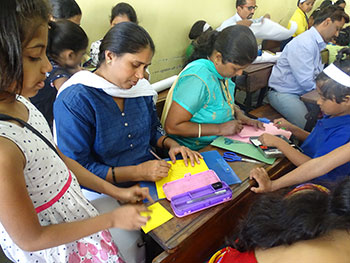 Dussehra and Bhondala Celebration
Slate is a symbol of Goddess Saraswati and knowledge. Therefore, on Dussehra students offered prayers to slates (Paatipujan) in their respective classes.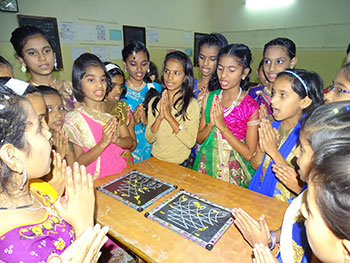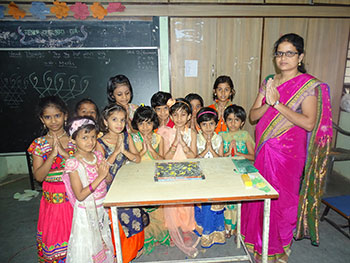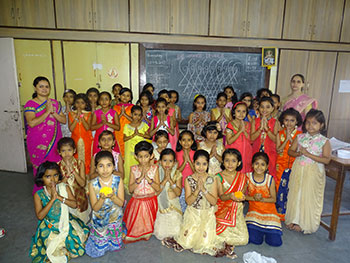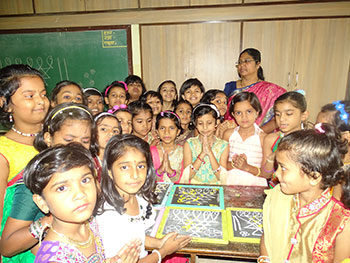 Bhondala was celebrated with lots of enthusiasm. All students along with their teachers, did the poojan of an elephant as symbol of prosperity. Various Bhondala songs were sung and all enjoyed a lot.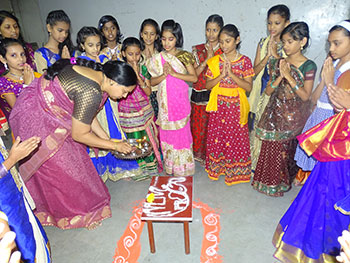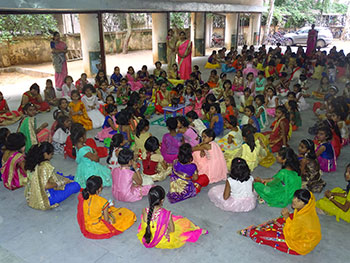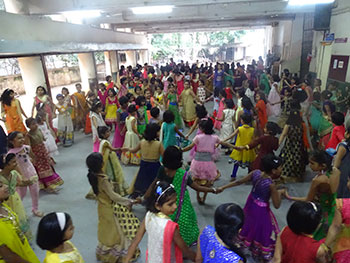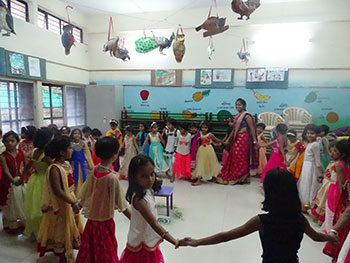 Dahi-handi Celebration
During Dahi-handi celebration, school campus was filled with a lot of enthusiasm, joy and cheer. Our students played role of 'Govindas'. They made several attempts to reach the handi, made a pyramid and finally had broken it. Campus was then filled with zeal.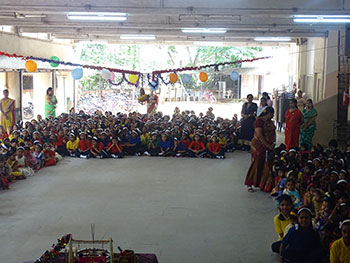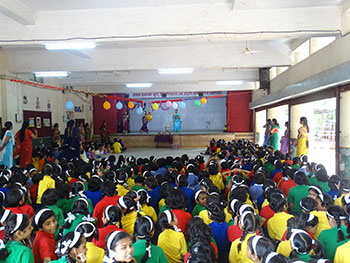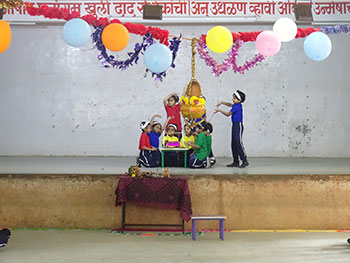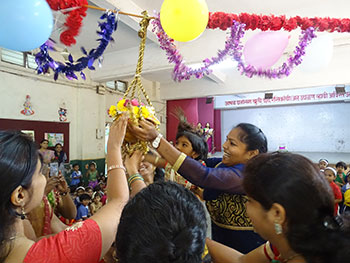 Diwali Celebration
Diwali the festival of lights was celebrated in an innovative way in the month of October 2017. Students painted diyas and made lanterns. School organized Staff Rangoli Competition for teaching, non-teaching staff and for students as well. On Vasubaras eve of Diwali, beautiful Rangolis were drawn which added to the festive mood. Everyone gave an overwhelming response. School glittered in the light of all the efforts put in by all.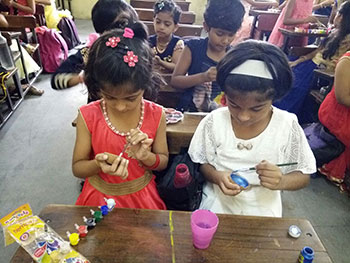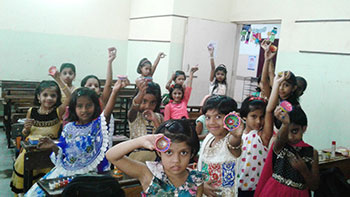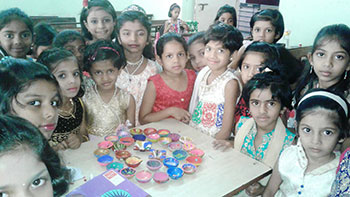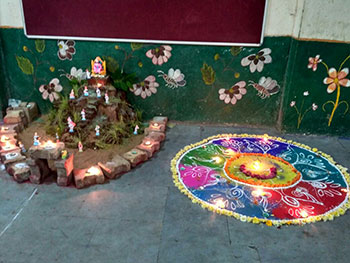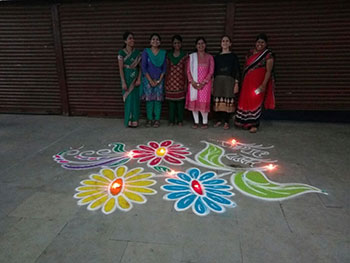 Annual Gathering (Year 2017-18)
Always most awaited programme of the year is Annual Gathering. It was held on 11. 12. 2017. The theme was "Empowering self through culture". It came out as a mega event celebrated in a royal way at Annabhau Sathe Auditorium. Our potential artists put up a glorious performance and rocked the stage. The audience were enthralled and mesmerized by the theme and execution of the program.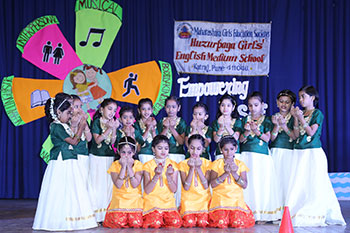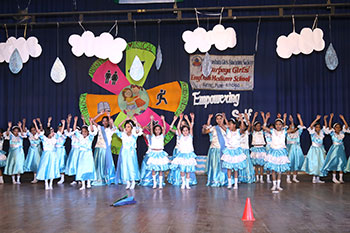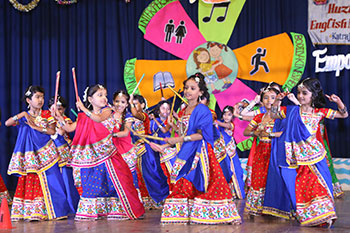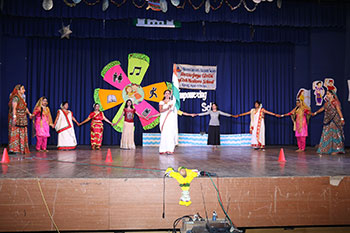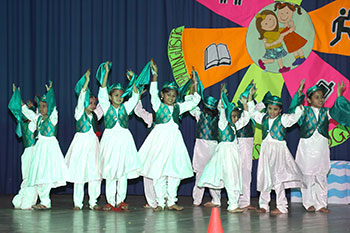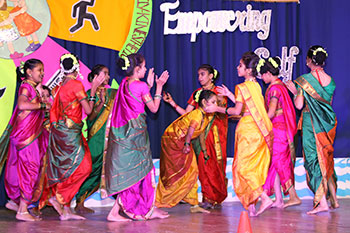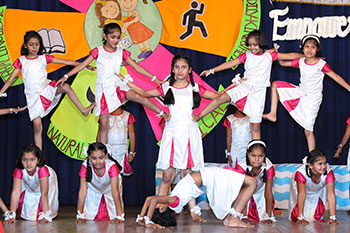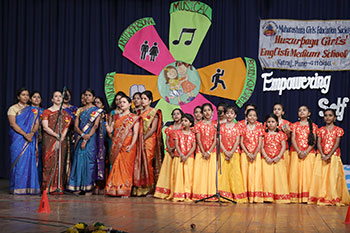 Dhyanchand Day
Dhyanchand Day or The National Sports Day is celebrated on 29th August each year. This day marks the birthday of the Legend Dhyanchand. School organized following things to celebrate Dhyanchand Day
1. Aerobics performance
2. Hurdle race
3. Mini Marathon (Running 1km) from Huzurpaga Katraj school campus till Katraj chowk.
Miss. Shivaneri Chinchawale our Sports teacher explained the contribution of Legend Major Dhyanchand in the Indian sports through Power Point Presentation.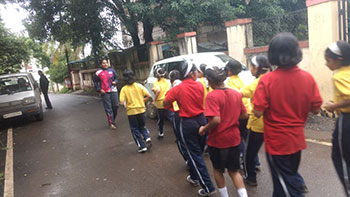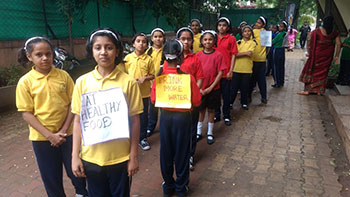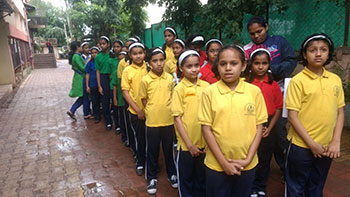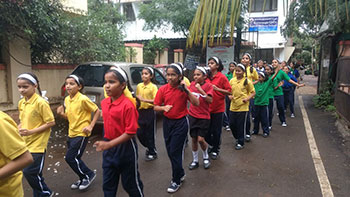 Parenting Session
Parenting session was held on 12th August 2017. It was conducted by Smt. Uma Bapat a well-known and experienced person in child development and child psychology. Parents felt thankful for arranging such an interactive and lively session.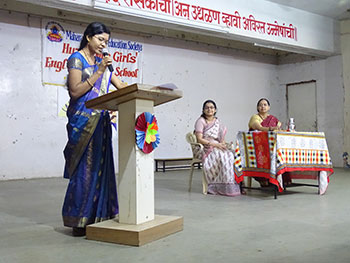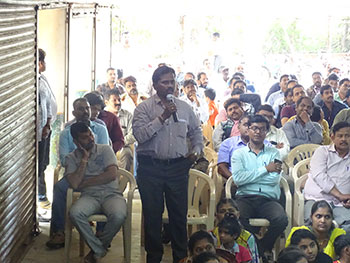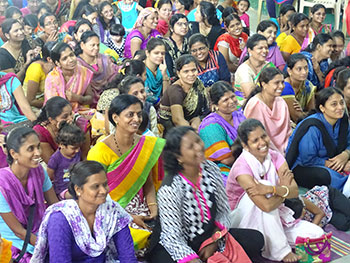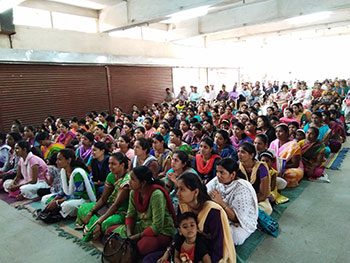 Independence Day
Independence Day was celebrated with patriotic songs, sanskrit skit, swacch abhiyaan, dumbbells performance, human pyramids and a dance.
Our chief guest Smt. Mangala Gaikwad narrated a story of freedom fighters. Our MGE Joint Secretary Shalini Patil was present to motivate our students and staff.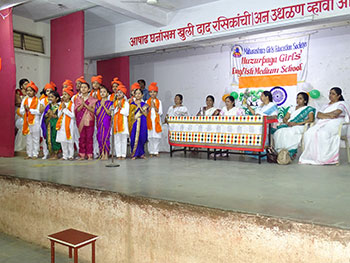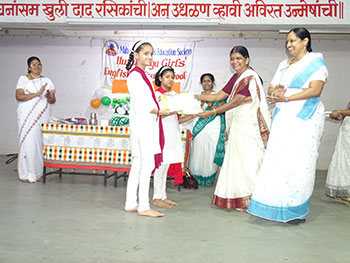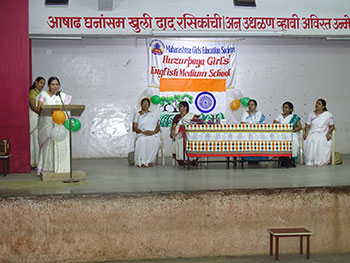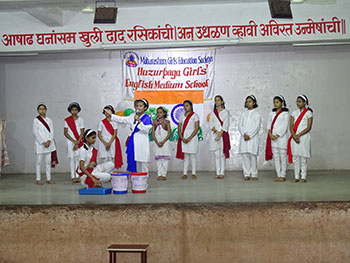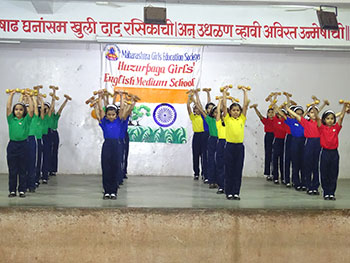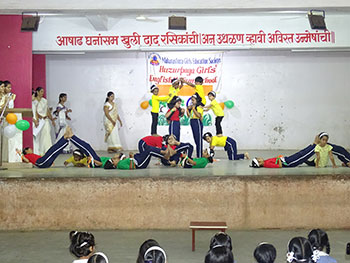 Shravan Sari
The functions and festivals in the month of June, July and August were combinedly called as 'Shravan Sari' program. The program was celebrated on 19th August 2017. The program included songs, dances and speeches.
Each class was in charge of displaying one festival and one important day. We celebrated various festivals like Gurupornima, Dahi-handi, Bail-pola, Mangalagour, Krishna Janm, Pateti, Eid. as part of the event 'Shravan Sari'.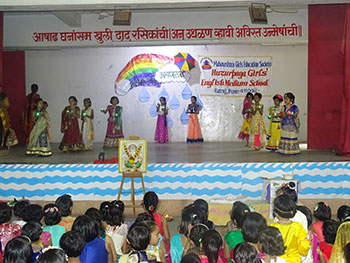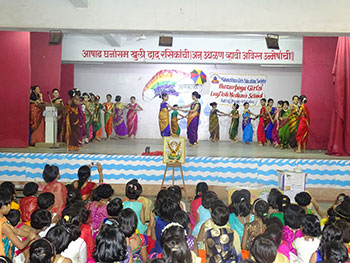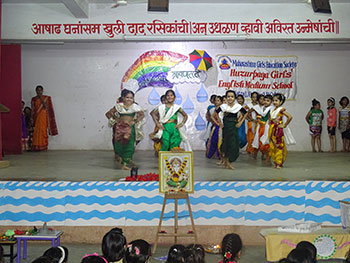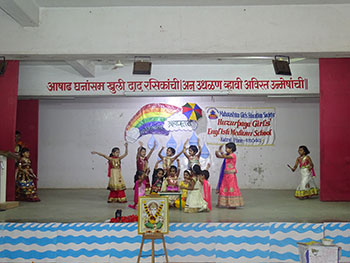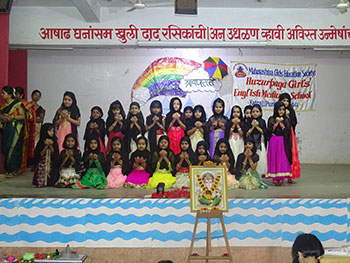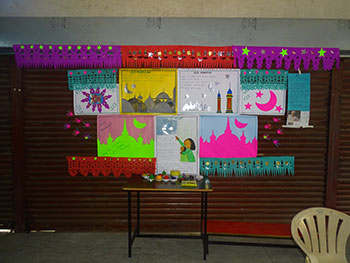 Field Trip
On 23rd August 2017 students from 1st and 2nd Std. visited Chatrapati Shivaji Udyan and Sarasbaug.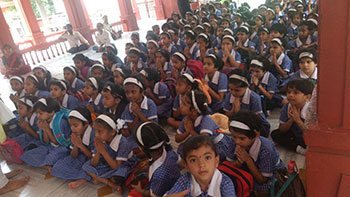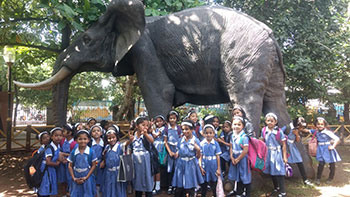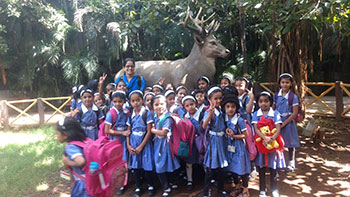 On 24th August 2017 students from Std. 3rd to 6th climbed Parvati, visited Peshve Museum and Talajai.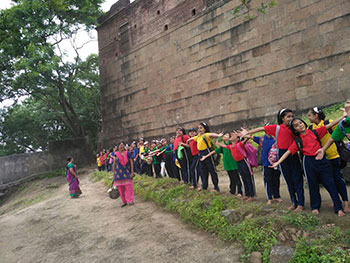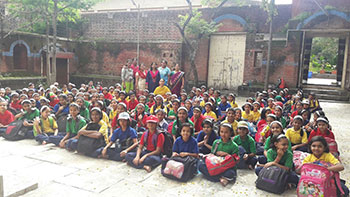 Ganapati Celebration
Ganesh festival was celebrated with lots of enthusiasm during 26th to 31st August 2017. Aarti was performed by each class daily.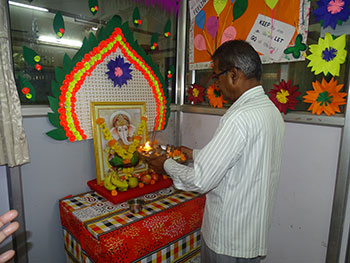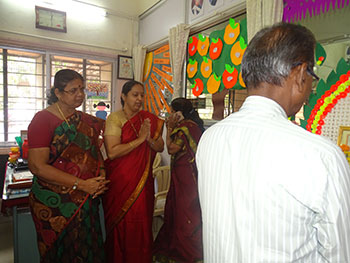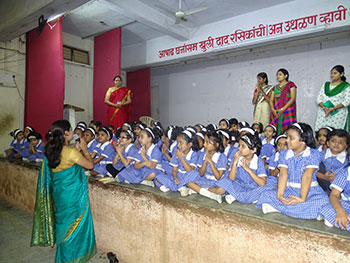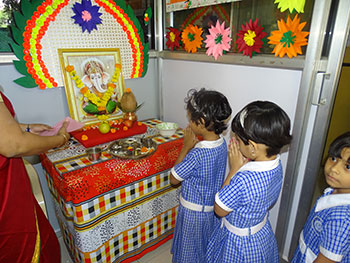 Vaachan Prerna Din – Reading Day
Vaachan Prerna Din was celebrated on the birth anniversary of Dr. A. P. J. Abdul Kalam.
We believe that reading is the best exercise for young minds. So we always try our best to inculcate the art of reading in our students. On Vachaan Prerna Din 2 hours were devoted for reading. Students brought their favorite books and read it to everyone in the class.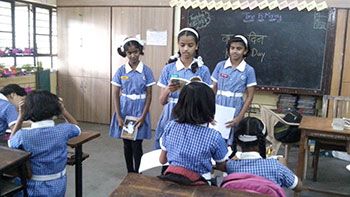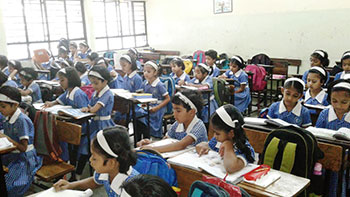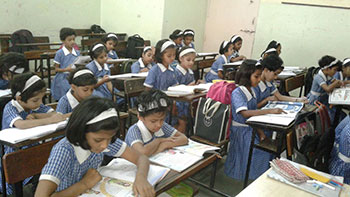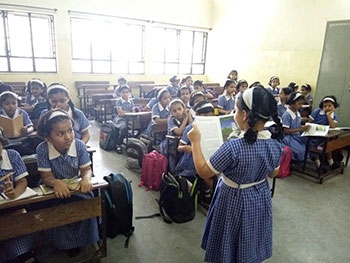 Educational App training for teachers
This training was organized by school for teachers to use mobile as a teaching tool in classroom. Teachers were introduced to the world of different apps which are very useful for the teaching methodology and could make learning interesting for students.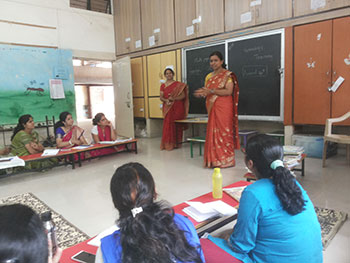 Magazine Release
Huzurpaga Girls' Eng Med School's Magazine "BLAZE" was released on 29th April 2017. Our annual Magazine Blaze has four sections - child development, Parenting, students' literature and achievements. There are lovely photos of activities, poems for children and many short stories for parents to read.
We are very proud to announce that our school magazine "BLAZE" secured second position in the Magazine Competition conducted by Maharashtra Girls' Education Society for Year 2016 - 17.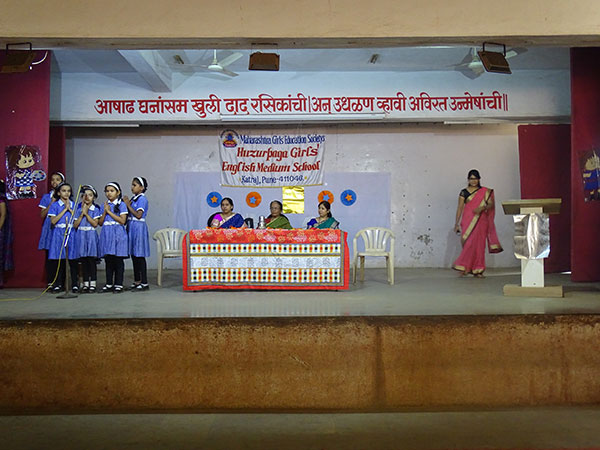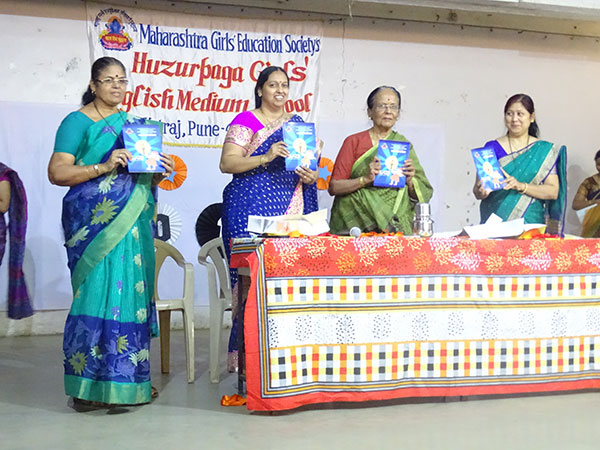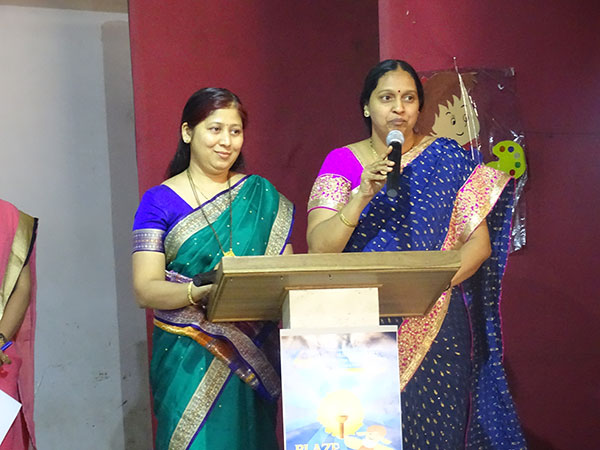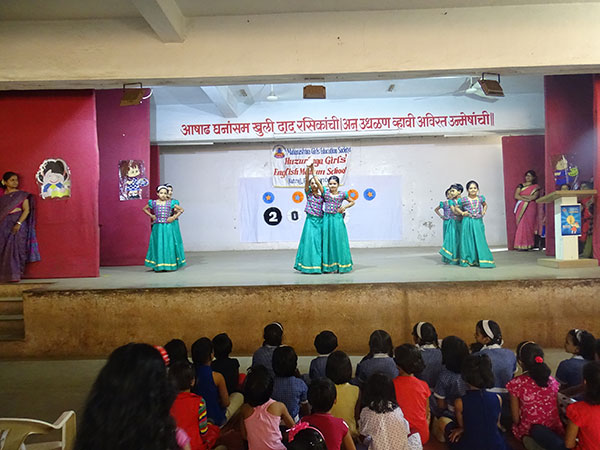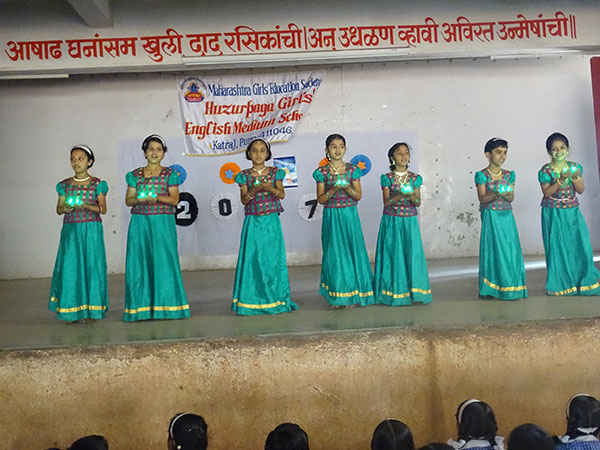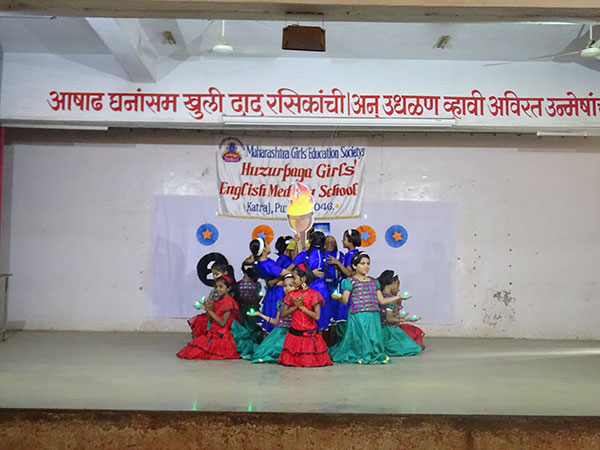 Effective Teaching Aids Making Training Session
Maharashtra Girls' Education Society has arranged a two days Puppet Training programon 12th June 2017 and 13th June 2017, by Mr. Waghmare Sir from VidyaPradhikaran, Pune.
All teachers learnt to make puppets by using simple techniques and simple raw material as well. They acquired the skill of using it effectively as one of the teaching aids.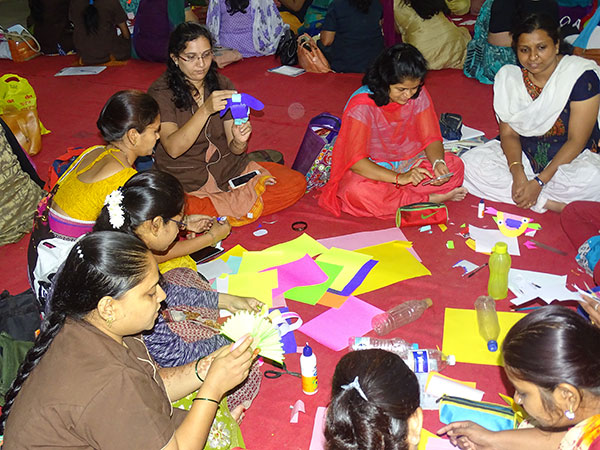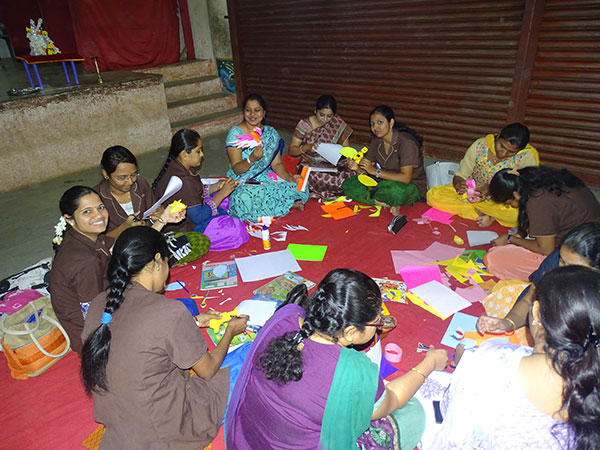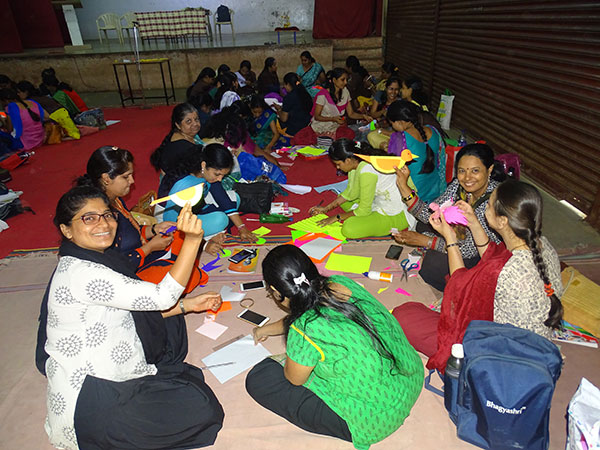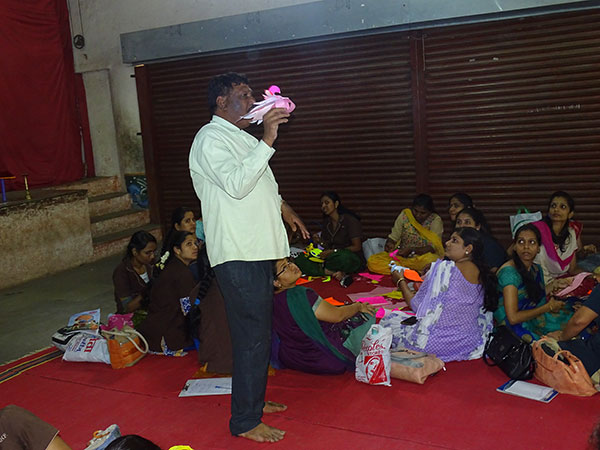 First Day of School
Our school reopened on 15th June 2017. Students were very happy to do various activities like shadow play, puppet show, craft activities, games and puzzles right on the very first day of the school.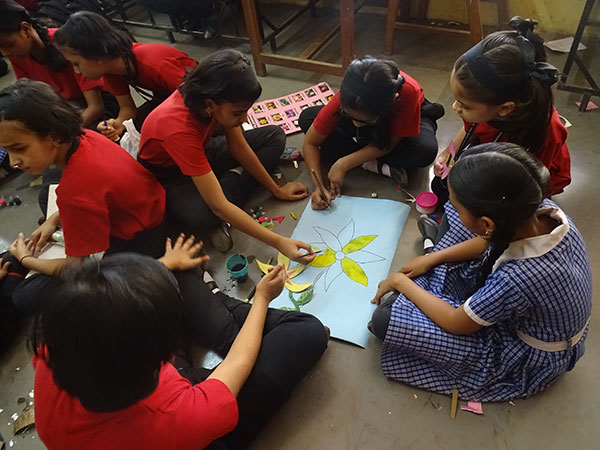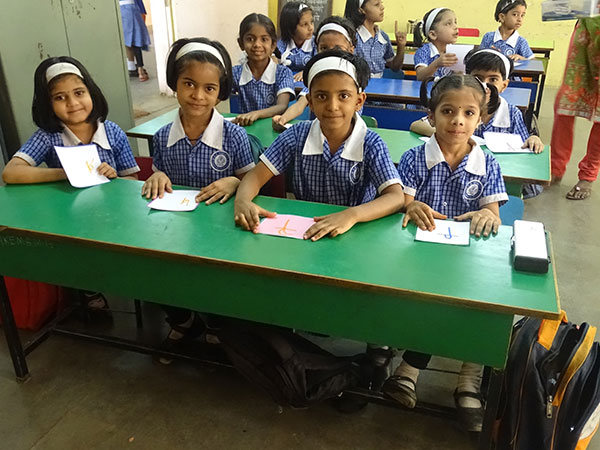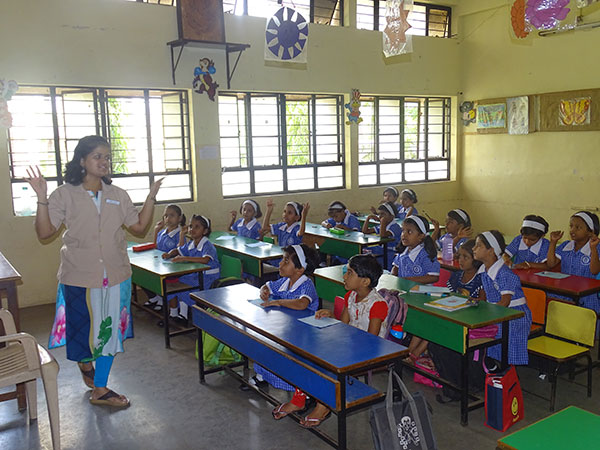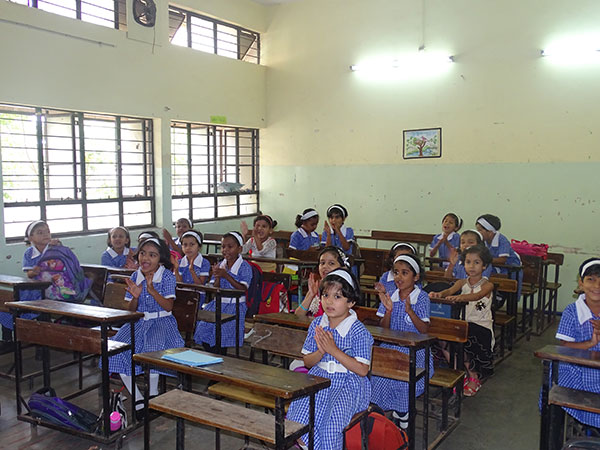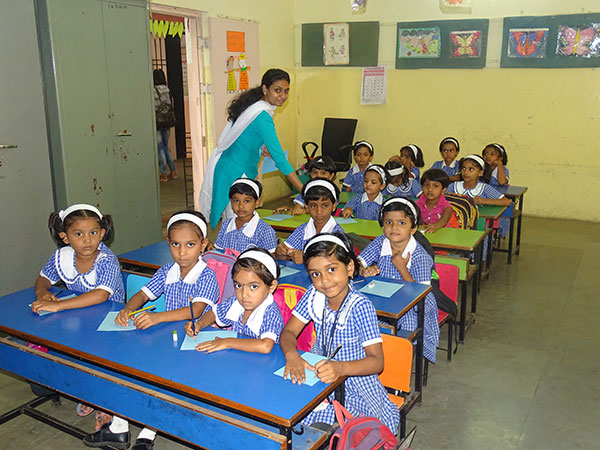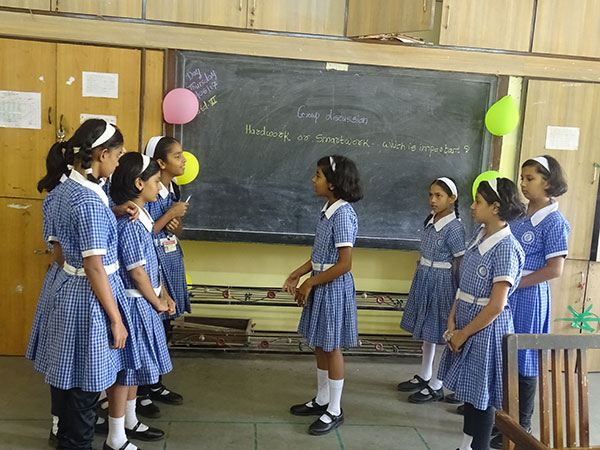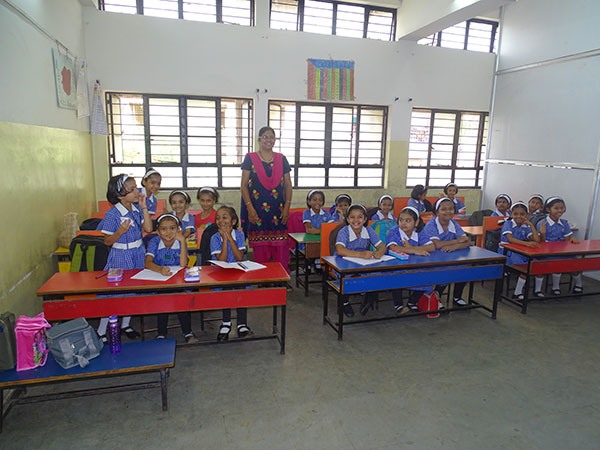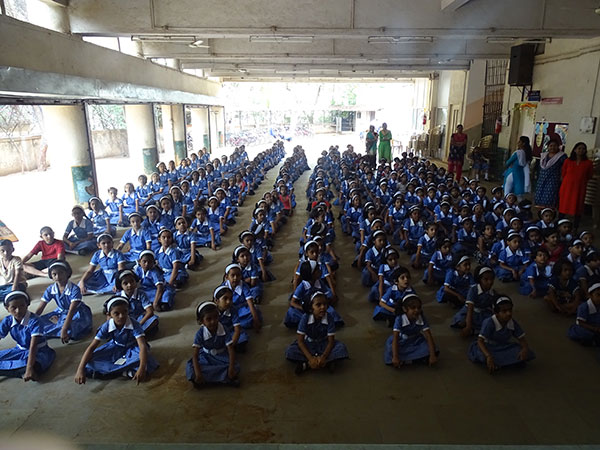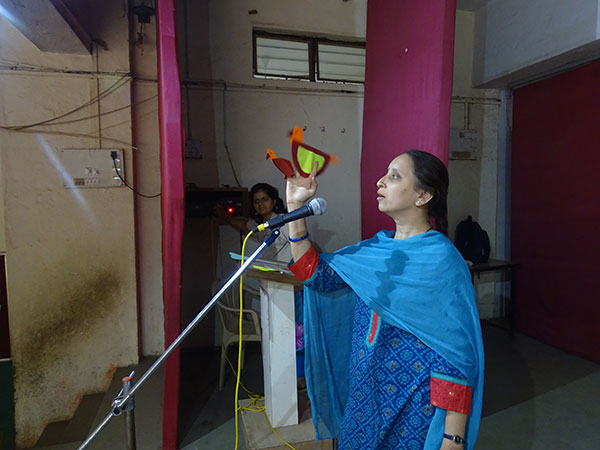 First Executive Committee Meeting
The first P.T.A meeting for executive committee was held on 24th June 2017. Executive committee was formed by the following method:
1st Step - Teacher asked interested Parents to come forward as the contestants.
2nd Step - By lottery system one parent from each class was selected.
3rd Step – The vice chairperson and two joint secretaries were short listed again by lottery method among the selected parents.
Executive Committee members for Year 2017 - 18:
| | | |
| --- | --- | --- |
| | Name | Designation |
| 1. | Mrs. Priyadarshani Purohit | Chairperson |
| 2. | Mrs. Anuradha Pawar | Vice Chairperson |
| 3. | Ms. Pooja Shimgekar | Secretary |
| 4. | Mr. Malhar | Joint Secretary |
| 5. | Mr. Anilkumar Kadam | Joint Secretary |
| 6. | Mrs. Malhar | Member |
| 7. | Mrs. Karuna Bhoyar | Member |
| 8. | Mrs. Jyoti Kharsade | Member |
| 9 to 13 | One teacher from each standard | Member |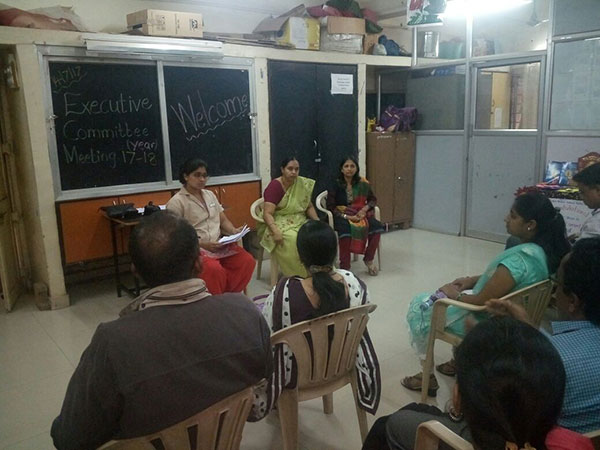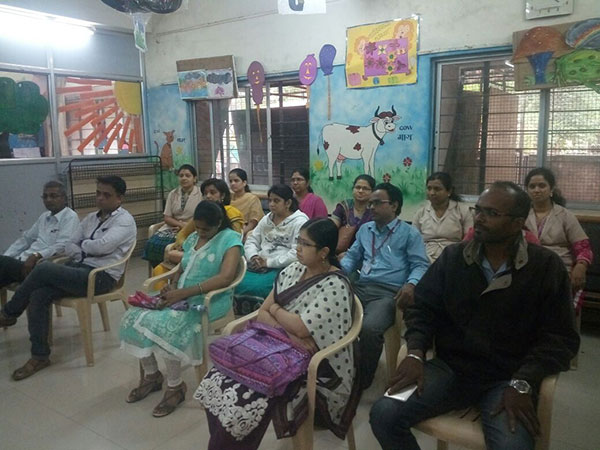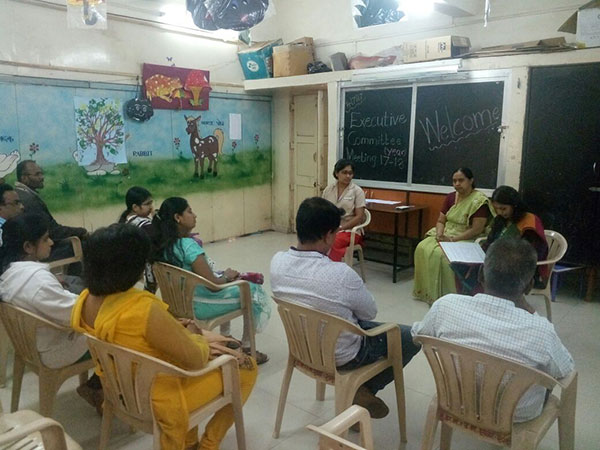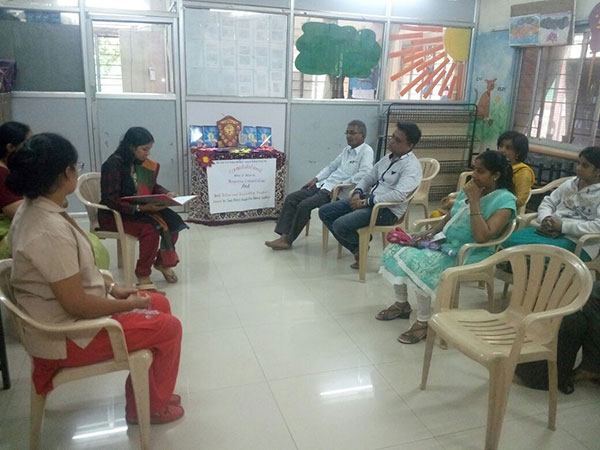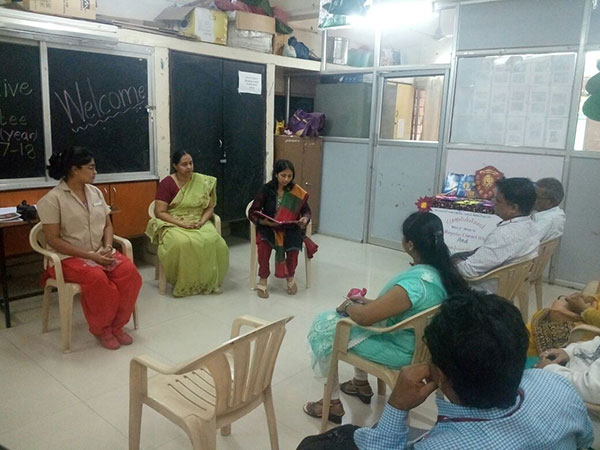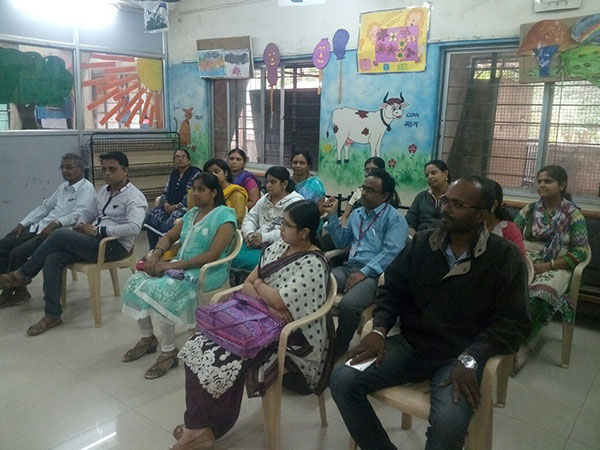 Orientation and P.T.A Meeting
Parent Teacher Meeting was held on 30th June 2017. Class teacher and subject teacher were introduced to the parents.
Smt. Priyadarshani Purohit, the principal explained rules and regulations of the School.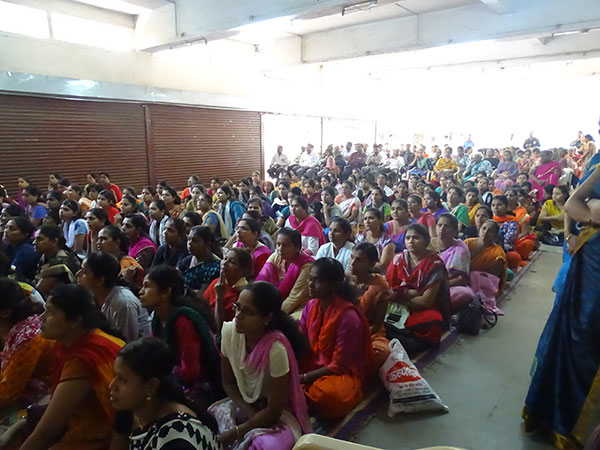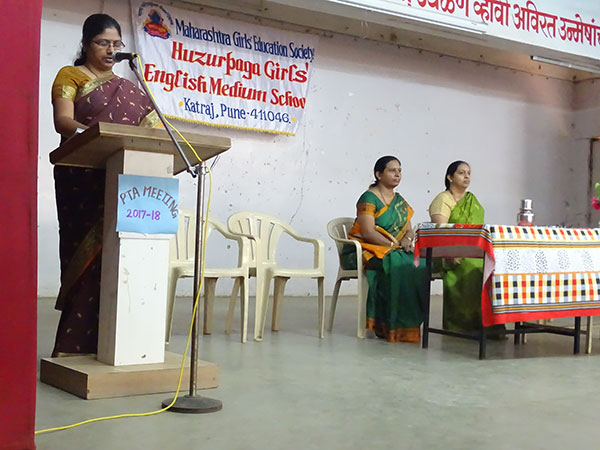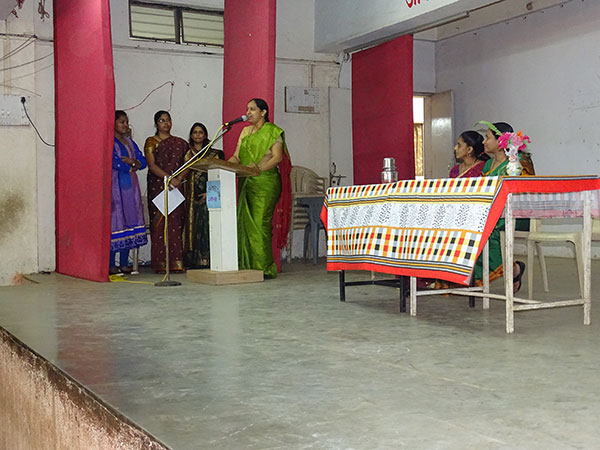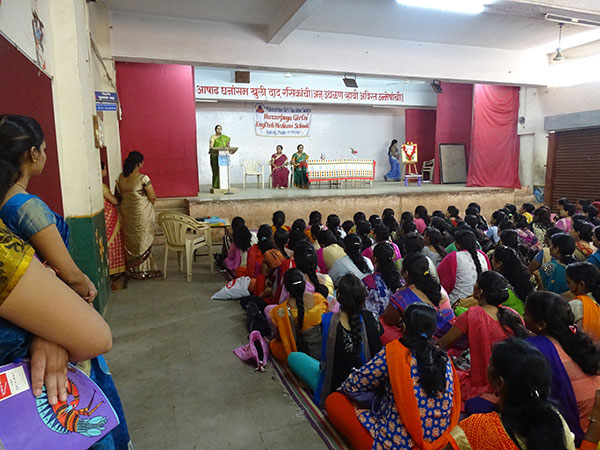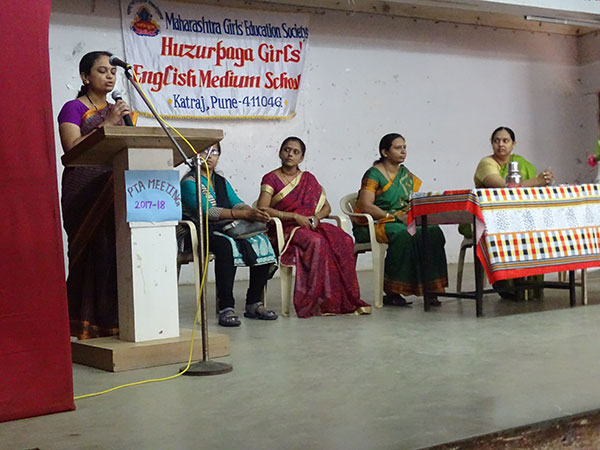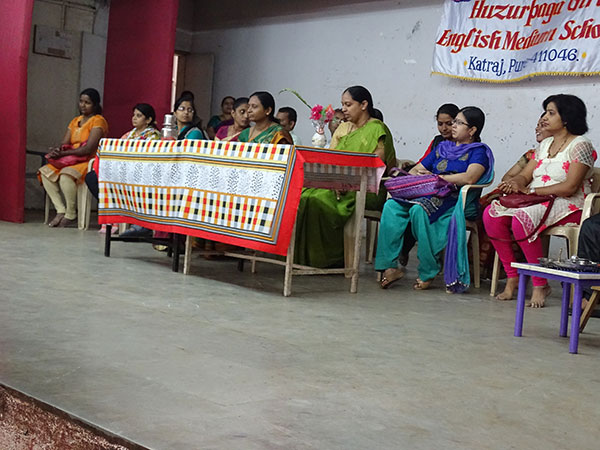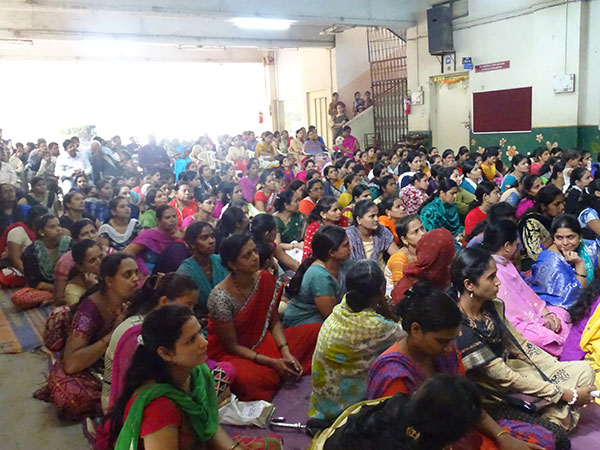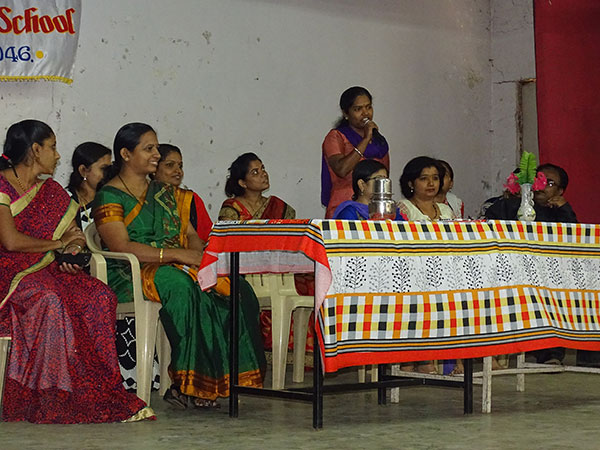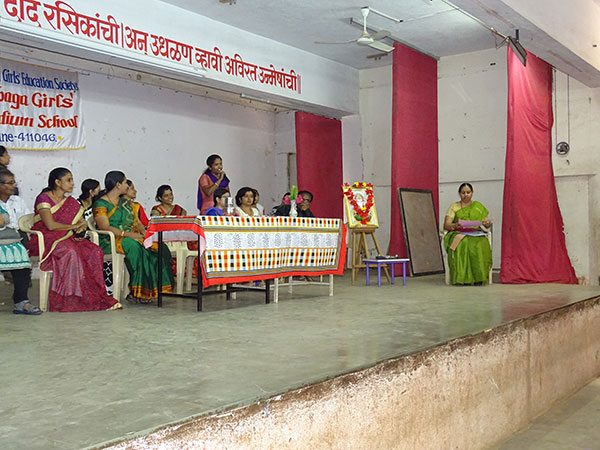 Yoga Day and Environment Day
Yoga Day and Environment Day was held on 1st July 2017. Children Performed different yoga exercise. Importance of Yoga in our day to day life was explained to the children.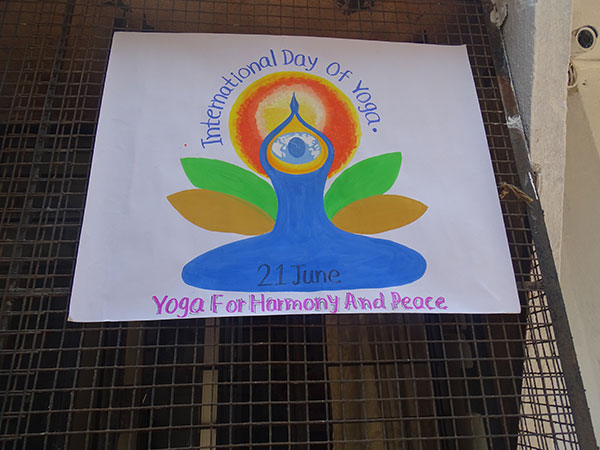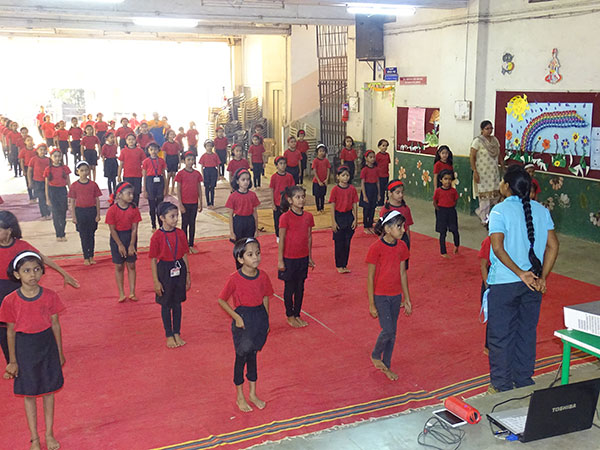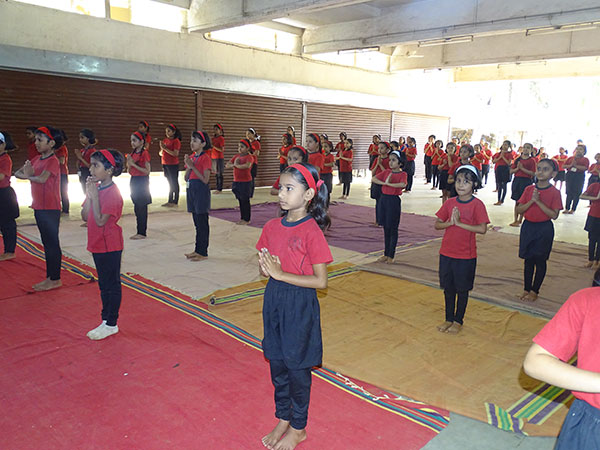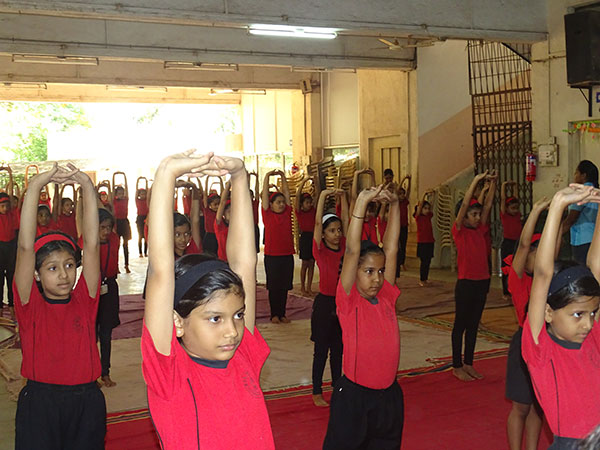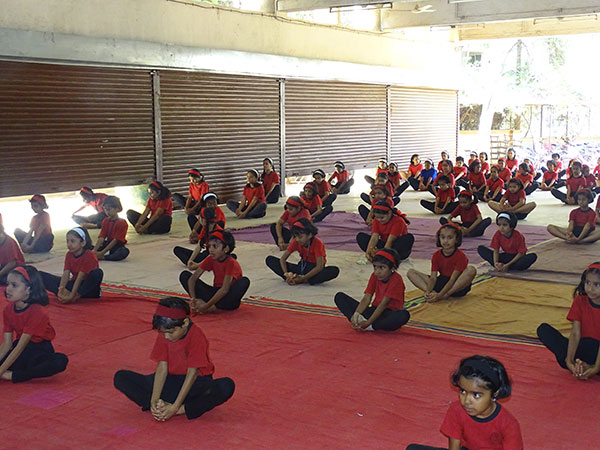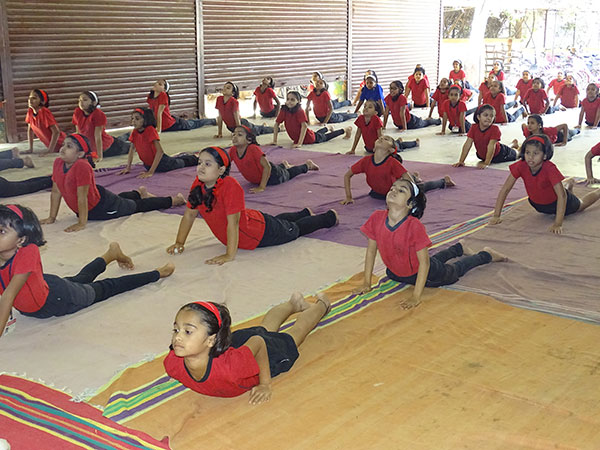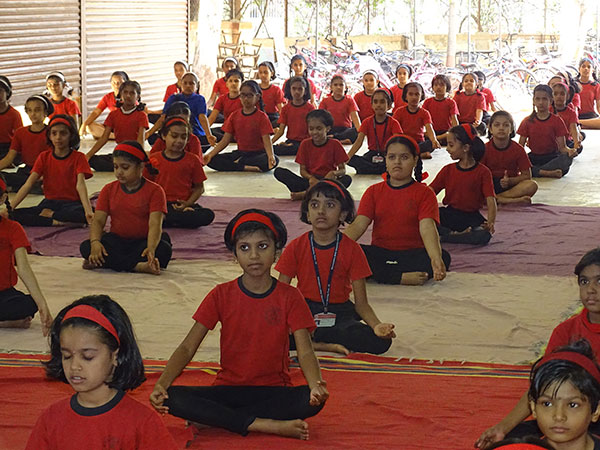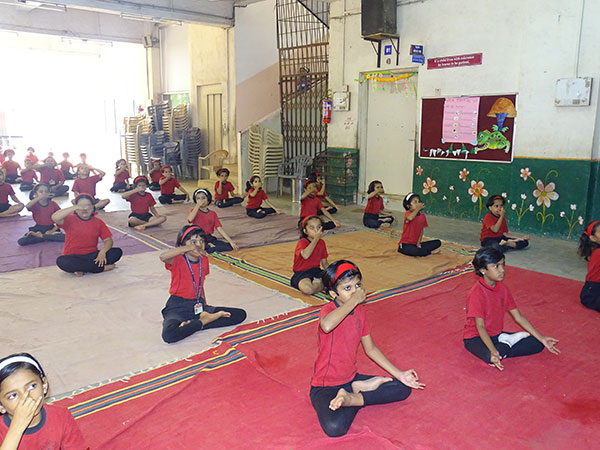 Plantation Day
World Environment Day was celebrated on 1st July 2017 with full enthusiasm by our School. Our principal and students participated in Plantation drive to make our surrounding green.
Our children participated in many interschool competitions also in the year 2016 - 17.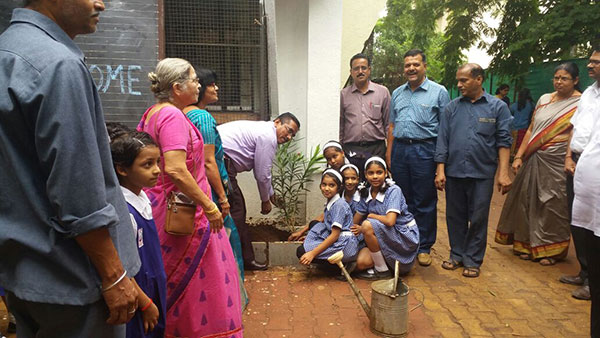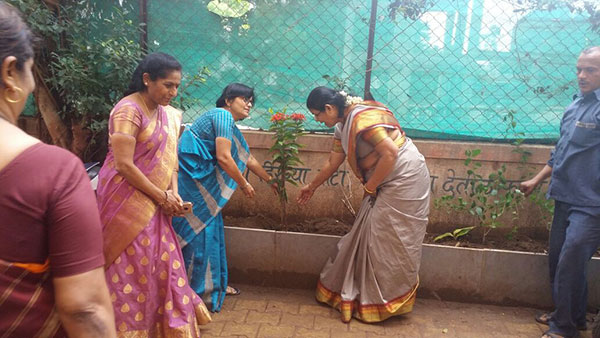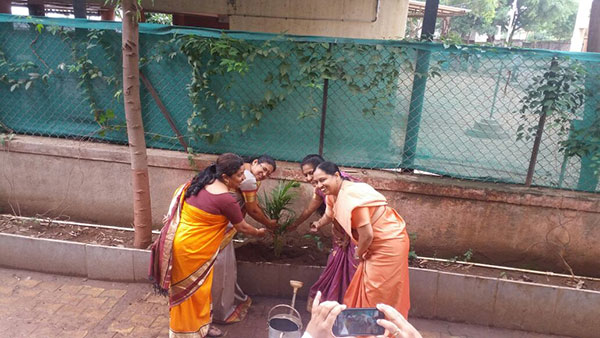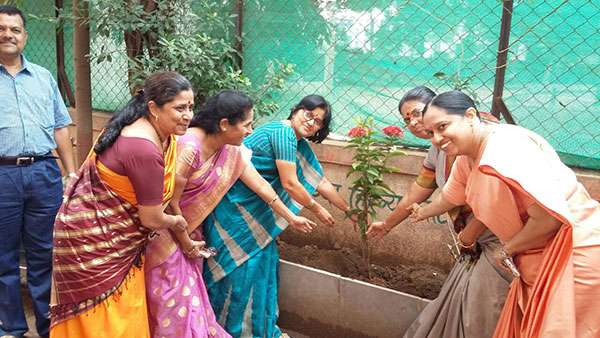 Palakhi Celebration
Palakhi Celebration was done on 3rd July 2017. Students wore traditional costumes. Songs and dances were performed. Palakhi poojan was done by Smt. Purohit, the principal and then Palkhi procession took place. Children were holding placards with various slogans based on "Healthy Food", "Stay Fit", "Cleanliness & Hygiene habits", "Say No to Junk Food" and many more…..
Students of Std VI performed a Street play based on the topic "Cleanliness" during procession.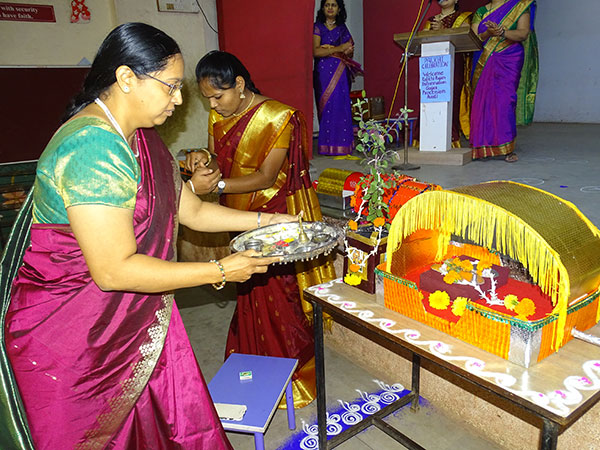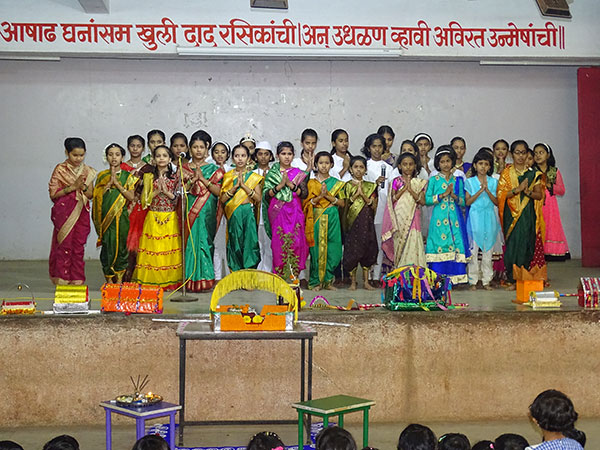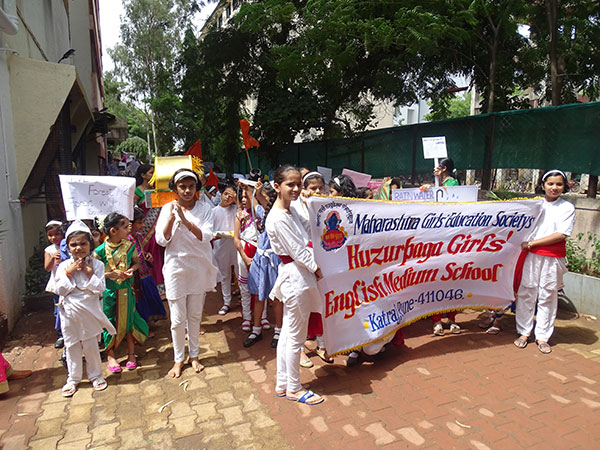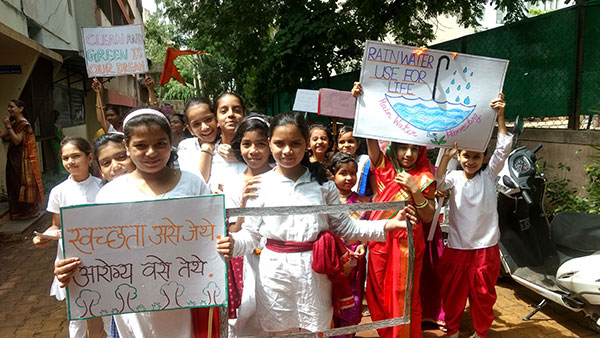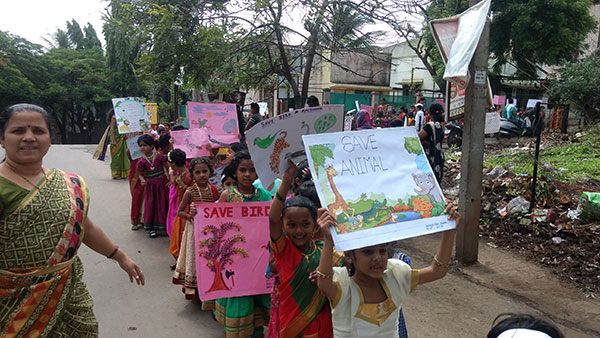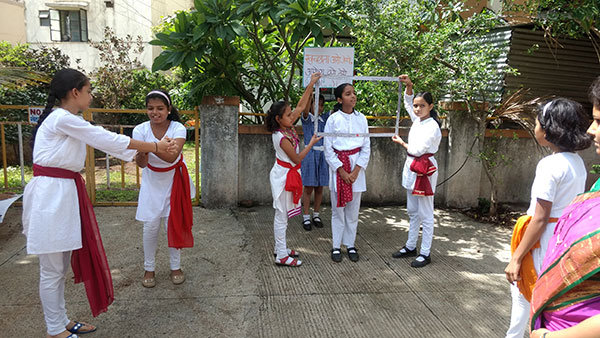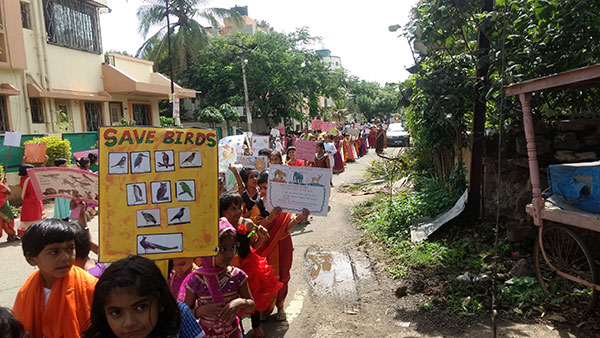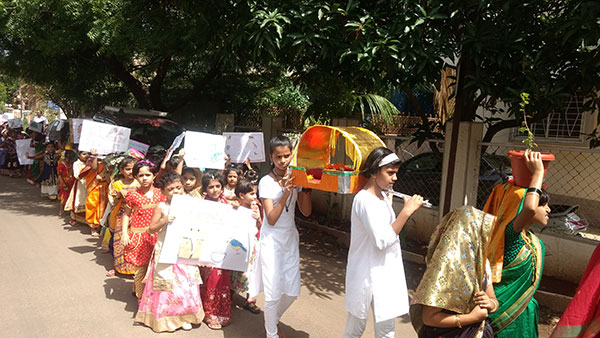 School Election
School supervised Students' Council Election on 7th July 2017.
Ten students were elected from twenty - five contestants.
Students' Council - Year 2017 - 18:
| | | |
| --- | --- | --- |
| | Name | Designation |
| 1. | Ranjane Siddhi( Std VI ) | Captain |
| 2. | Nimbalkar Maithili( Std VI ) | Vice Captain |
| 3. | Siddhi Walnaker( StdVI ) | Blue House Prefect |
| 4. | Nayan Wankhede( Std V ) | Blue House Vice-Prefect |
| 5. | Soundarya Gumare(Std VI) | Green House Prefect |
| 6. | AaryaPaygude (Std V) | Green House Vice-Prefect |
| 7. | Siddhi Shendkar (Std VI) | Red House Prefect |
| 8. | Shivani Dhumal (Std V) | Red House Vice-Prefect |
| 9. | Surabhi Joshi (StdV) | Yellow House Prefect |
| 10. | Srusthi Kadam (Std V) | Yellow House Vice-Prefect |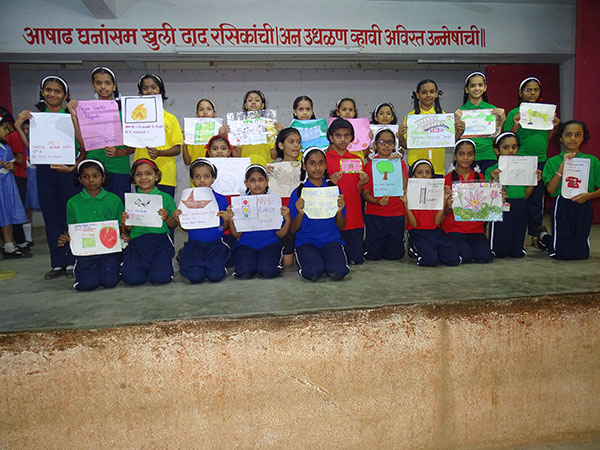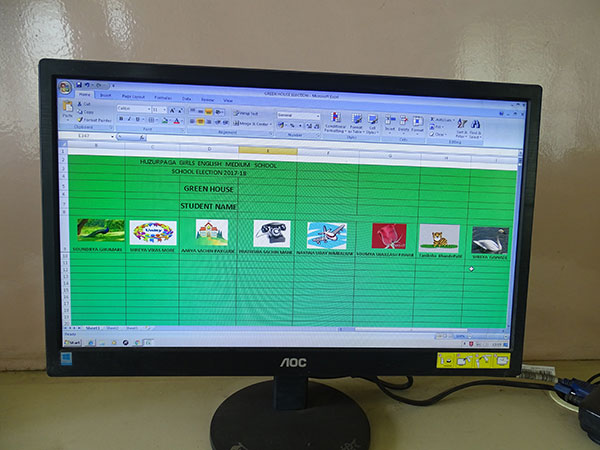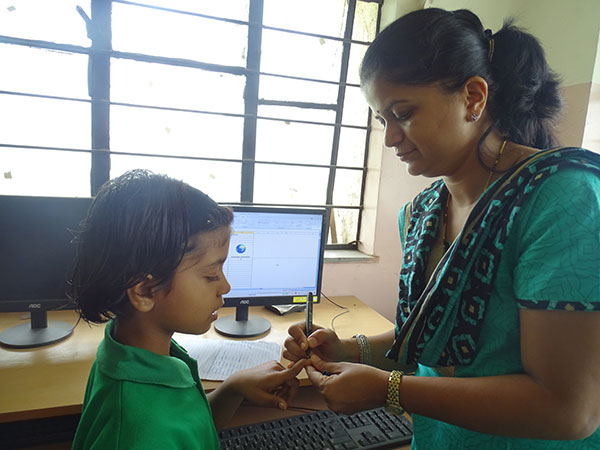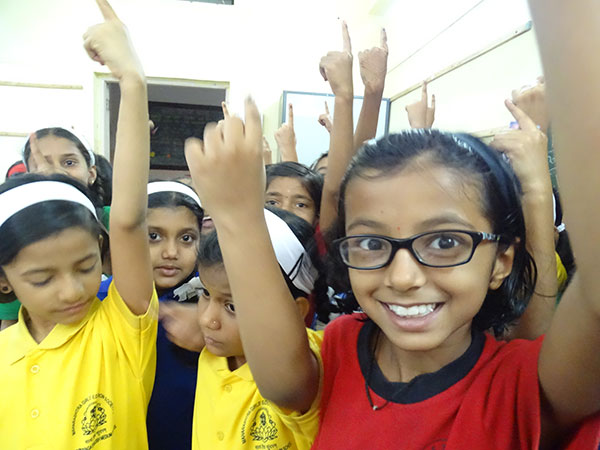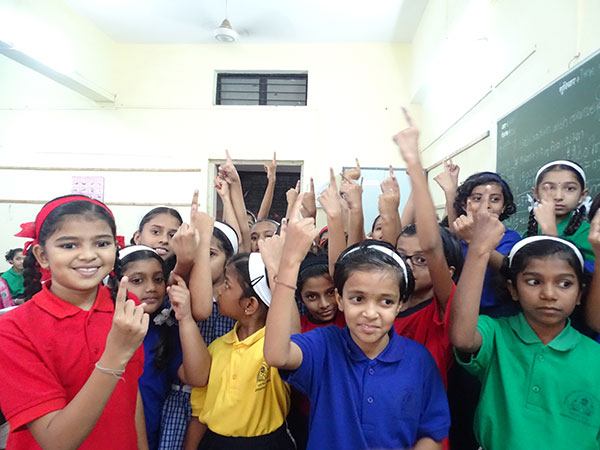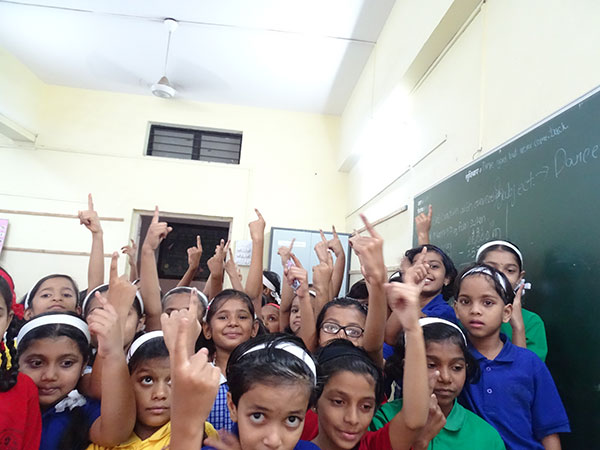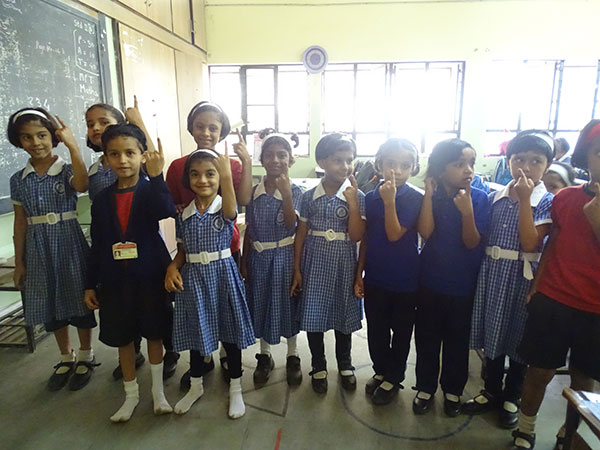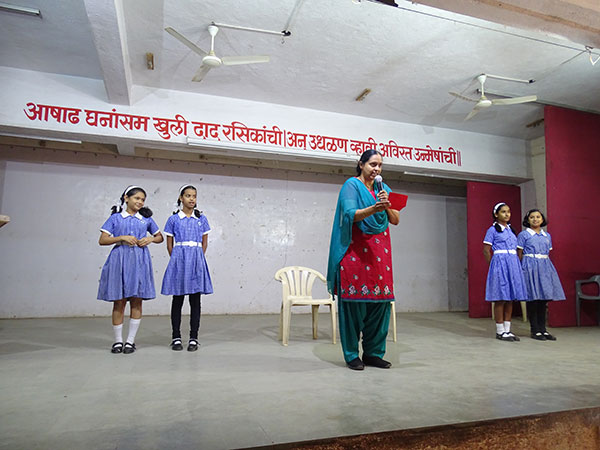 Gurupornima Day
Gurupornima was celebrated on 10th July 2017 by explaining importance of Guru with the help of audio visual aid that is LCD projector and screen.
On this auspicious occasion of Gurupournima, Huzurpaga Girls' English Medium School, Katraj won Secondprize for our Annual Magazine 'BLAZE' amongst all magazines of Maharashtra Girls' Society. For securing second position, the revolving shield was awarded by Smt. Jyotipriya Singh, Deputy Commissioner of Police, FRO, Pune.
On the same day, Smt. Kirti Pandit( a teacher ) achieved the honorable prize - Smt. Shakuntala Nawathe Prize for being the most creative teacher of year 2016 - 17. It was really a proud moment for Huzurpaga Girls' English Medium School, Katraj.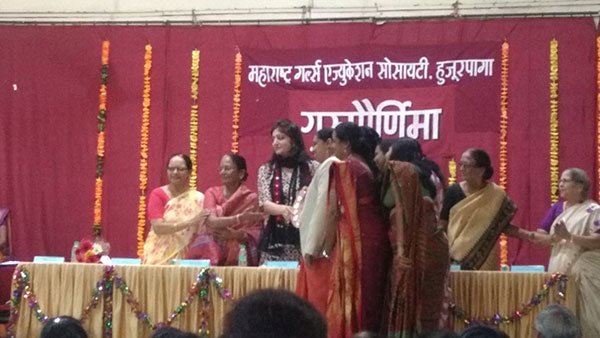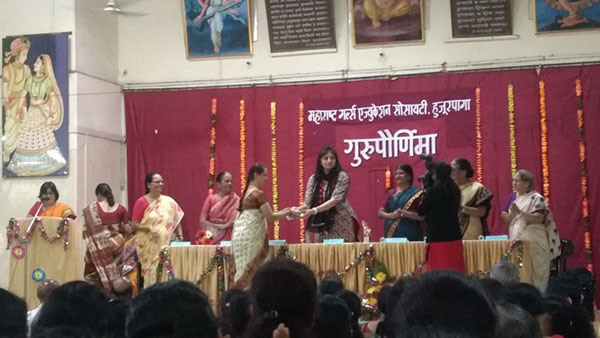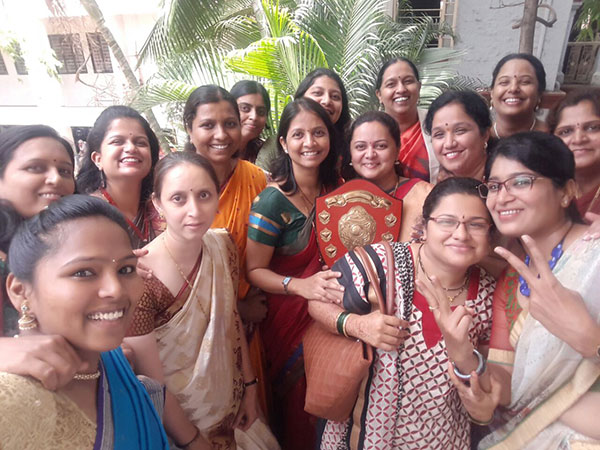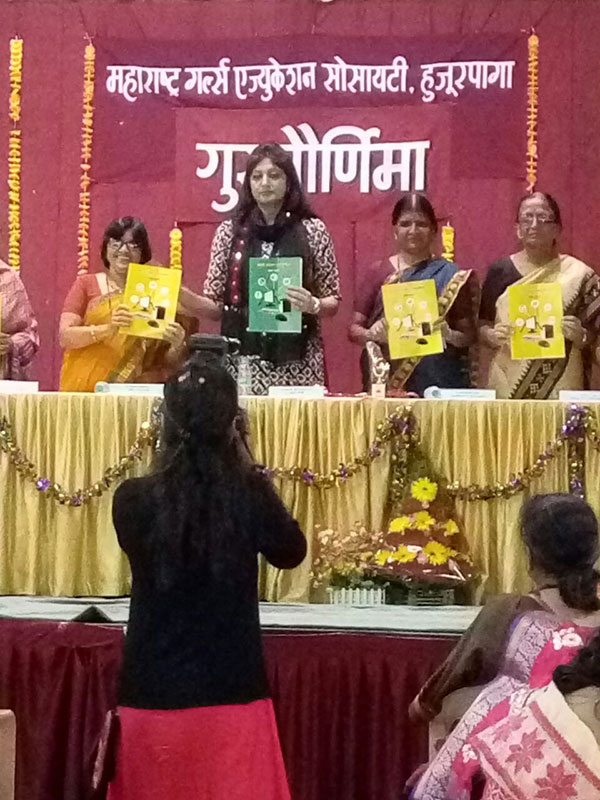 Deep Poojan Day
Deep Poojan Day was celebrated with great enthusiasm on 21st July 2017. Classrooms were lighted with different kinds of Diyas. Class teachers explained the importance of Diyas( light ) in our day to day life.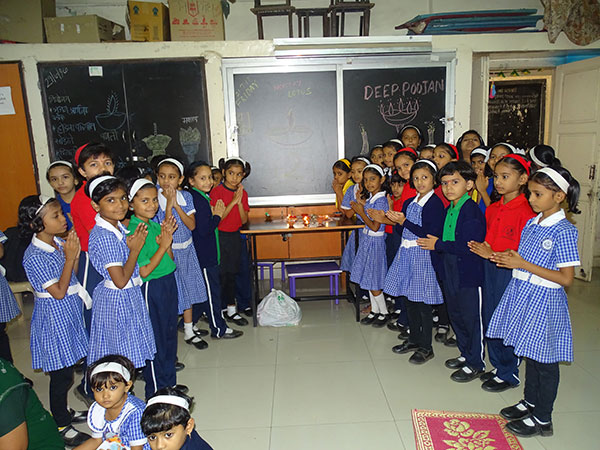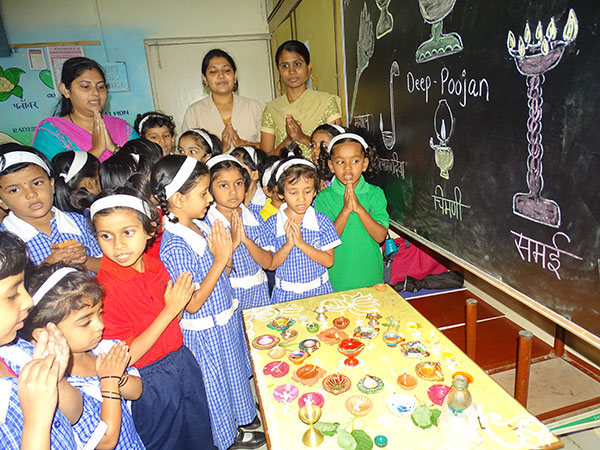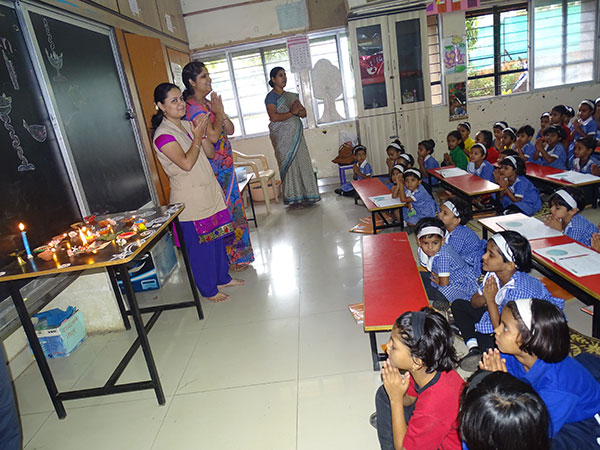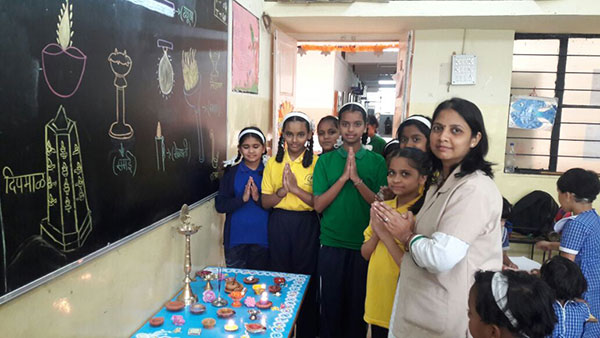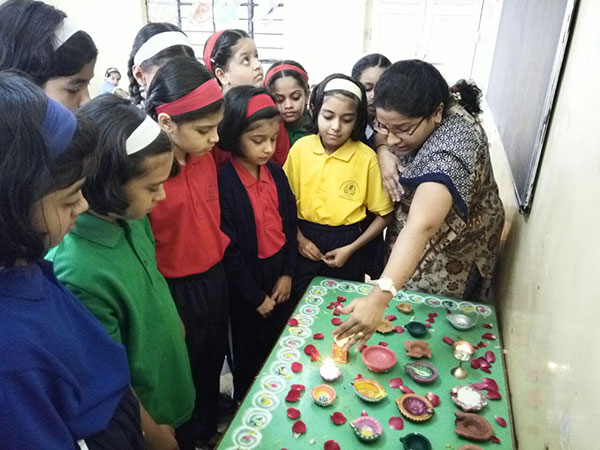 Kargil Day
Kargil Day was celebrated on 27th July 2017. Students were shown a video clip in which the contribution and sacrifice done by the Armed Forces during the Kargil War was explained.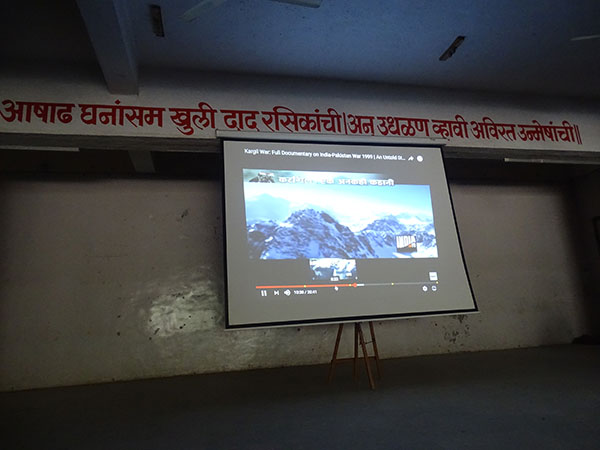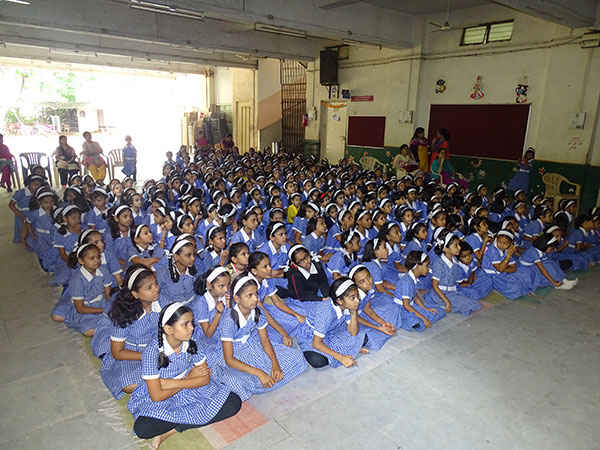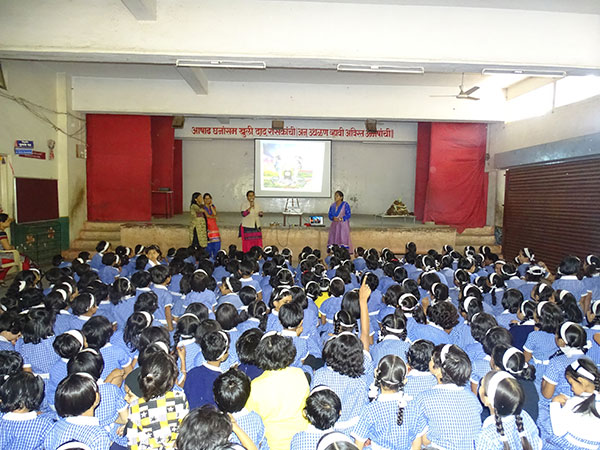 Swearing In Ceremony
'Swearing In' Ceremony was held on 25th July 2017.
Mr. Vishwas Gangurde, Chief Guest, Smt. Nutan Javalekar, Off. HM( Marathi Med ) and Smt. Vidya Galinde, HM, Secondary Section( Marathi Med ) bestowed badges to the students' council.
Smt. Priyadarshani Purohit, principal, Huzurpaga Girls' Eng Med Sch had given oath to the Students' Council.
Mr. Vishwas Gangurde, Chief Guest, guided the students on this occasion by sharing thoughts of democracy, importance of election and leadership.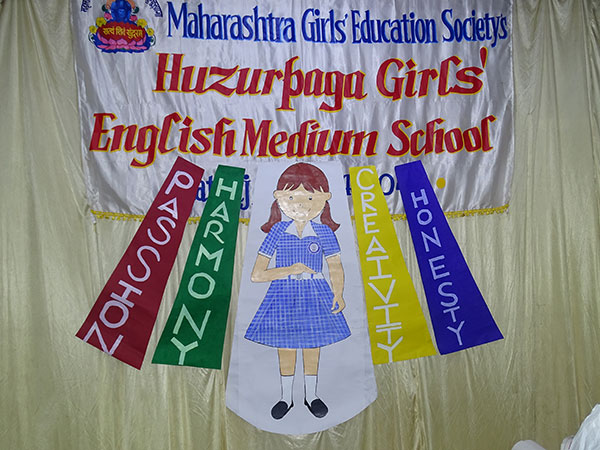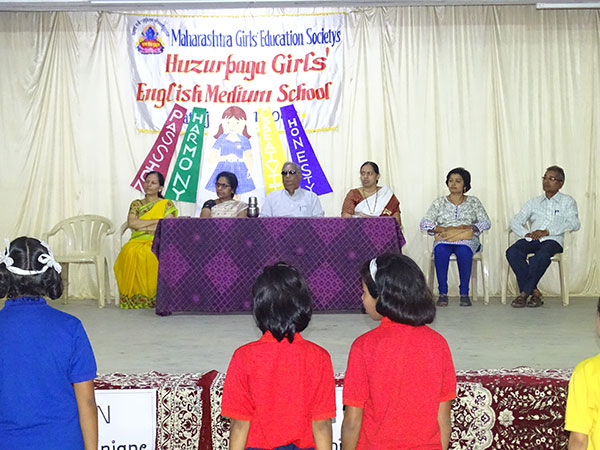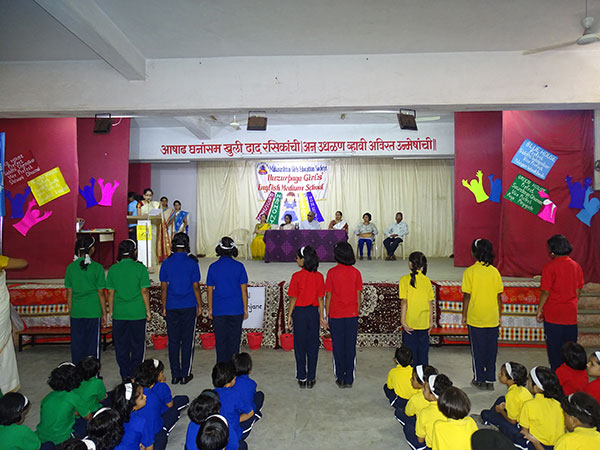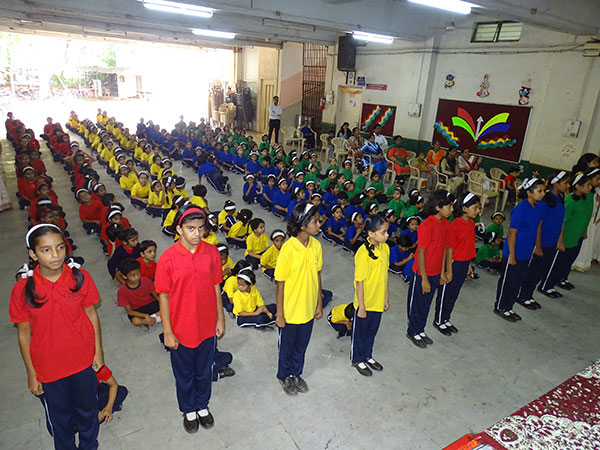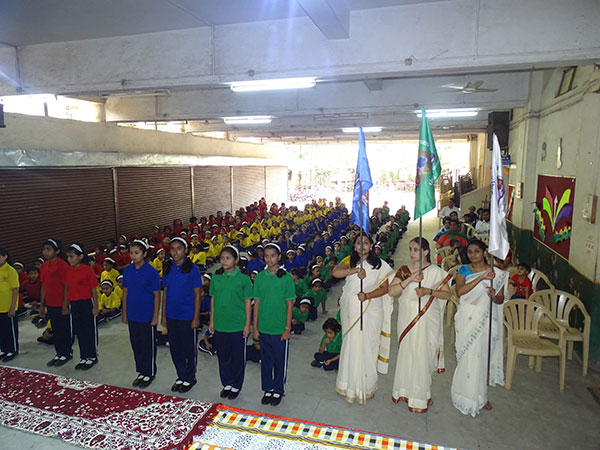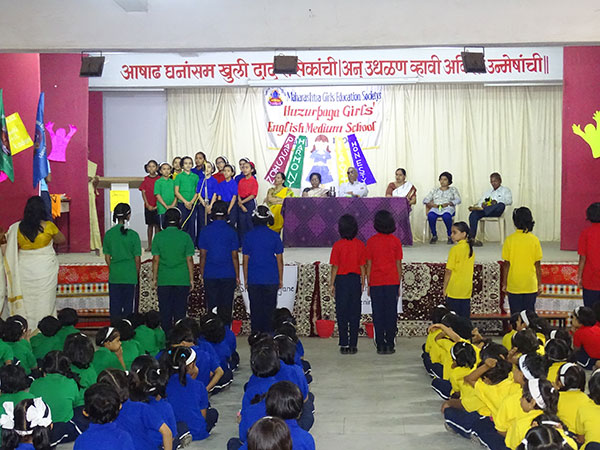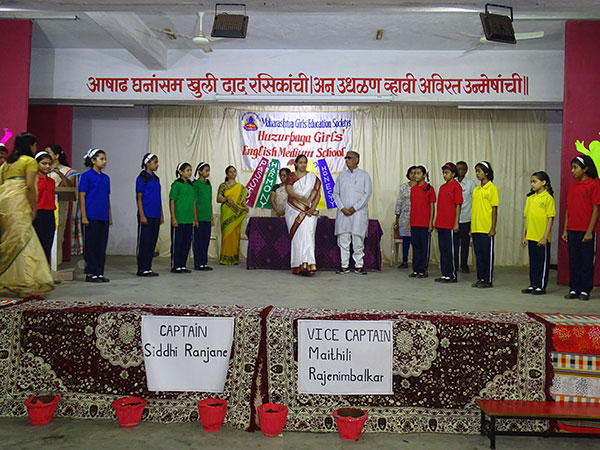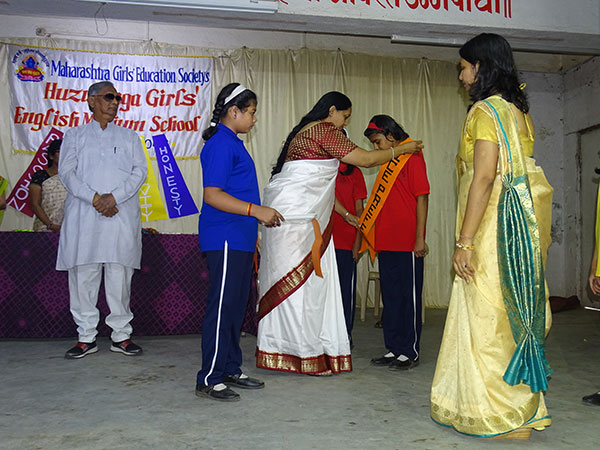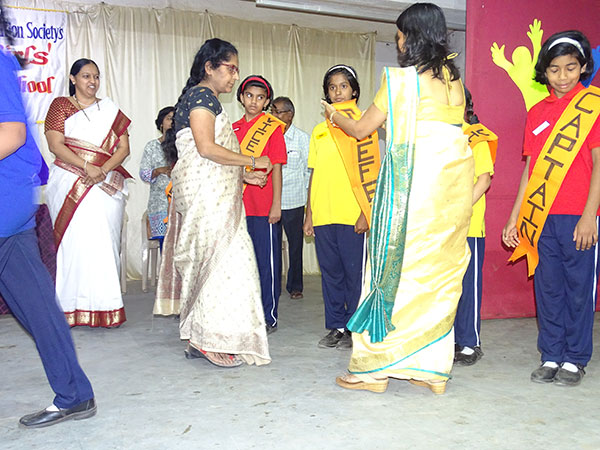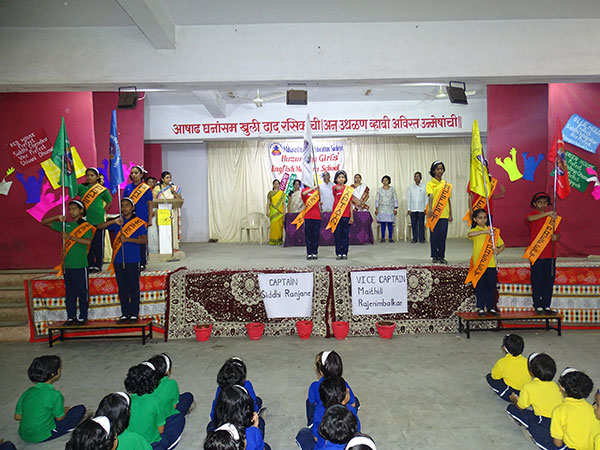 Children's Day and Prize Distribution
School celebrated children's day (14th Nov.) with a range of innovative and fun filled activities. Such as
1. Value based short film for the children in a Digital Class Room.
2. Games for Std 1st and 2nd.
3. Prize distribution ceremony.
The planning and the execution of the event was done by 6th Std. students very systematically. Thus, we are preparing tomorrow's leaders.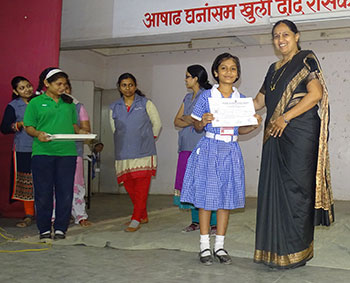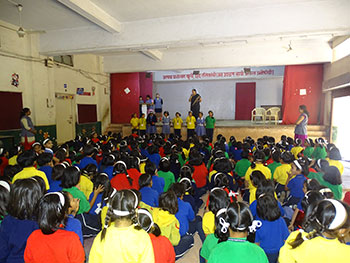 National Science Congress Project Competition
In the first week of November 2017, we participated in the National Science Congress Project Competition organized by Network of organizations for science and technology communication. Students from Std. 6th presented a 'Vegetable Battery' (Generation of electricity with onion). The project was guided by our science teachers Smt. Arpita Kulkarni and Smt. Reshma Malusare.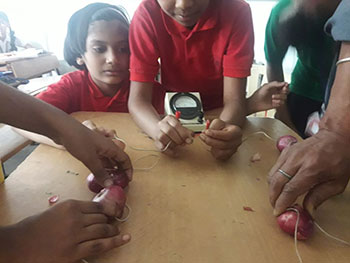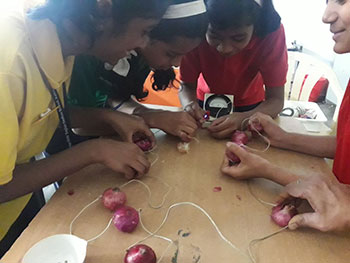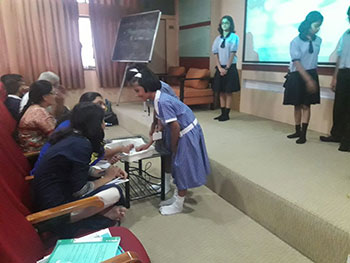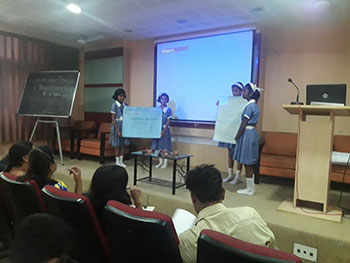 Competition Day
On 26th August 2017 during Ganesh festival we conducted various competitions which were collectively named as "Exuberant Fiesta- Chaitanyostav".
Following is the list of competitions -
1) Handwriting
2) Spell Well
3) Read me
4) Shloka Recitation
5) Play with clay
6) Bookmark
7) Poster making
8) Slogan making
9) Origami flowers preparation
10) Hand puppet, Stick puppets
11) Flower Rangoli
12) Mehendi design
Some of the competitions were compulsory for all and some were optional. We observed that each student enthusiastically participated in at least one of the competitions.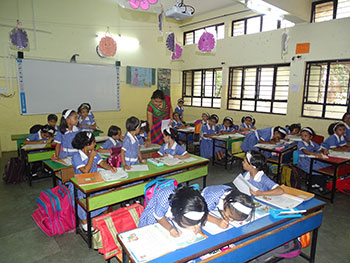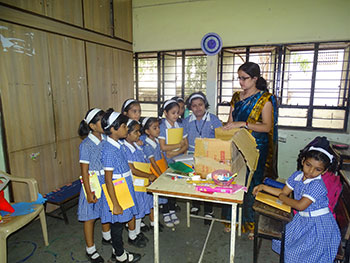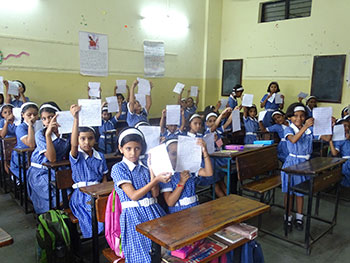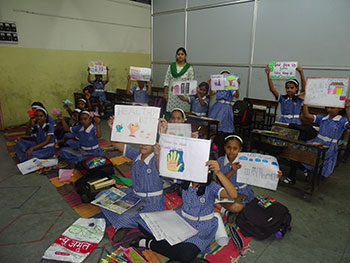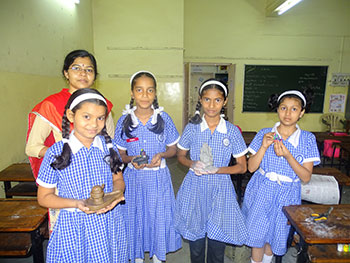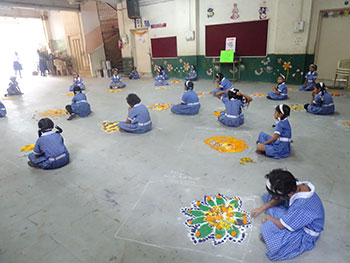 Healthy Tiffin Competition for Parents
Amongst all the activities this special event got huge response. Nowadays, parents are well aware of the fact that their child should get a Healthy Tiffin. This competition was the best opportunity for parents to show their talent. It was enjoyable for us to taste all the delicious menus prepared by them.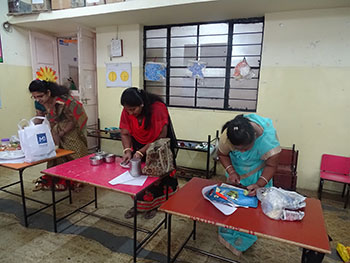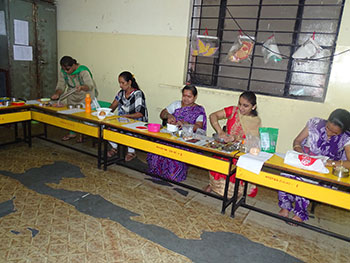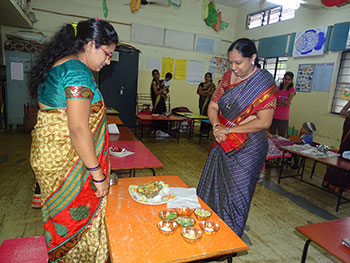 English Marathon
English Marathon was conducted in the month of December 2016 in which thirty - six students participated and twenty - nine students got qualified for the state level.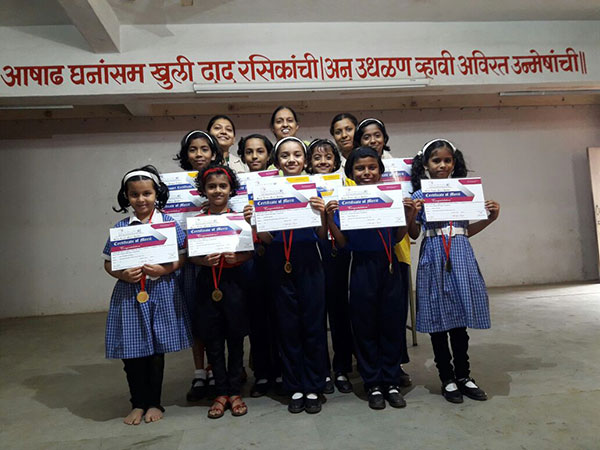 NatyaChata
NatyaKalaSanskar Academy had organized NatyaChata competition on 23rd July 2017. Total thirty - two students participated.
Shravani Malwadkar from Preprimary Section got selected for the final round.
Chandra – Surya Group Singing Competition
Here is another feather in Huzurpaga's crown…. a proud moment for all of us…. There was a patriotic group song competition for students and teachers organized by Chandra Surya Rangabhumi on the occasion of KRANTIDIN ( 9.8.2017 ).
Our teachers' group acquired first position. They won the revolving trophy of Smt. Malatitai Aaglaave Smruti Karandak for "Shaley Rashtrabhaktipar Samuhgit Spardha for teachers". There were total thirteen schools that participated in this competition.
Our students' group acquired first consolation prize. They received consolation trophy of Shri. Madhavrao Aaglaave Smruti Karandak of "Aantarshaley Samuhgit Spardha for students". There were total twenty four schools that participated in this competition.
Surabhi Joshi ( Std V ) played harmonium for teachers' group for which she has been awarded with a SPECIAL PRIZE & CERTIFICATE OF APPRECIATION from Chandra Surya Rangbhumi.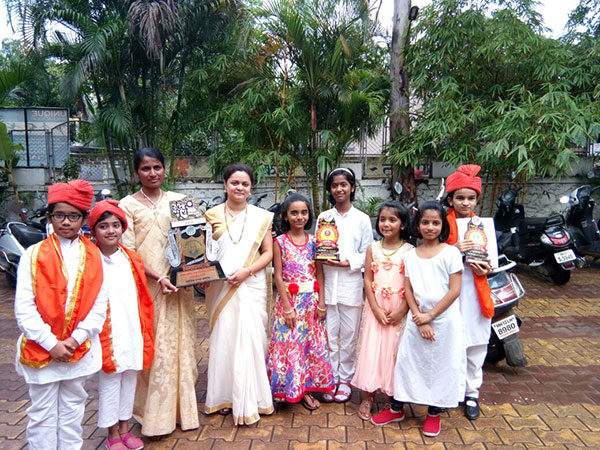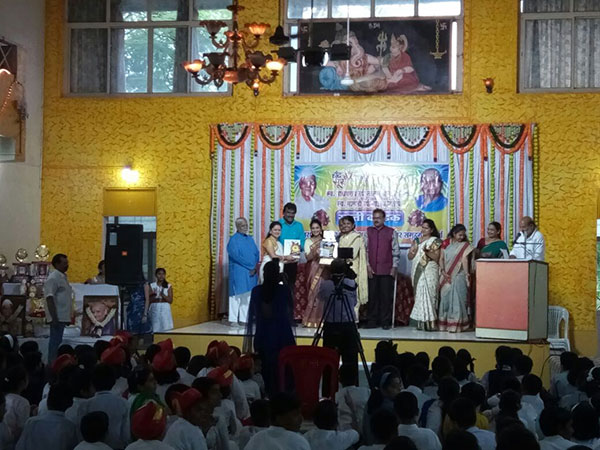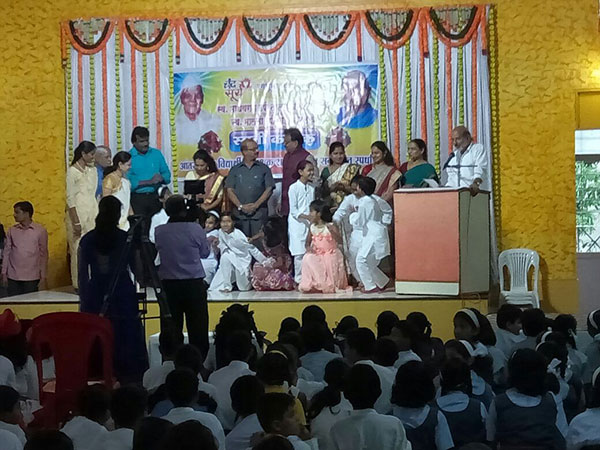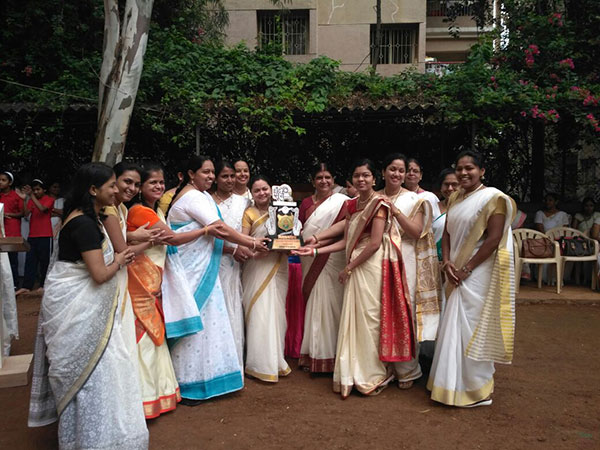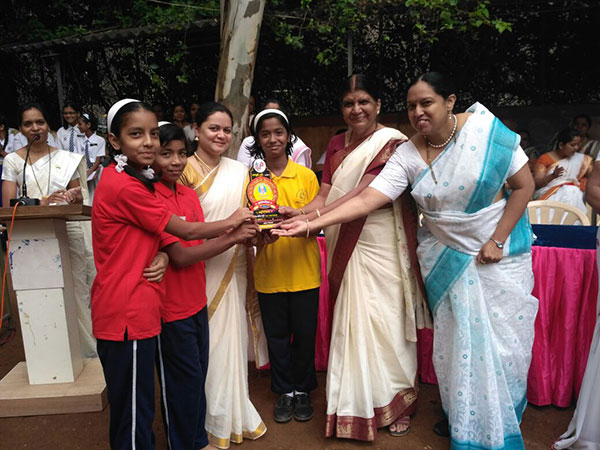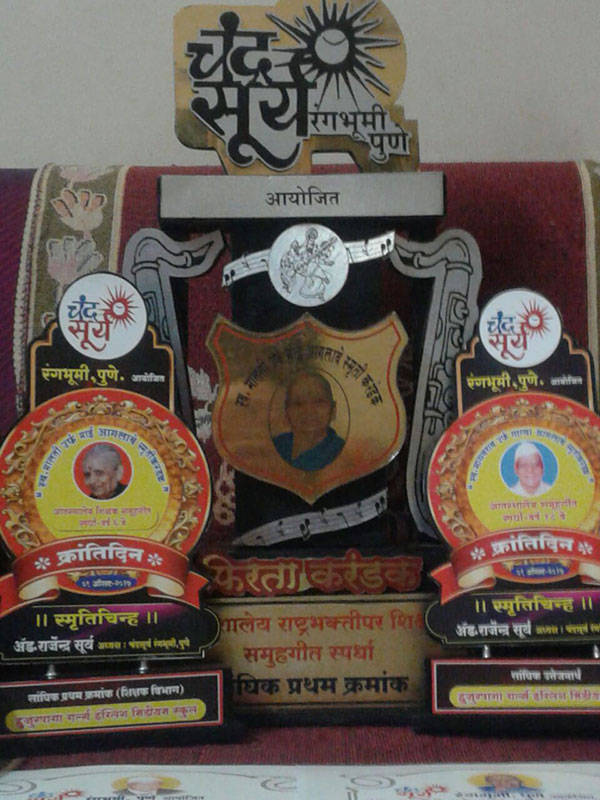 Digital Classroom
Education officer Mr. Shaikh inaugurated Digital Classroom. It's a proud moment for Huzurpaga since this is the first interactive classroom in Pune in which cybernetics and interactive boards are used.