H.H.C.P. Junior College for Girls - Previous Activities
<<< Back to Junior College page
Janiv Jagruti
'Janiv Jagruti' is a lecture series through which guest lectures are organized on diverse themes such as subject expert guidance, competitive exams, sports, career guidance, personality development, health care, environment, commerce etc.
Visits & guest lectures
'Office Management' & 'Marketing & Salesmanship' subjects are introduced for commerce stream. Students are given practical knowledge of the subject through various activities such as guest lectures, industrial visits, projects & computer assisted learning.
Students visit banks, consumer co-operative societies, advertizing agencies, offices & newspaper industries. Lecture series by eminent professionals from various fields like banking, CA, HR, L.I.C. etc. help broaden the perspective. Live data collection from various organizations develops analytical ability in students.
The wide range of experiences eventually contributes to enhance understanding of the subjects. Students do not remain mere bookworms but are prepared to face the challenges of the world.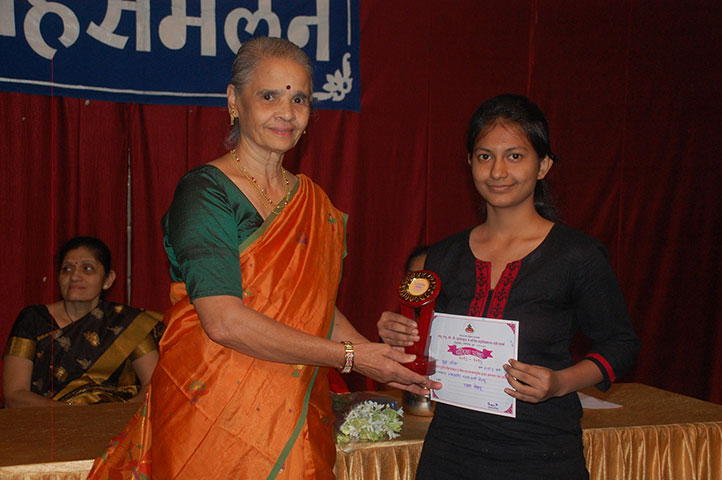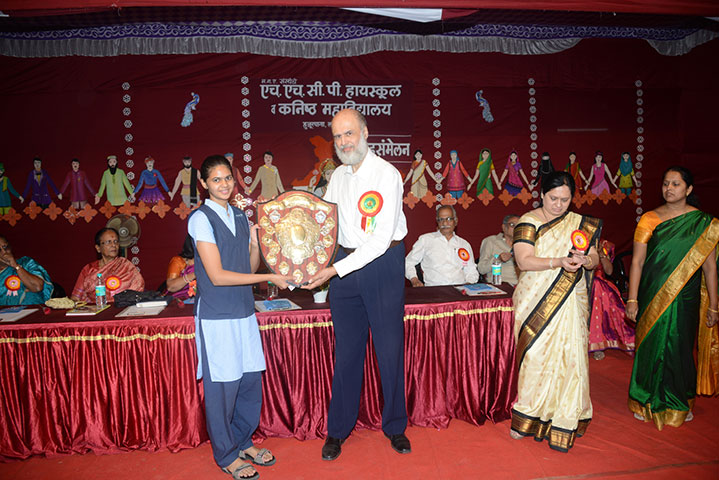 Intercollegiate competitions
Students are encouraged to participate in various intercollegiate competitions held by various well-known organizations. Our students have not only participated in these competitions but also won many prizes on regular basis under the guidance of our hardworking & creative staff.
Various competitions like Marathi elocution, English elocution, Singing, Poetry recitation, Book review, Handwriting, Mehendi, Rangoli, Greeting card making, quiz, intra-collegiate sports competitions etc. are organized to promote sportsmanship.
Annual day is celebrated with great fervor and gaiety along with various competitions such as traditional day, salad decoration, flower decoration, exhibition of handcrafted articles, science exhibition etc.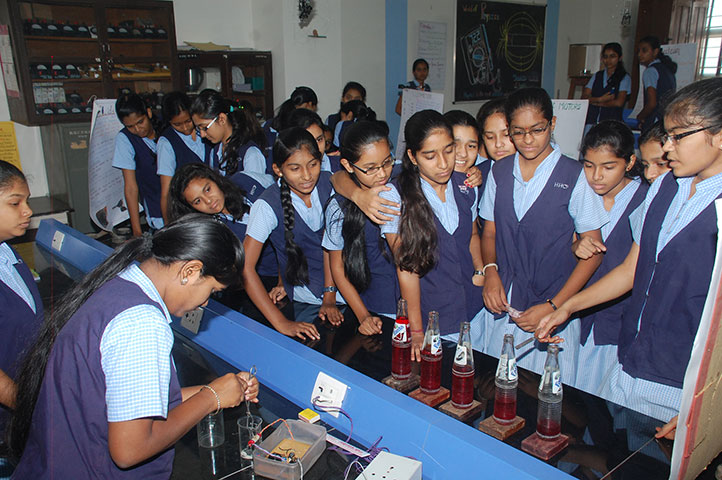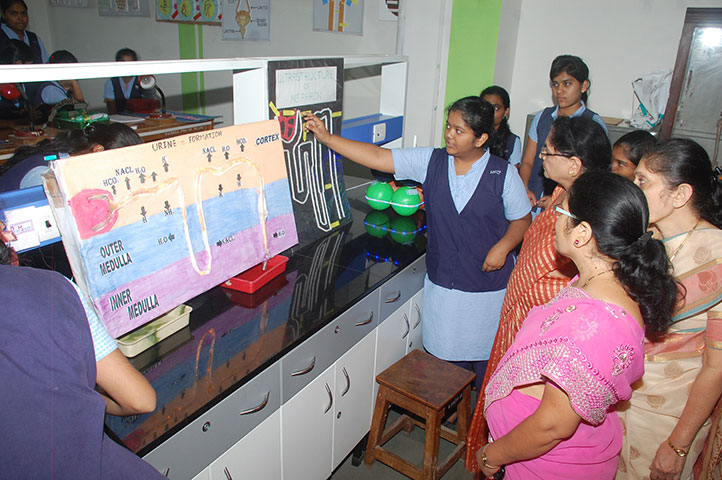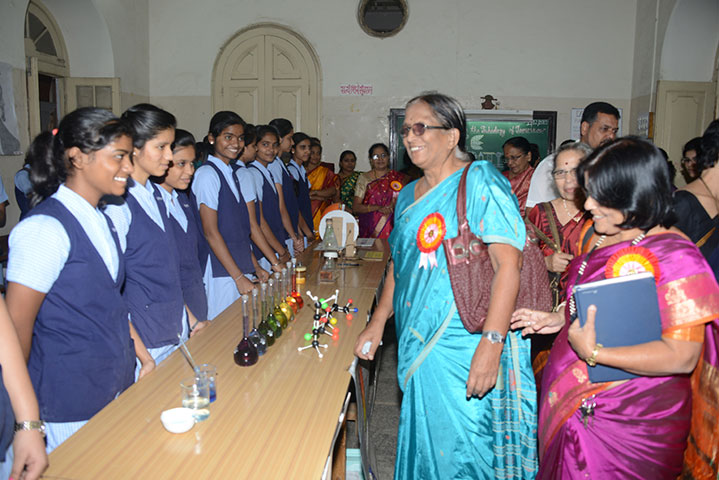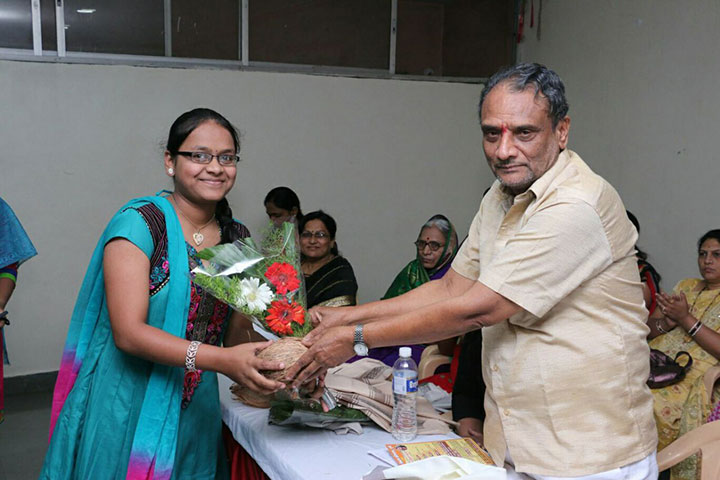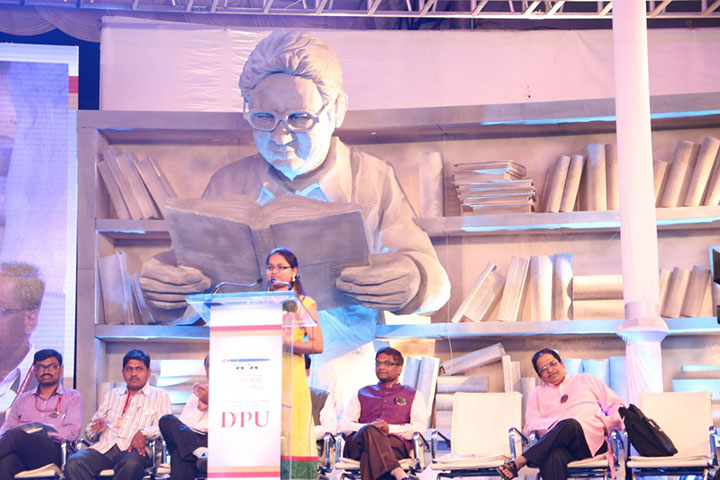 Outstanding achievements of Pratiksha Ingole
Pratiksha Ingole has participated in many intercollegiate competitions in the XIth and XIIth standard. Pratiksha has received almost 37 prizes and trophies in all the co-curricular activities like dance, one act plays, elocution etc.
The Abhijeet Dada elocution competition held in 2015-2016 was a feather in cap as Pratiksha Ingole of standard XIIth science1 stood 2nd and won a cash prize of Rs. 5,551/-
She was fortunate to participate in the 'Akhil Bharatiya Marathi Sahitya Sammelan' held at Pimpri-Chinchwad when she recited a poem on 'Stri-Bhruna Hattya'.
She stood 1st in the Abhijeet Dada elocution competition held in year 2014-2015. She has bagged the Karandak (Trophy) with a cash prize of Rs. 5,001/-
She also won the 1st prize and Rs. 5,001/- in the Marathi Elocution competition held by the 'Samartha Bharat Vyaspeet'. Her subject was 'Ambedkaranchi Trisutri'.
She received a cash prize of Rs. 3,001/- and a trophy at Junnar during the 'Shivjayanti Utsav' elocution competition.
Savitribai Phule Dattak Palak Yojana
To promote women empowerment & offer better educational & social status to women Savitribai Phule Dattak Palak Yojana runs on the selfless contributions made by parents & guardians.
This year 100 students from the junior wings are benefited with an amount of Rs. 1,000 each which is Rs. 1,00,000 (one lakh) in all under the scheme.
Parent-teacher meeting
Parent-teacher meetings are organized in a year to inform parents about the disciplinary rules, attendance, curriculum exam pattern, mark distribution, projects, facilities offered, progress reports & performance of the students.
Parent-Teacher Association is formed by selecting parent representatives to resolve the problems & grievances by promoting effective communication.
Parents are informed about the progress of their ward after every examination.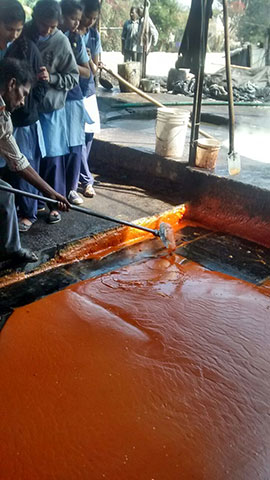 This year students of Std. XII have visited 'Baramati Agro Project' where they have practically understood the innovative techniques used in farming. Students of Std. XI have visited 'Theur' where they have shown many projects like nursery, farmhouse, textile industry, Potato chip making machine factory etc.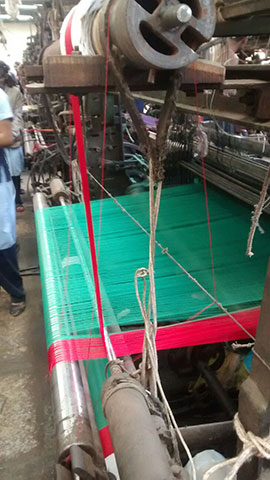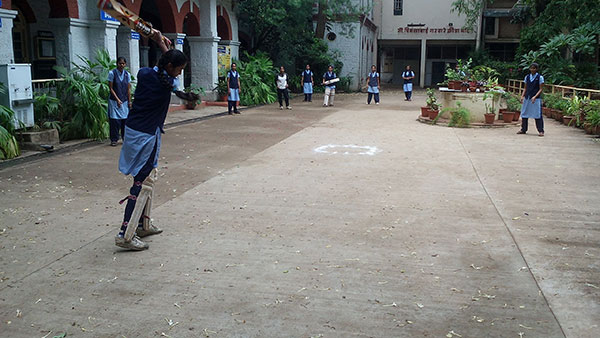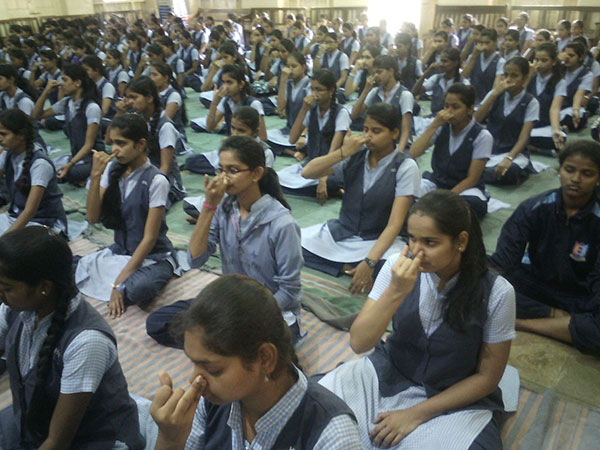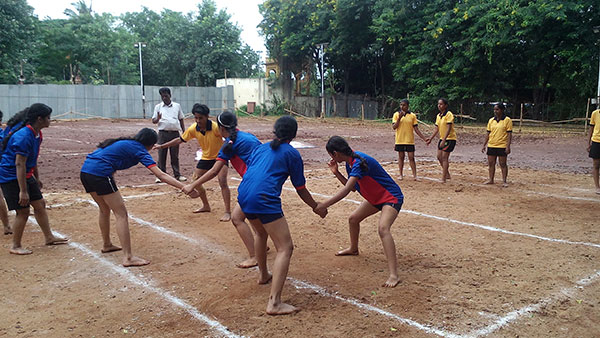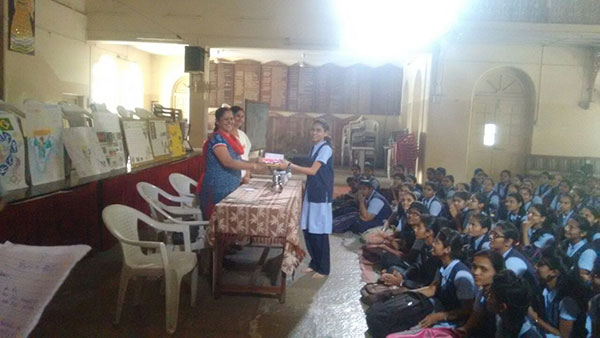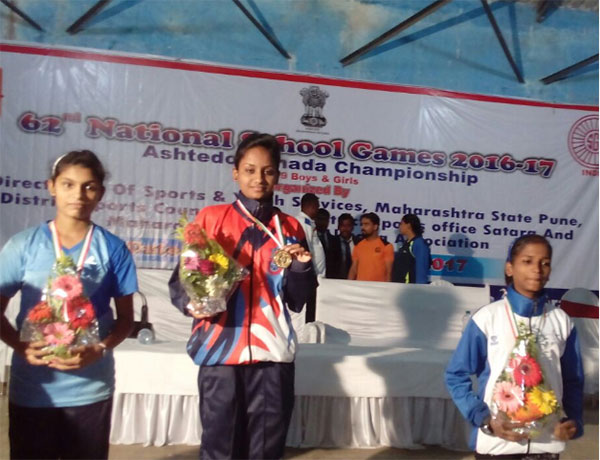 21st June 2016 was celebrated as 2nd International Yoga Day. Students of std 12th along with teachers performed various 'ASANAS'. Students were inspired to practice Yoga by informing them about various 'ASANAS' and their benefits for healthy life.
'Dhyanchand Day' was celebrated on 29th August 2016 with poster making competition for both 11th and 12th std.
Dr. Asmita Kuber (Ashatang Ayurved, college) had given invaluable guidance on healthy diet for healthy life style for the students of std 12th on the same occasion.
Students from our college have participated enthusiastically in many intercollegiate level competitions. They have participated successfully in more than 25 games out of which 18 students have participated at Zone level, 3 students have played at state level and 2 students have played for national level competitions.
Musical chairs was organised for students of 11th and 12th standard at intra-collegiate level wherein prizes were given to the winners.
Physical & mental fitness is ensured through sports. Students are encouraged to follow healthy habits through sports.
Our students have participated in 30 different games at the Pune district sports competition. Our students have bagged prizes in various games like Shooting Ball, Kabaddi, Kho-Kho, Taekwondo, Cricket, Rope Skipping, Ball Badminton & Lagori etc. Many students have also participated at state, national & international level.
Many activities such as the celebration of International Yoga Day, Sports Day, intra collegiate competitions, self defense training programmes, computer assisted learning are organized to encourage & promote talented students in sports.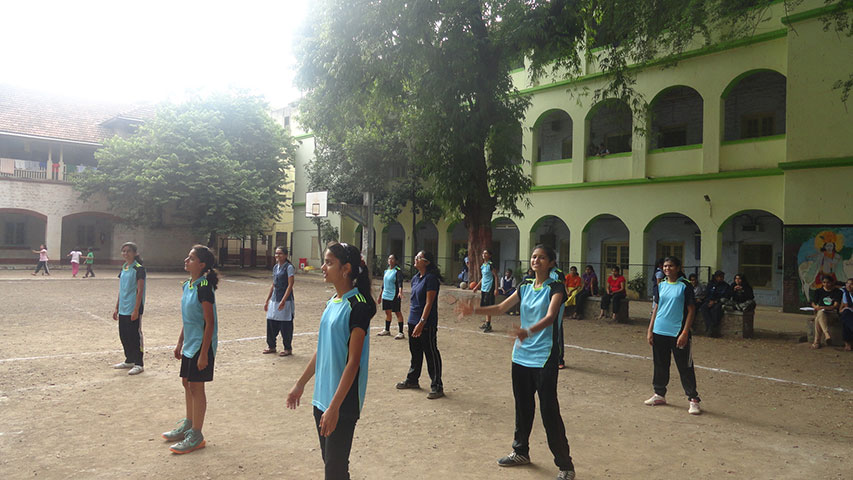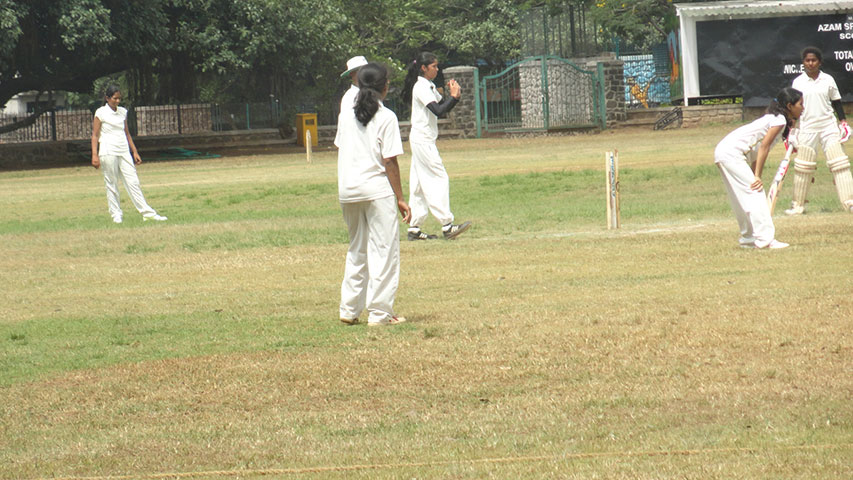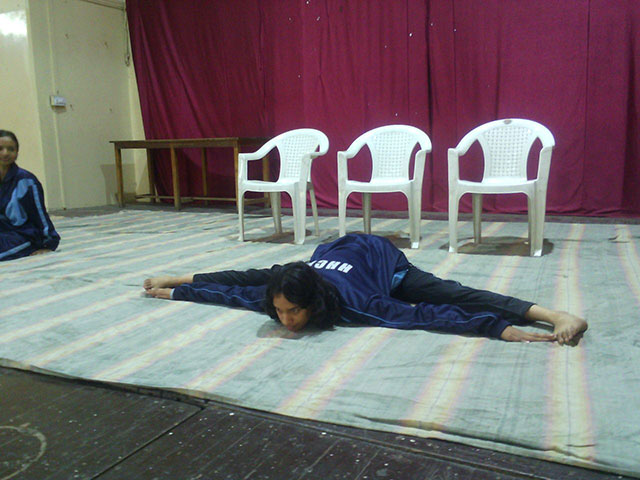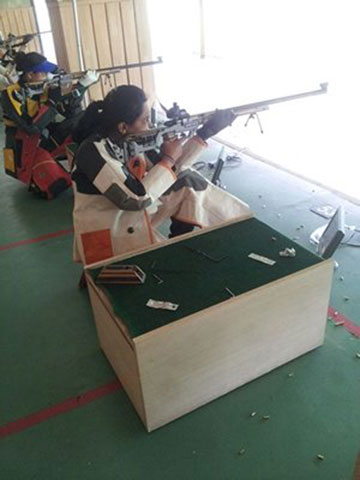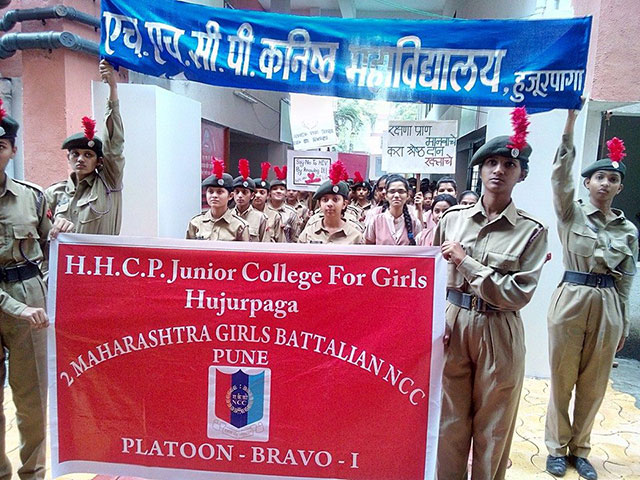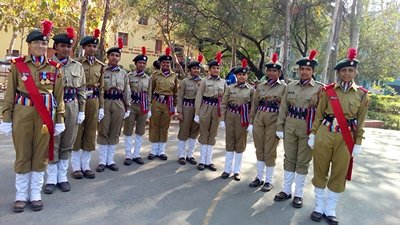 Activities done by Cadets - (2017-18)
'3rd International Yoga Day' is celebrated with zeal & enthusiasm.
NCC cadets participated in 'Mega Tree Pantation Drive' at ARAI Hills, paud road on 2nd July 2017.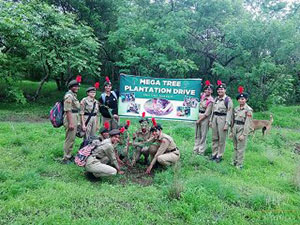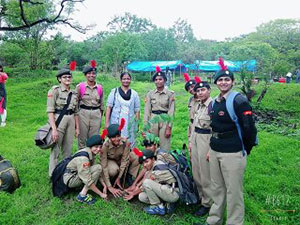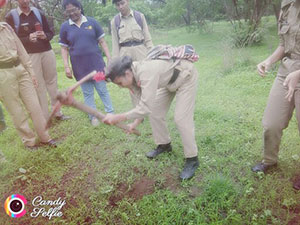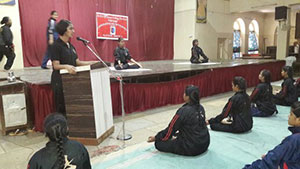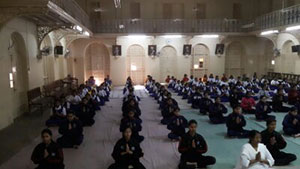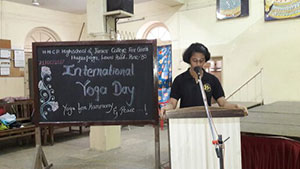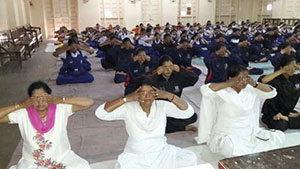 Activities done by Cadets - (2016-17)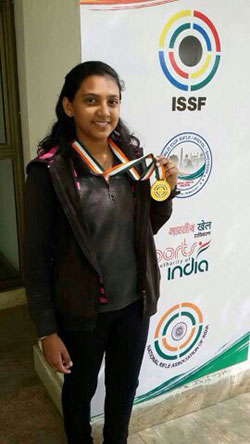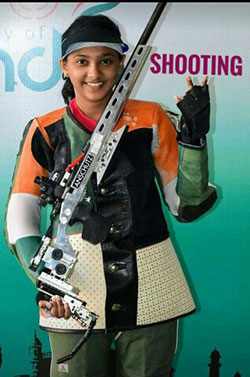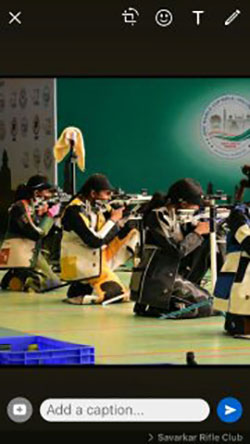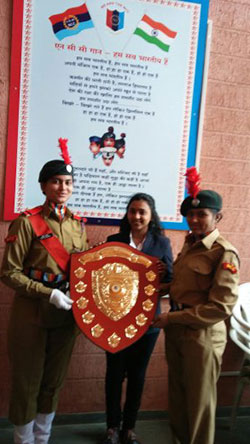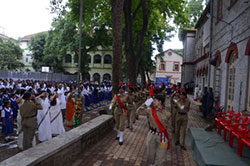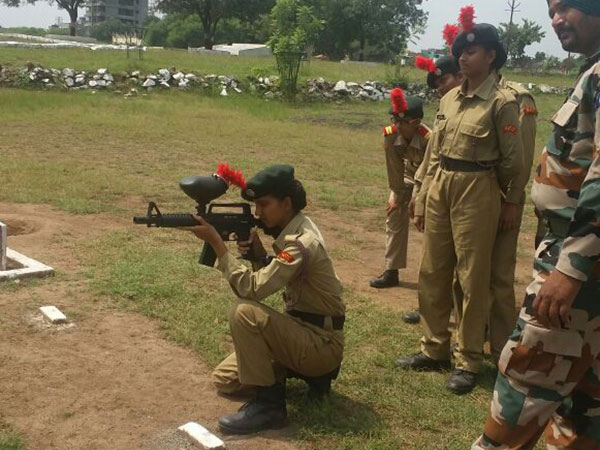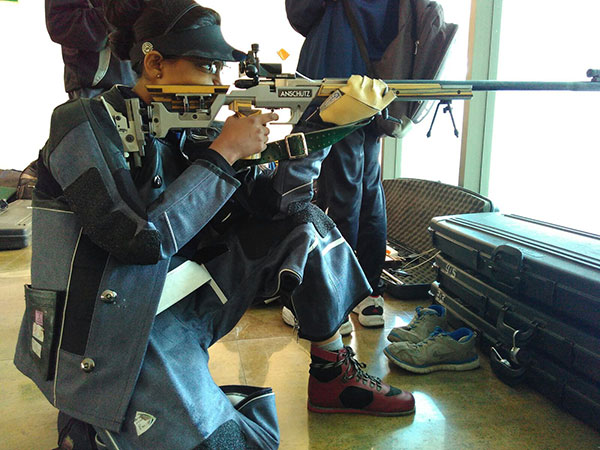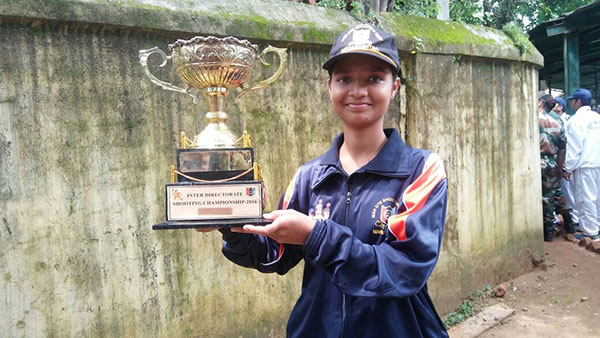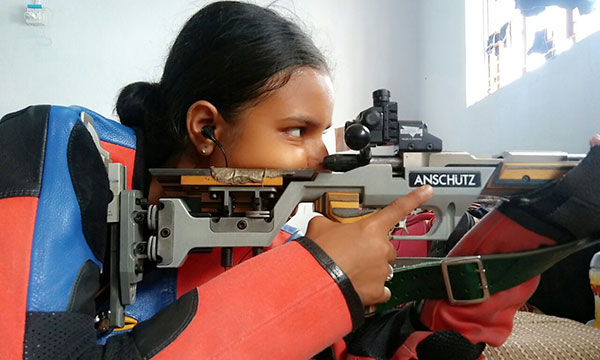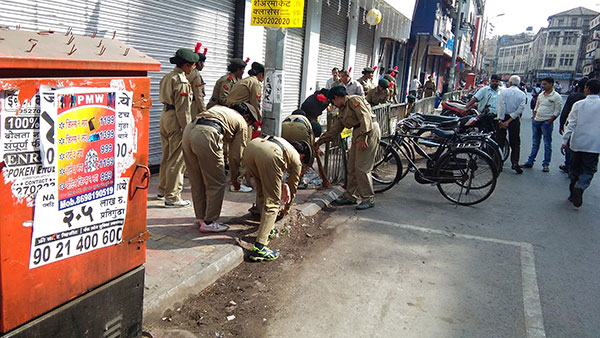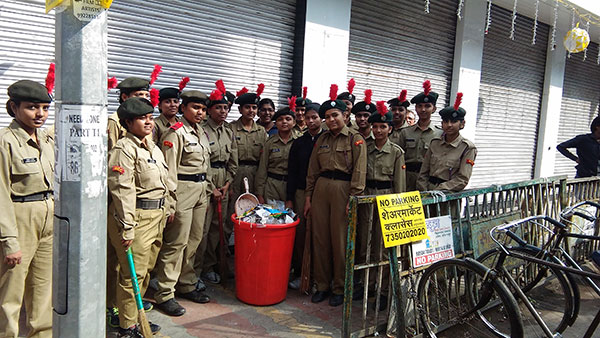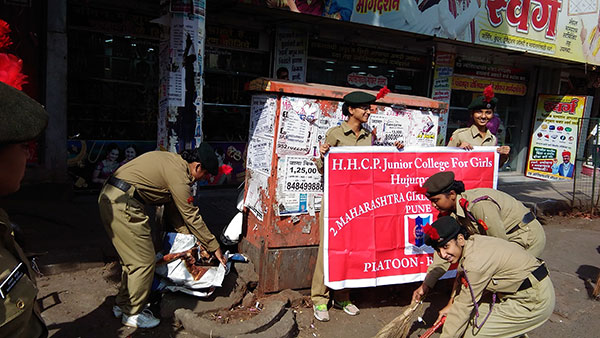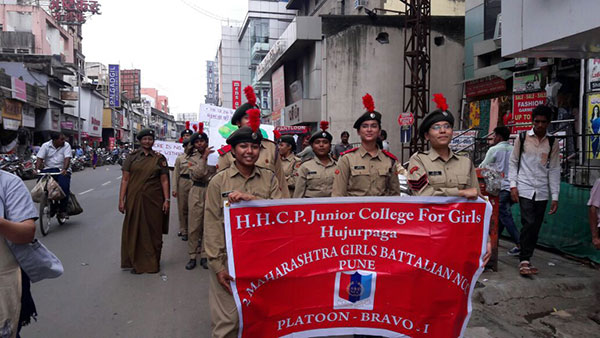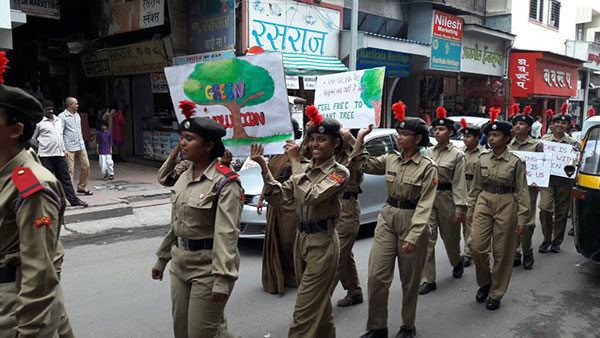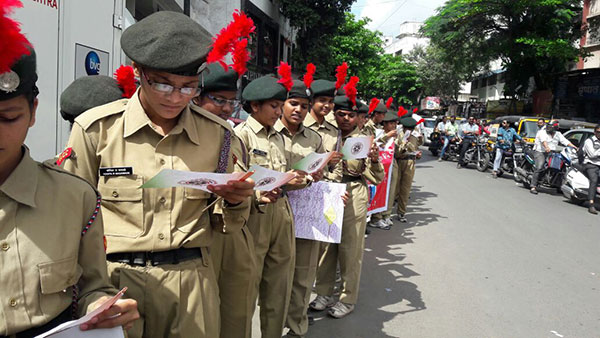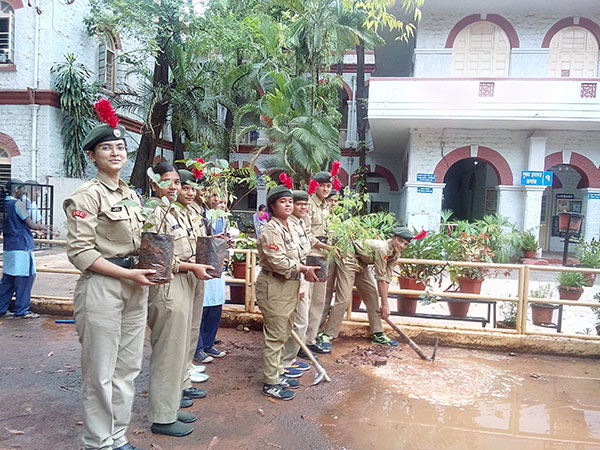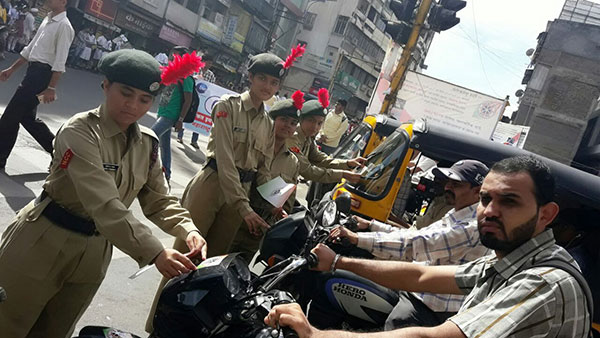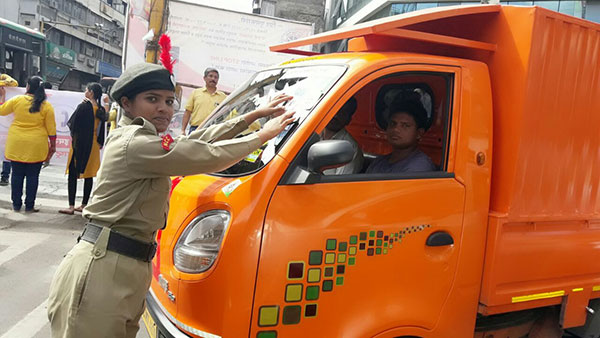 A lecture on topic "Carrier in Armed Forces for NCC 'C' Certificate holders" by Ex-Capt. Asha Algappa was organised on 'NCC Day', December 2016.
NCC Cadets have participated enthusiastically in Digital Payment Awareness program in December 2016.
JUO Tanvi Bahirat had attended Republic Day Parade, Delhi in 2017. She was among the 9 cadets selected from Maharashtra where as 108 cadets were selected from all over India for 'All India Girls Contigent, Rajpath' ( Army Senior Wing ).
Cadet Disha Jadhav

Selected in team of Six Cadets for 'National Shooting Squad of India' in feb 2017.
She has bagged 4th position & a prize of 1000$ at Sardar SajjanSingh Sethi, Masters Memorial Shooting Championship, Cairo, Egypt.

Four NCC cadets have participated in 'Ooty Treking Camp' held in May 2017 at Ooty ( Tamilnadu ).
All NCC cadets have participated in the celebration of 'International Yoga Day' on 21st June 2016.
A rally was organised to spread awareness about 'Green India -Clean India' on 13th July 2016.NCC cadets have also planted trees under the same on the grounds of Huzurpaga Laxmi Road.
All the NCC cadets of 2nd and 3rd year have participated in 'Ten days Annual Training Camp' held at Pune.
Our NCC cadets have bagged the trophy for first place at June ATC in 'Drill Competition'.
Cadet Mariyam Sayyad had attended eight camps held at Pune during 25th June to 17th September 2016 along with the 'All India Thal Sainik Camp' held at Delhi during 19th September to 30th September. She is not only the nominee but also the 'Gold Medallist' for the August.Inter group competition held at Pune and All India Thal Sainik Camp, Delhi for 'Map Reading'.
Cadet Purva Shitole and Siddhi Mazire are selected for Pre National Shooting Championship from Inter Directorate shooting competition.
Lt. Pradnya Tambde along with 3 cadets has attended 12 days Army Attachment Camp at Bombay Engineering Group and center ie Bombay Sappers Kirkee, pune. She was the contingent commander for Pune group for August Inter group competition.
Three cadets are selected for Republic Day Parade for 2016. Two of our cadets were selected for best cadet competition held on 16th Nov. At Aurangabad.
Our cadets have participated in 'Vahatuk Janajagruti Diwas' on 6th Oct 2016 by forming human chain. They also participated in Slogan Competition, road show, distributed stickers for safe driving enthusiastically.
Cadet Purva Shitole and Disha Jadhav are selected for Dec 2016 'National Shooting Championship Competition'.
JUO Tanvi Bahirat has been selected for the next camp in Intergroup Competition(Republic Day Camp) at Aurangabad.
18th Nov 2016 was celebrated as 'Swach Bharat Abhiyan' at Laxmi road by cleaning the premises.
Five Cadets have completed training camp at Darjeeling(Himachal Pradesh) in Nov 2016.
Activities done by Cadets - (2014-15 & 2015-16)
Campus Clearing
'Nadipatra cleaning near Bhide Pool' under the programme 'Swach Bharat Abhiyan'
Participation in Ganesh Visarjan at visarjan ghat with 'Swach Sanstha', Pune
Participation in 'International Yoga Day' at AIPT Hadapsar
Cadets watched together speech delivered by our honourable Prime Minister on 'Start Up India' programme
Programmes arranged by cadets
Lecture about opportunities for NCC 'C' certificate holders in armed forces
Lecture about Vigilance Awareness
Felicitation of Thal Sainik Camp - Delhi returned cadets, Mavalankar Shooting Competition and other prestigious camps
Training Events of NCC
ATC - Annual Training Camp
CATC - Combined Annual Training Camp
BLC - Basic Leadership Camp
ALC - Advance Leadership Camp
TSC - Thal Sainik Camp
RDC - Republic Day Camp
NIC - National Integration Camp
SNIC - Special National Integration Camp
RCTC - Rock Climbing Training Camp
MTN - Mountaineering Courses
PDC - Personality Development Camp
G.V. Mavalankar Shooting Competition
YEP - Youth Exchange Program
Attachment Camp
Hospital Attachment Camp
Army Attachment Camp