Primary School
The Maharashtra Girls Education Society expanded its endeavors by establishing institutions from pre-primary to Junior and Sr college. Our pre- primary and Primary schools with English medium at Laxmi Road and Katraj are the out come of their social commitment.

This school was started in the year 2011 because of popular demand and has at present 323 students in Pre-primary and 395 in Primary including 25% free admissions under the Right to Education Act-2009.

We have at present a total of 17 sutaibly qualified teachers including Principal in Primary Section. There are 4 Sevikas in primary section. And One clerk. Entire staff is dedicated and they are regularly offered training through workshops such as spoken English, subject training, phonics training, art and craft etc.

The parent community is very much concerned with all developments of the school and welfare of the children. Their participation and co-operation in the activities deserve compliments. Regular interactive parent-teacher meetings are conducted where the monthly progress and problems are discussed and solved.

Along with the academics, emphasis is also given on health care and personal hygiene.

The school management is receptive to the ideas of principal, teachers, and parents. They have provided all the necessary infrastructural facilities such as ventilated and spacious classrooms, attractive furniture, play- ground, sports equipment, computer lab with 20 computers, library and a multipurpose room for various activities.

The transport system consisting of private autos and vans is under control of transport committee in the school.

SMS system is started to keep the parents updated on day to day basis.

Though academics occupy a major part in our school, We motivate the students to appear in various competitions.
---
Visit to Sakal Times Printing Press
4th March 2017
On 4th March students of Std V visited Sakal Times office. In this visit the students got knowledge of how newspaper is printed in a printing press. 'How students can become journalists' this training was given to the students.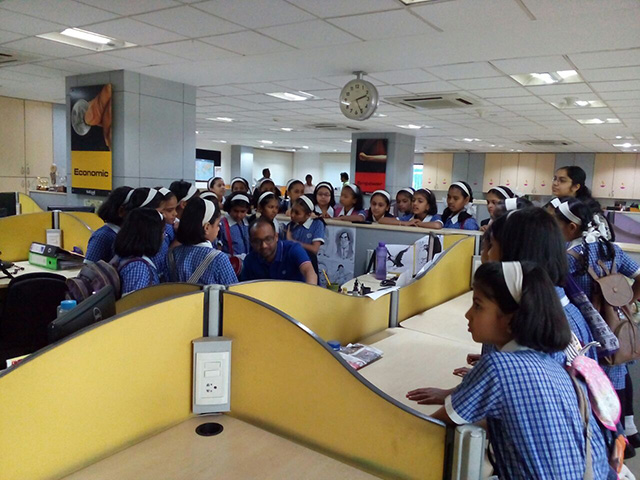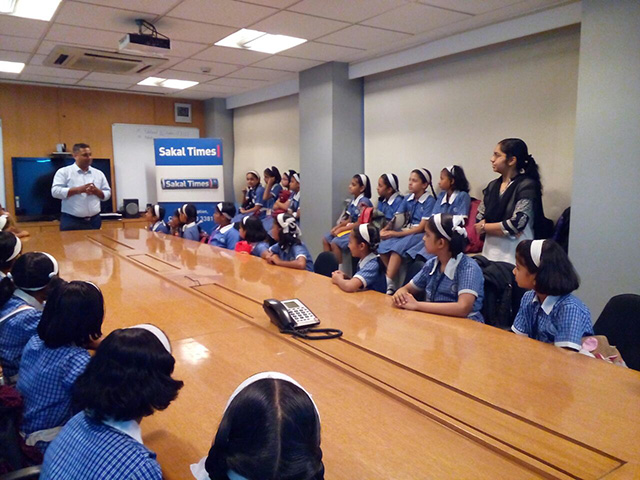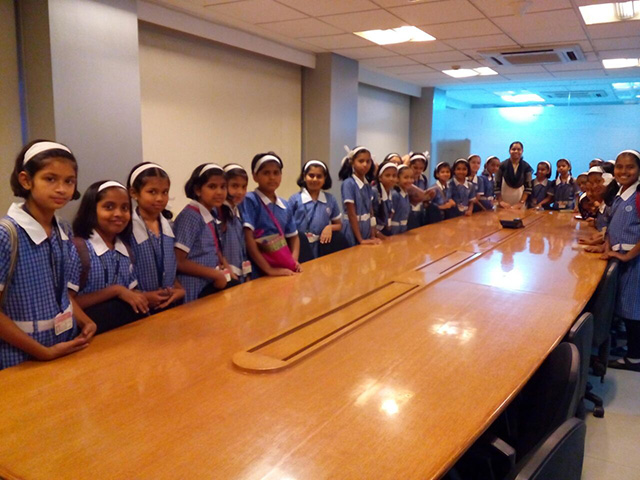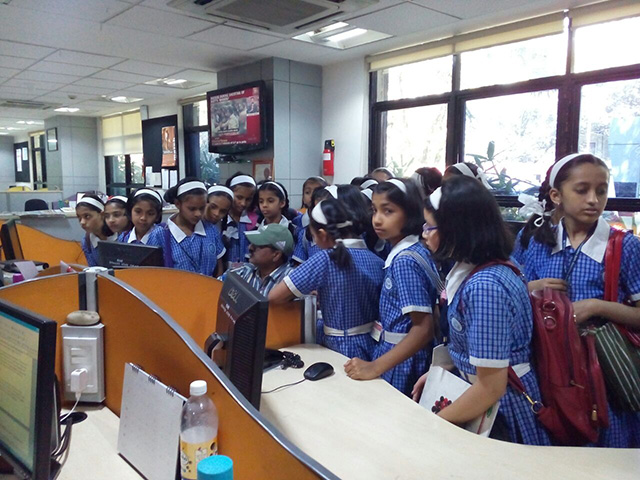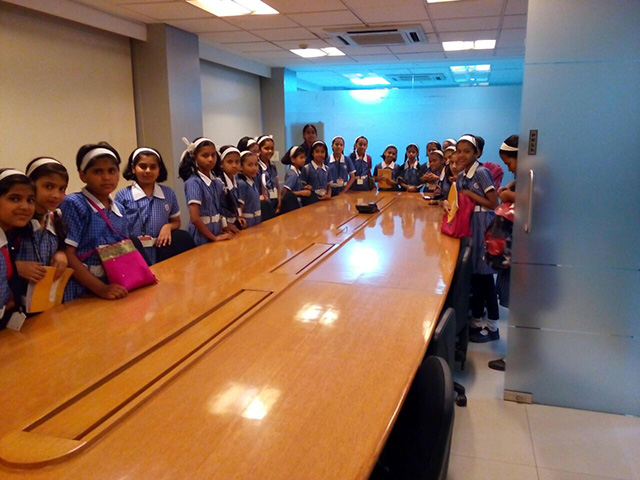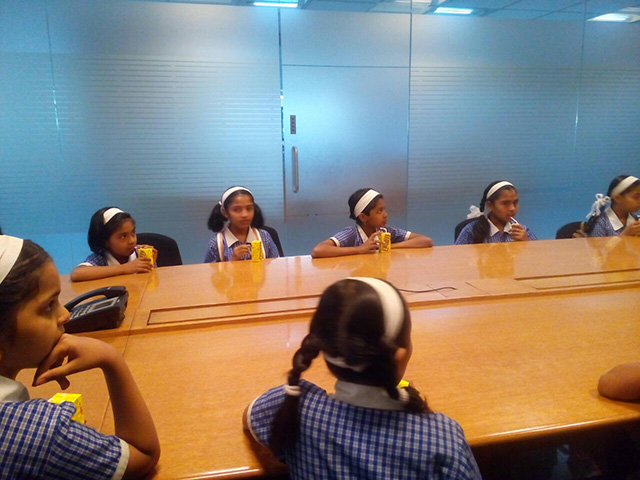 Exhibition on Best out of Waste & Save Environment
25th February 2017
The Best out of waste & Save Environment Exhibition was arranged in our school on 25th February 2017. We displayed all articles made out of waste like plastic spoons, paper plates & CDs, ice-cream sticks etc. Models were made by students of Std II & III of save water, wind-mill to save wind energy, & prevent pollution.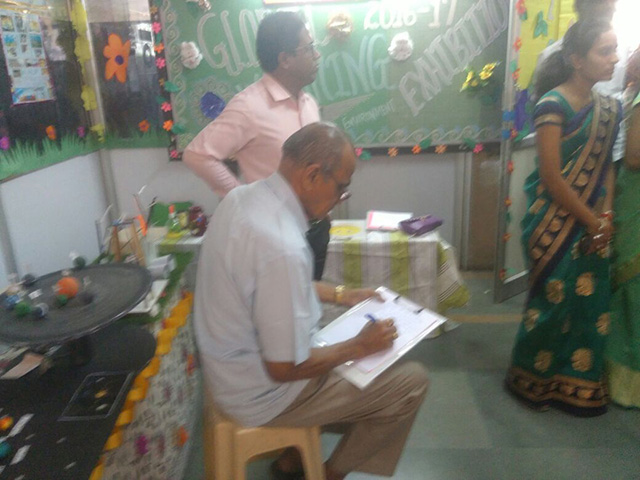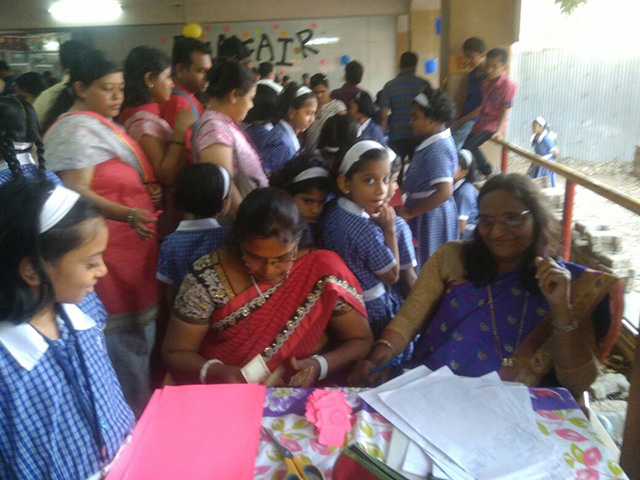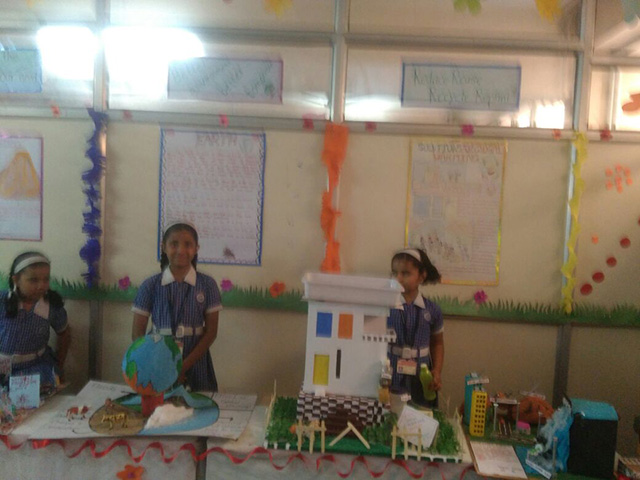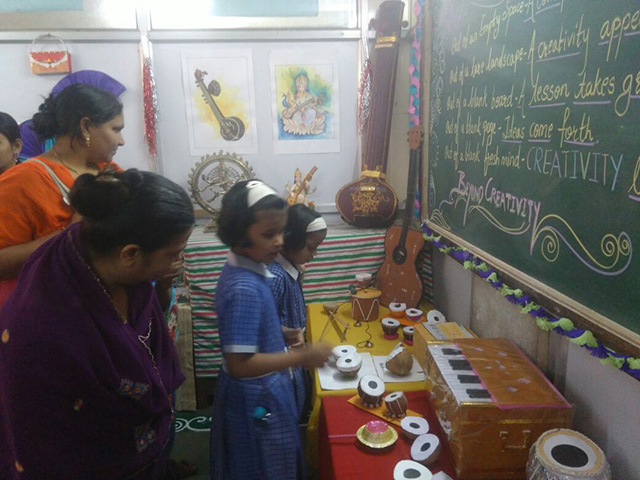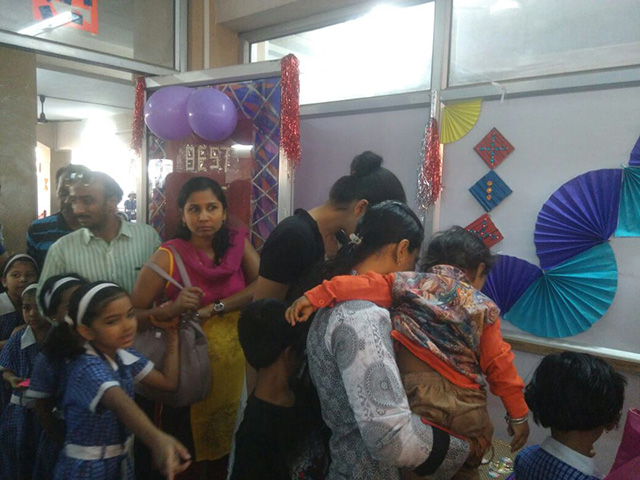 Visit to IUCAA
28th Feb February 2017
On the occasion of National Science Day 28th Feb. 2017, students of STD VI visited IUCAA. There they saw and enjoyed the science exhibition & live lectures. This experience was very memorable for the students.
Vasant Panchami
2nd February 2017
Vasant Panchami was celebrated on 2nd February 2017. All students were asked to wear yellow colour dress and bring yellow snacks. Students prepared yellow craft things. We worship goddess Sarswati by singing the song 'Hey Shardemaa….' School principal Mrs. Asmita Janrao addressed the students about Vasant Panchami. It is the famous festival that marks the end of winter season and ushers in the spring time.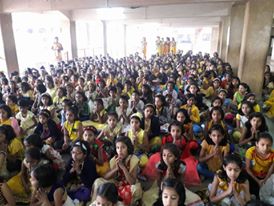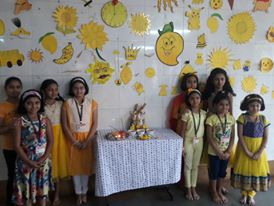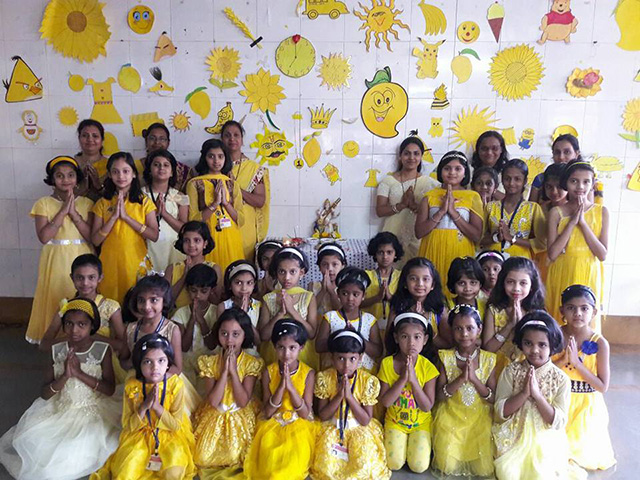 Republic day
26th January 2017
As all over India, Republic Day is celebrated on 26th January like that this year also our school celebrated Republic Day. The program started at 9:00am the guests for the program were our honorable committee members Smt. Vinaya Deshpande and Smt. Jayshree tai Bapat. After flag hoisting speech was given by our 1st and 2nd students. Patriotic songs and dance were also performed very beautifully by our students English Marathon Exam and athletic competition prizes were distributed on that day. The program ended by giving vote of thanks and singing Vande Mataram.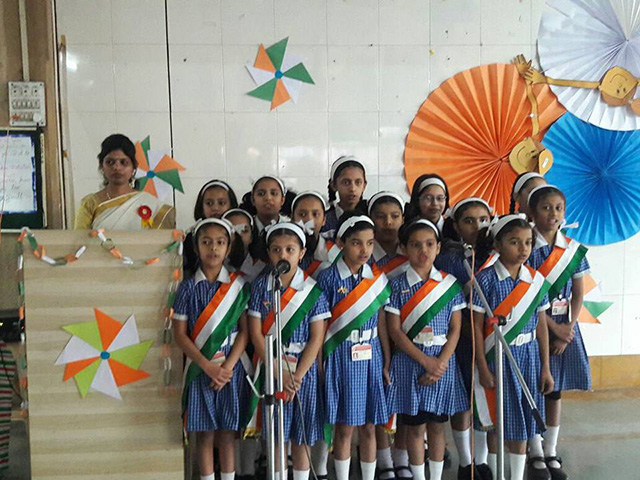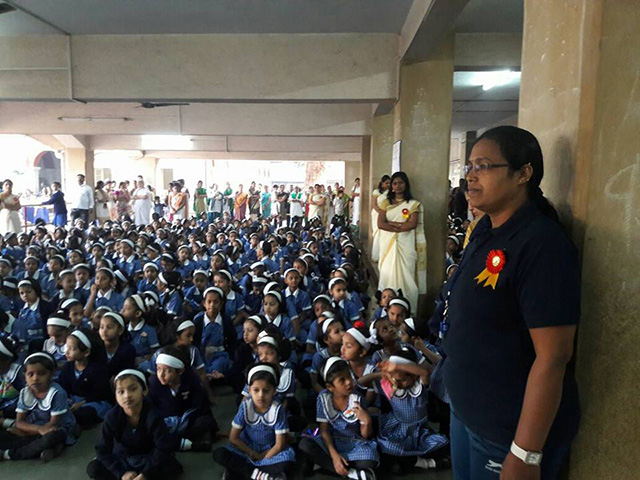 Tilgul Activity
17th January 2017
In our school we give lot of importance for festival celebration. Makar sankaranti is a festival of Hindus, celebrated on 14th January. Til or traditional sesame is the harvest of the season and is eaten a lot during this time. Til ladoos are a traditional sweet delicacy that almost every Indian household prepares. The famous Maharashtrian saying - "Til gul ghya, aani god god bola" - translates as - eat sesame-jaggery ladoos and speak sweet words.
We celebrated this festival on 17.01.17 with an activity of 3rd Std. making Til ladoos to give a practical experience to the students. This activity was conducted so that girls become aware of Indian culture and values.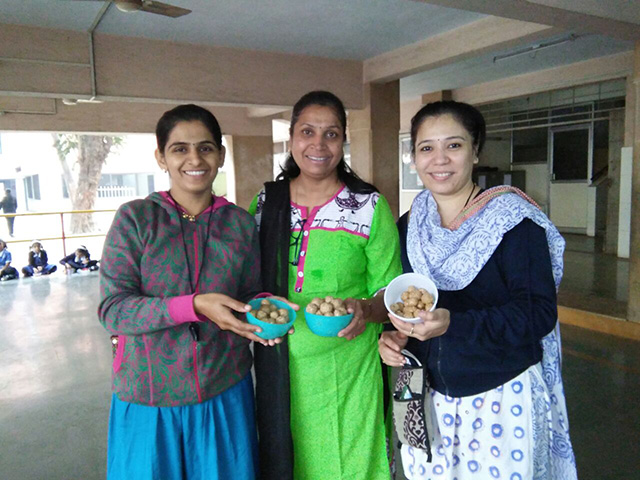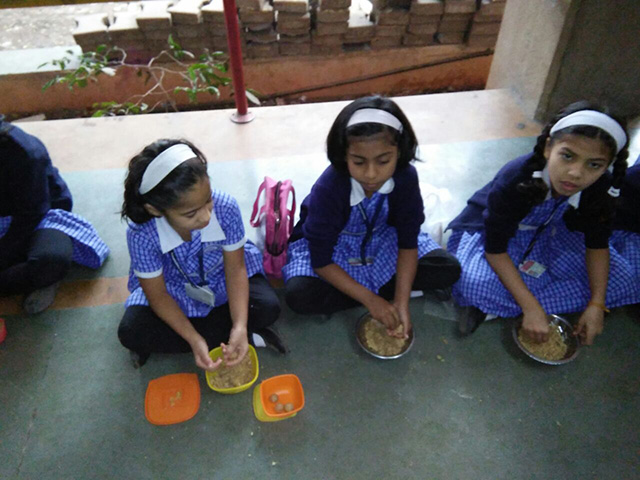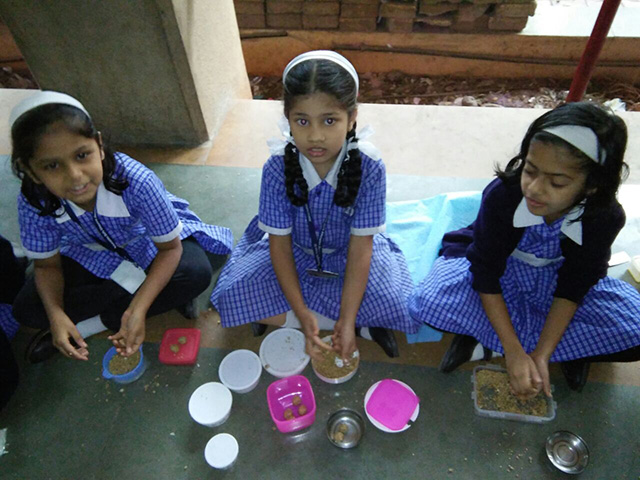 Annual Gathering
24th December 2016
In the schooling years co-curricular activities are of great importance along with the academics. One of these activities is the Annual social Gathering, is always the forte of a school was held on 24th December. The Theme for the Annual Gathering was "Emotions of Life". Mesmerizing and energetic array of programs were displayed by all the students of Primary Section. The light effect and LED display enhanced and added special effects to all the performances. The honorable guests Smt. Shobha tai Bhagwat, Shri. Shubhash Mahajan Sir along with other respected Committee members appreciated the efforts taken by all the students and school staff.
Diwali Workshop
13th September 2016
After the Term exam, all the students were eagerly waiting for the Diwali Party, for which a craft activity related to Diwali Decoration Workshop was conducted. This workshop was conducted on 13th September 2016 for all classes. This gave an opportunity to the students to showcase their imagination through creative skill. Students exhibited their artistic skill in the session by making beautiful collage greeting cards for Diwali & paper crown. The workshop was full of excitement & enjoyment for the students.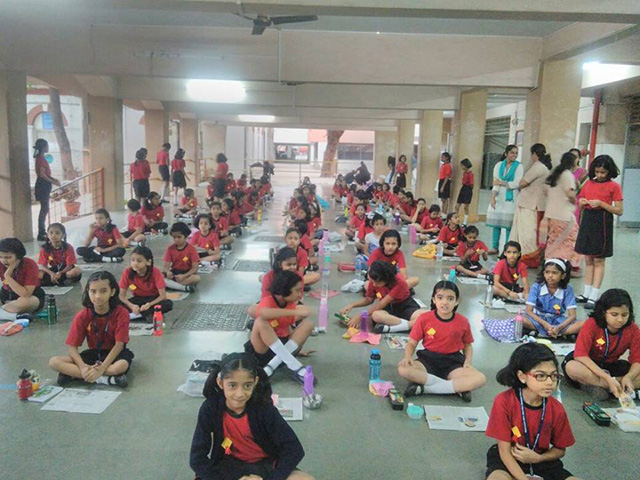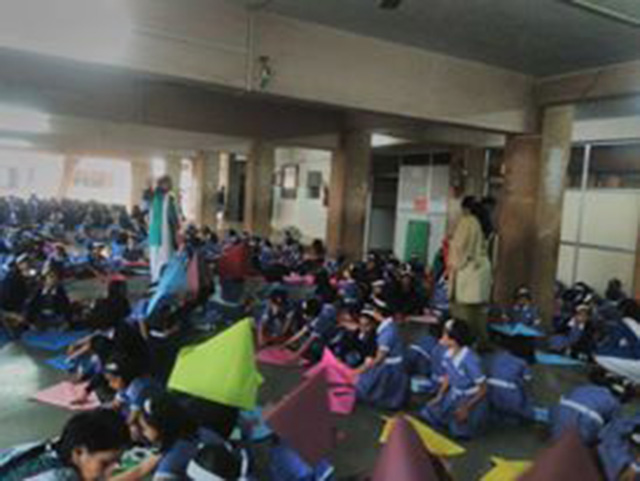 Eco-Friendly Ganpati Activity
September 2016
Eco Friendly Ganpati idol making workshop was conducted in the month of September. The students were taught to make Lord Ganesha idol with clay. This experience was really wonderful for the students. This workshop was successful under the able guidance of Principal Mrs. Asmita Janrao. All teachers and student gave an over whelming response to the workshop.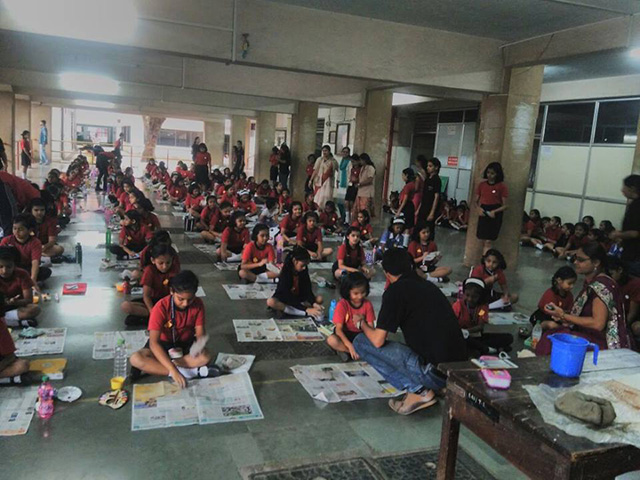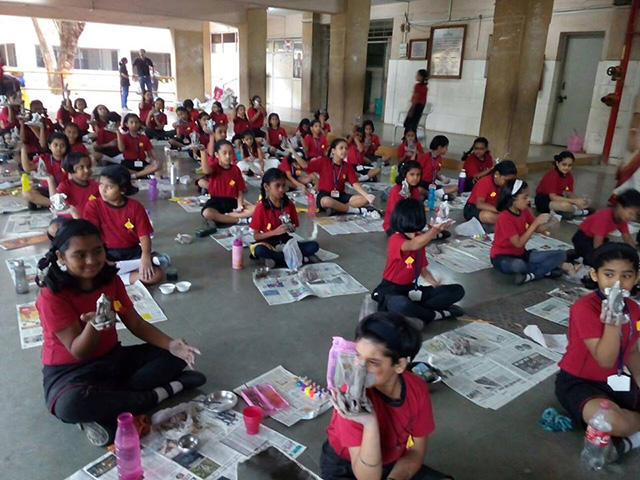 Innovative Rakshabandhan celebration
18th August 2016
Huzurpaga English Medium Primary Section students celebrated Rakshabandhan on 18th August 2016 in a very unique manner by tying rakhis to Army Personals and Jawans at the Southern Command Campus, Pune. Our 60 students of Std. V and VI and 10 teachers had participated in the activity of appreciating our country's soldiers in Pune. All the students had made greeting cards for the Jawans and it was a great pleasure for us to be a part of this noble cause.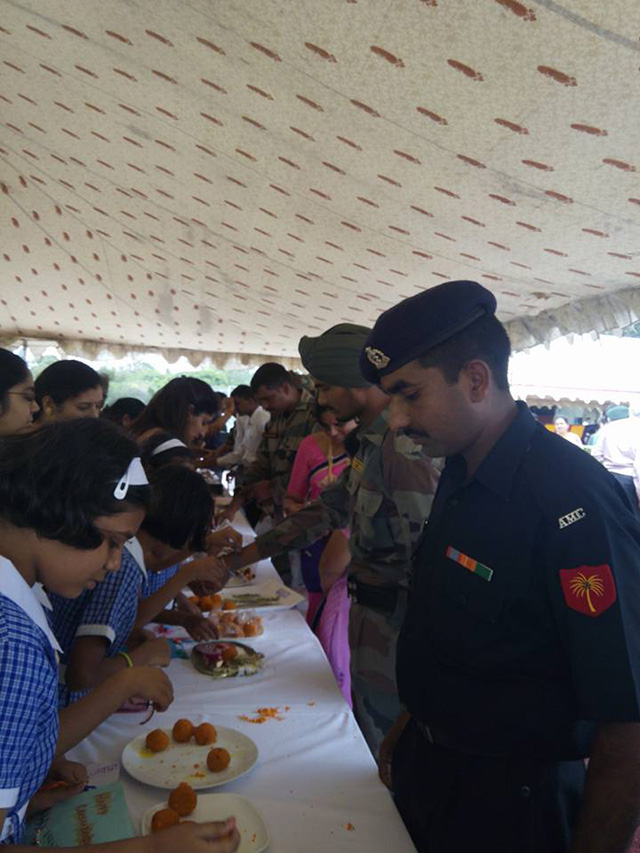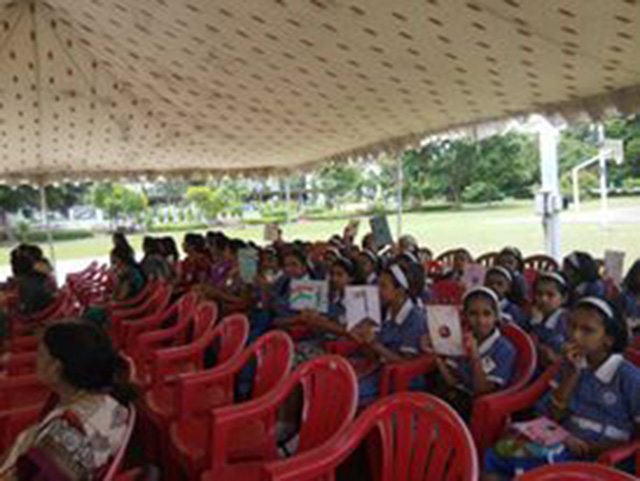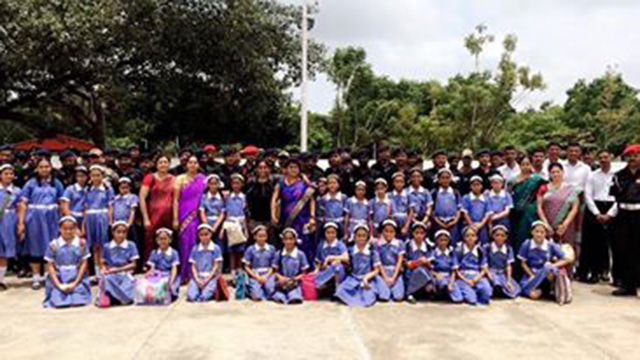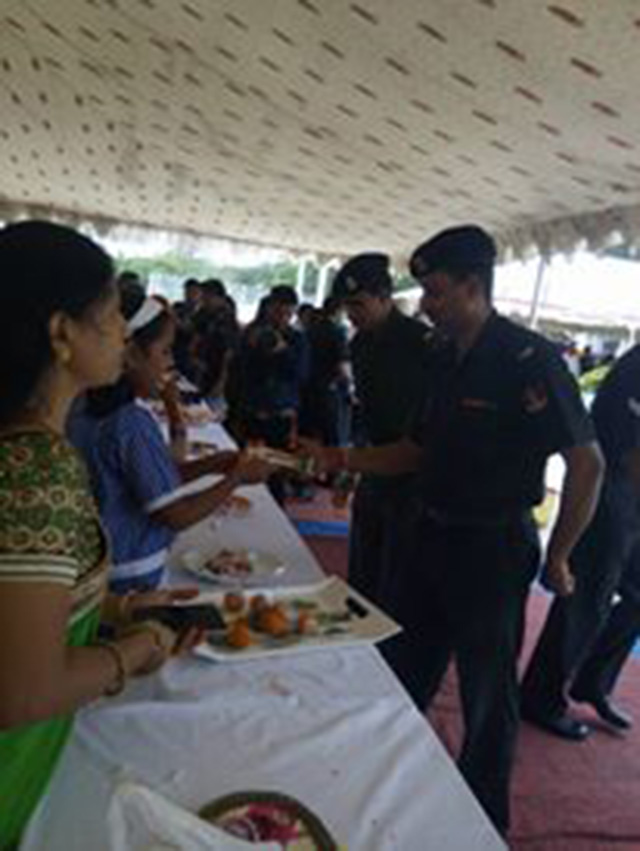 Independence Day
15th August 2016
Independence Day was celebrated with great enthusiasm on 15th August 2016 in our school. The founder and Managing Director of Digital Task Force and Cyber Crime Helpline, Mr. Rohan Nyayadhish was the Chief Guest for the event. The school choir presented patriotic songs like 'We shall overcome' and 'Aao Bachcho tumhe dikhaye' under the guidance of Music teacher, Mrs. Bharti Khandelwal. A fusion patriotic dance was performed by the students of class 5 under the guidance of Dance teacher, Miss Wagvilasnee Tare .
Rohan Nyayadhish exhorted the students about being alert while using the Internet as cyber crime is increasing day by day. The Principal of the school, Mrs. Asmita Janrao guided all the students. Miss Madhuri Dave gave the vote of thanks.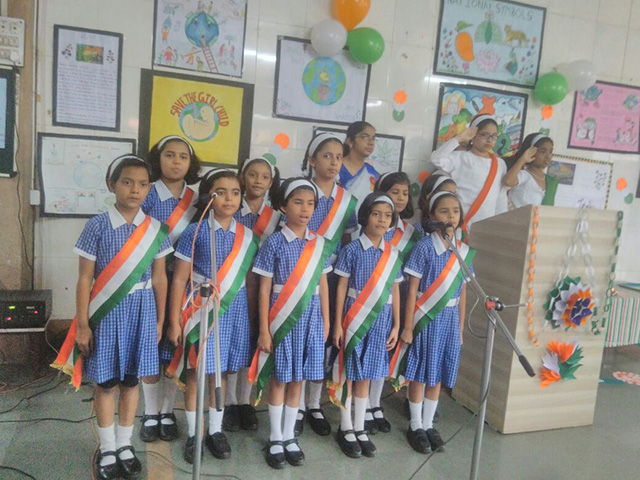 Creative & Innovative Games
Sports and games play a vital role in childhood. Creativity in games enhances our brain's capacity in many ways. It boosts our logic and reasoning ability. In some instances it develops our emotional & social quotient. To add to our merry, creative & innovative games are very good and essential stress busters (LOL).There was a demonstration of many games like those with magnet, sound and vocal cord. The most enjoyed game was the activity wherein a small metal snake danced at the bottom of the top having magnet at its rotating tip. GOSH!! Science and fun together!! Amazing…simply amazing.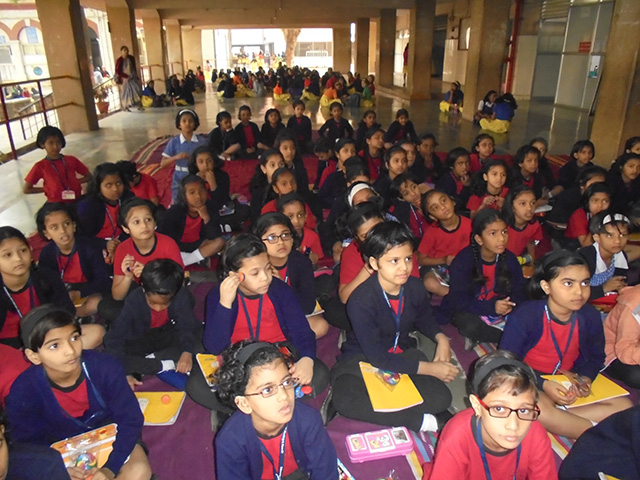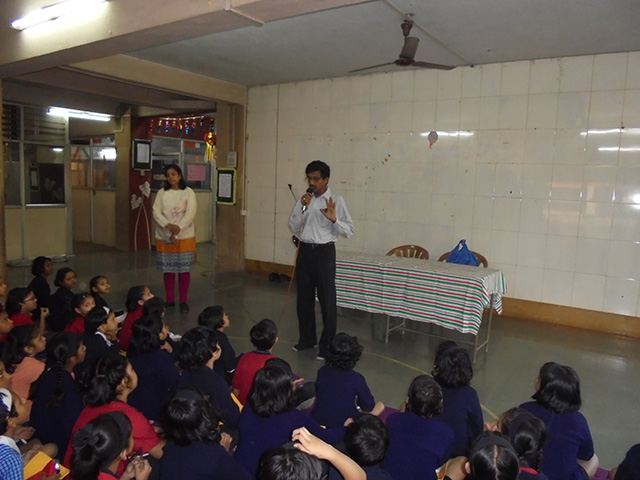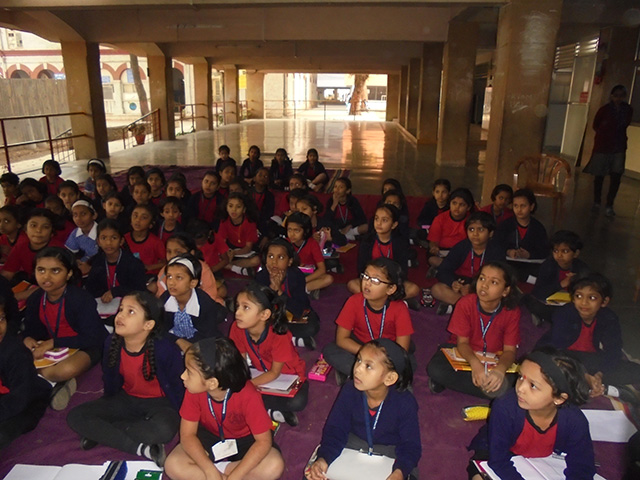 Happy Thoughts
Our school had arranged 'Parenting Seminar' through Wisdom Solutions powered by 'Happy Thoughts' for the parents of std IV, V and VI. The trainer of the program was Ms. Shaheen Sayad. She discussed about different types of parents and children and how to deal with them. The important point discussed was that parents should be democratic and they should appreciate their children. This session was very informative which will help parents in bringing up their little angles.
Mother-Daughter Relationship Workshop
There is a great value in mother - daughter tie because both care for one another and share strong investment in the family. Dr. Smita Lal addressed to Mother Parents about this relationship and the health problems of girls. She had cleared doubts asked by parents. Dr. Smita Lal guided the parents about problems related to poverty in growing girls. Dr. Smita Lal also stressed of having a healthy balanced diet for over growing girls.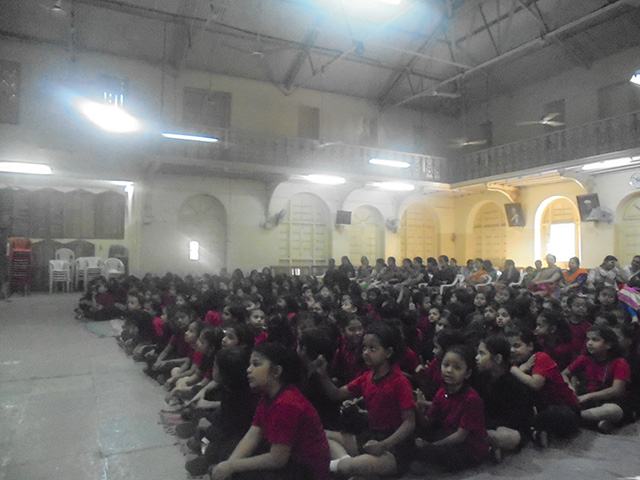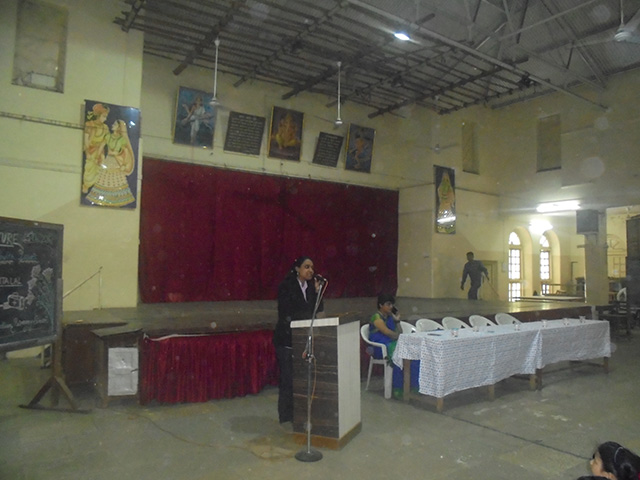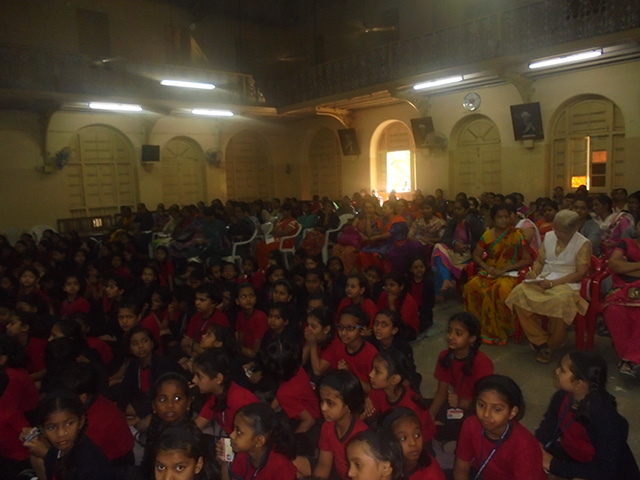 Picnic
Picnic is the most important and enjoyable moments for children and teachers in the full academic year. Our Std I to Std VI students went to 'Hidden Oasis' agri-tourism resort for picnic. Students enjoyed various activities like Magic show, Bullock cart ride, Tractor ride, Rain dance & free play and the delicious food.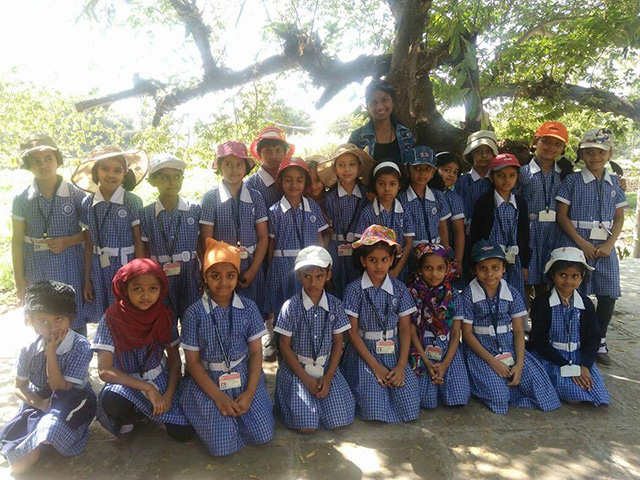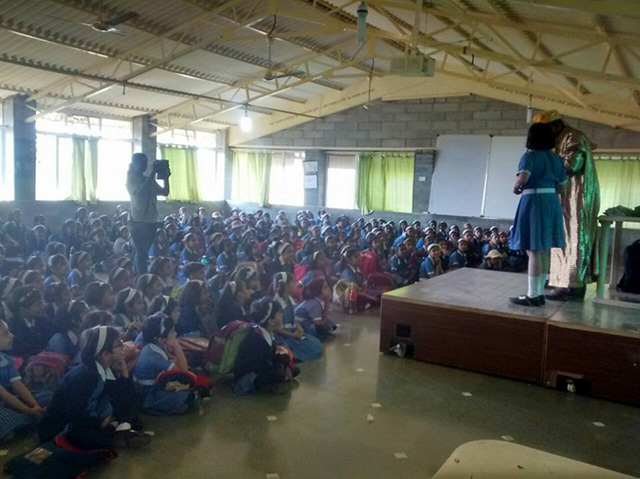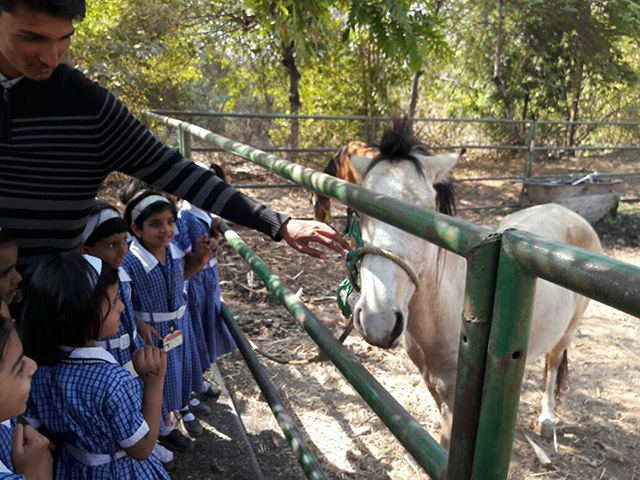 Sports Week
Healthy mind can be found only in a Healthy body. For healthy body physical exercise is an essential activity. In school days playing games is the one of the source of physical exercise. The aim of education is to achieve all round development of a personality.
Our school conducted sports activities for this purpose. Huzurpaga English Medium Primary School Laxmi road celebrated Sports Week with great enthusiasm.
Sports week activities were conducted as follows:
Std.1st and 2nd - Book Balance, Throw ball
Std.3rd and 4th - Frog Jump, One leg hopping
Std.5th and 6th - Sack race, Skipping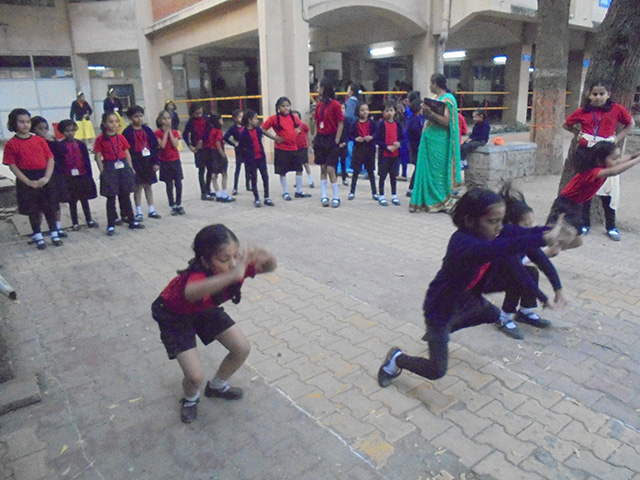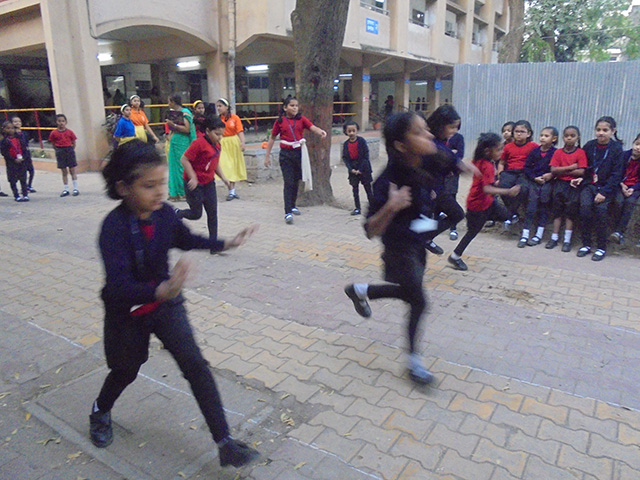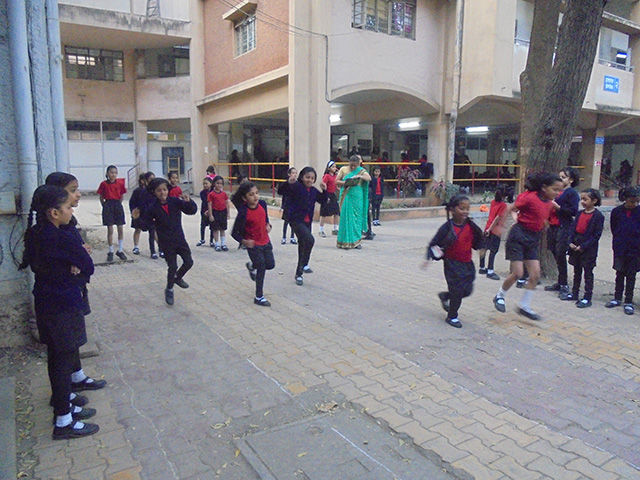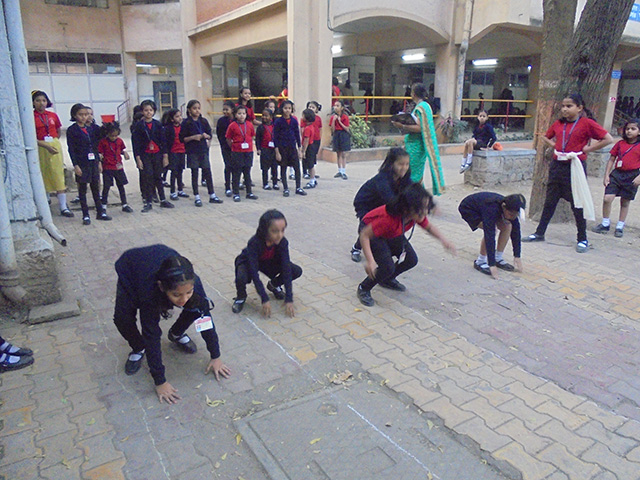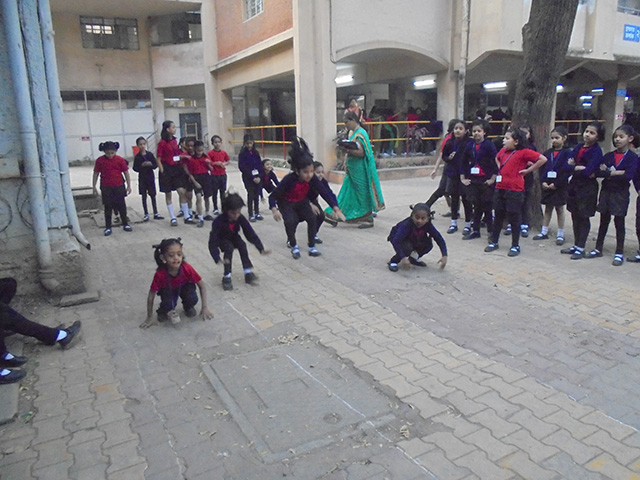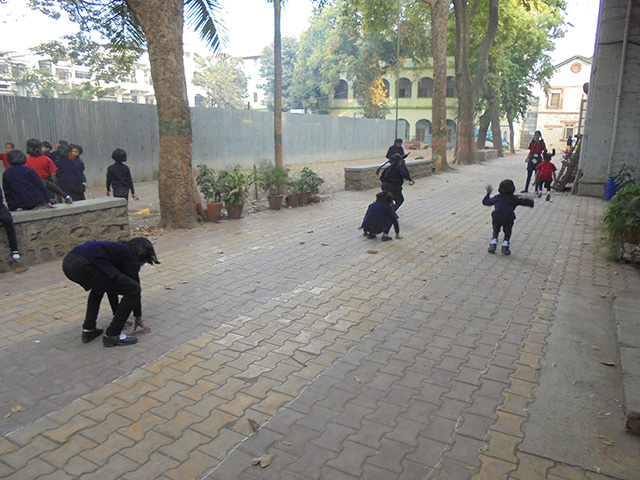 National Sports Day Celebration in Huzurpaga.
National Sports Day that is Birthday of Major Dhyanchand was celebrated in Huzurpaga English Medium Primary School Laxmi Road with great enthusiasm. The girls were given lecture by their Principal Mrs. Asmita Janrao about Major Dhyan Chand who was an Indian field hockey player, considered as one the greatest field hockey player of all time. He was known for his extraordinary goal-scoring feats, in addition to earning three Olympic gold medals (1928, 1932, and 1936) in field hockey, during an era where India was the most dominant team in Hockey. He was known as "The Wizard" for his superb ball control, Chand had played his final international match in 1948, having scored more than 400 goals during his international career. The Government of India had awarded him the third highest (then second highest) civilian honour of Padma Bhushan in 1956. All this information was given to the students with help of PowerPoint presentation.
An Aerobics display performed by the girls of Std IIIC was shown to the girls to make them aware about the importance of sports & exercise to keep themselves fit in their life. This Aerobics display was set up by the PT teacher Mrs. Nanda Pawar. The whole programme was conducted efficiently under the able guidance of their Principal Asmita Janrao.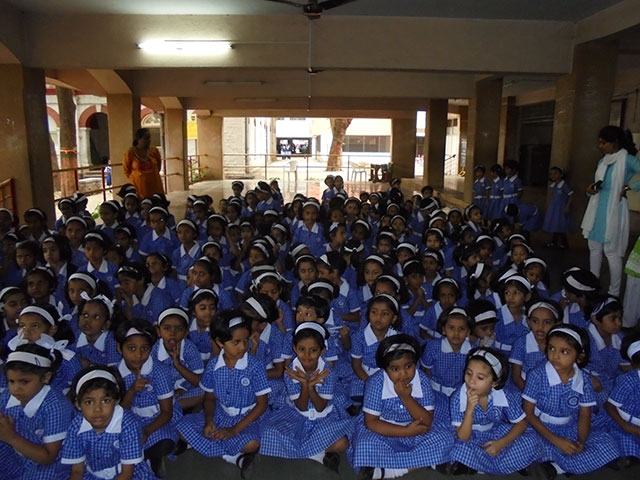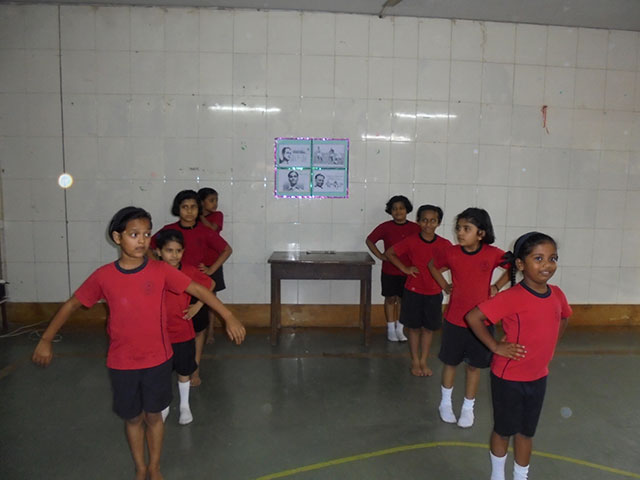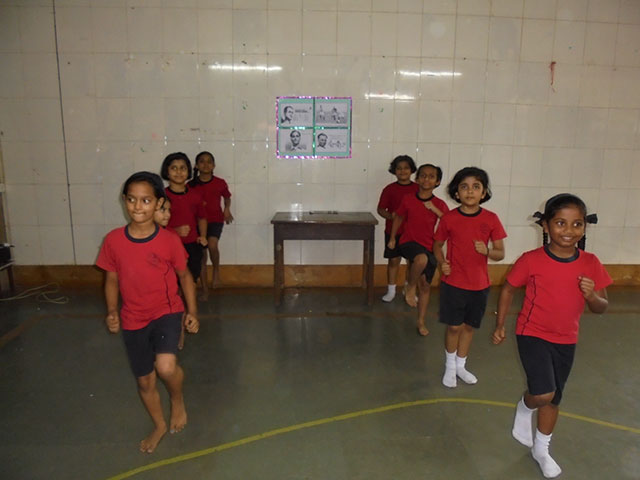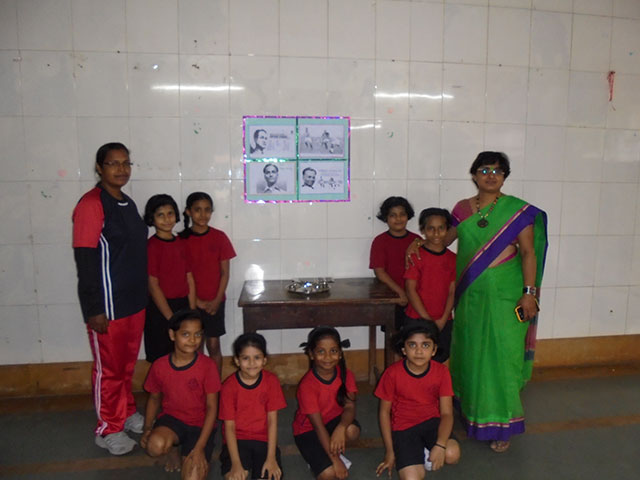 Kargil Vijay Diwas
26th July 2016 is the 16th anniversary of Kargil Vijay Diwas. On this occasion, Huzurpaga English Medium Primary School students observed one minute silence for our National heroes who had lost their life during Kargil war. Candles were lit by our students and honorable Principal Mrs. Asmita Janrao to pay homage to our brave heroes. A patriotic song "Our India is the best" was sung by our school choir and music teacher Bharti Khandelwal as a tribute to all the martyrs.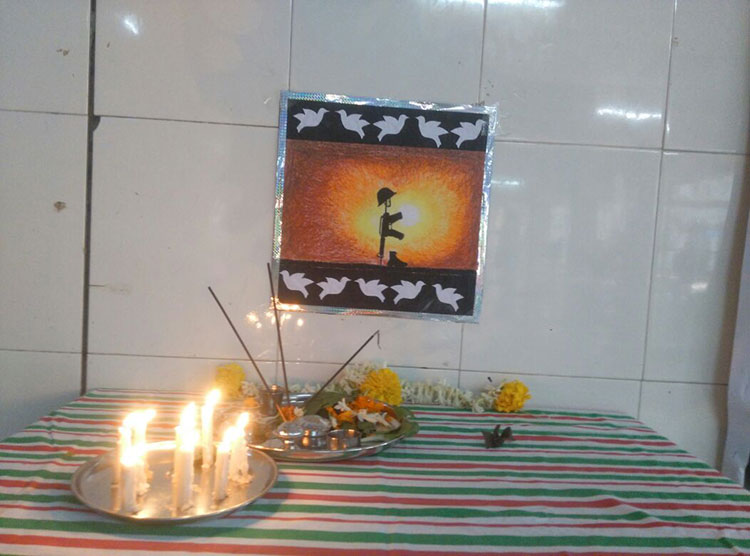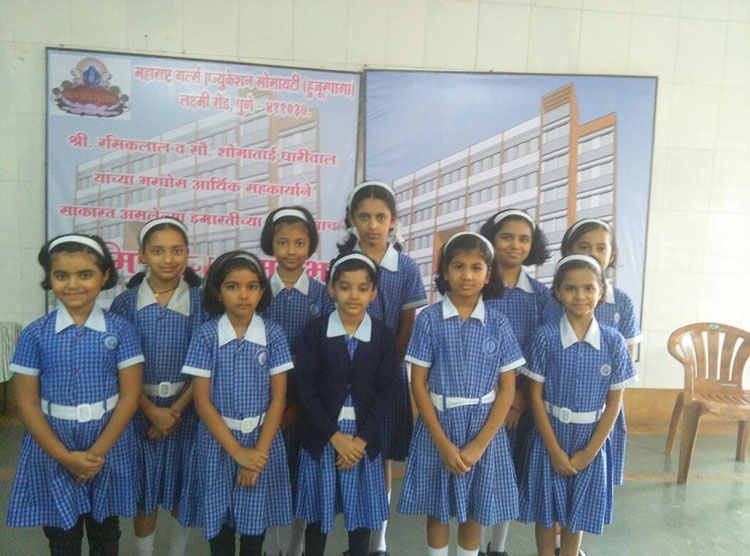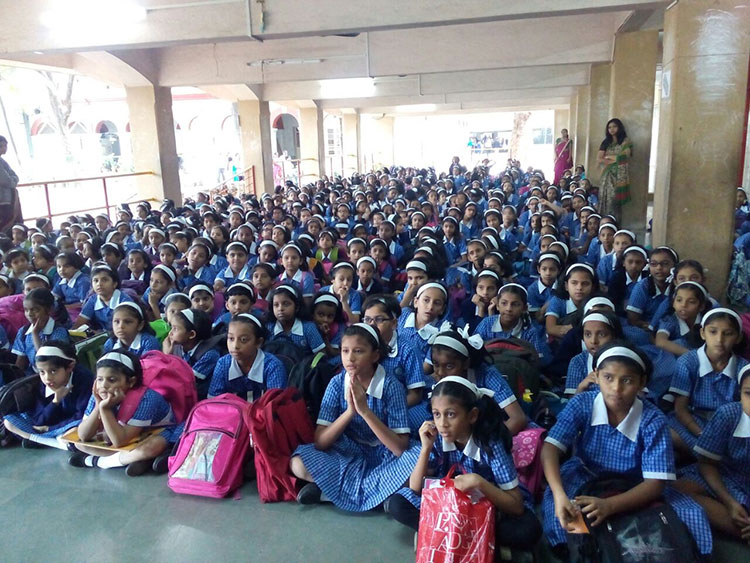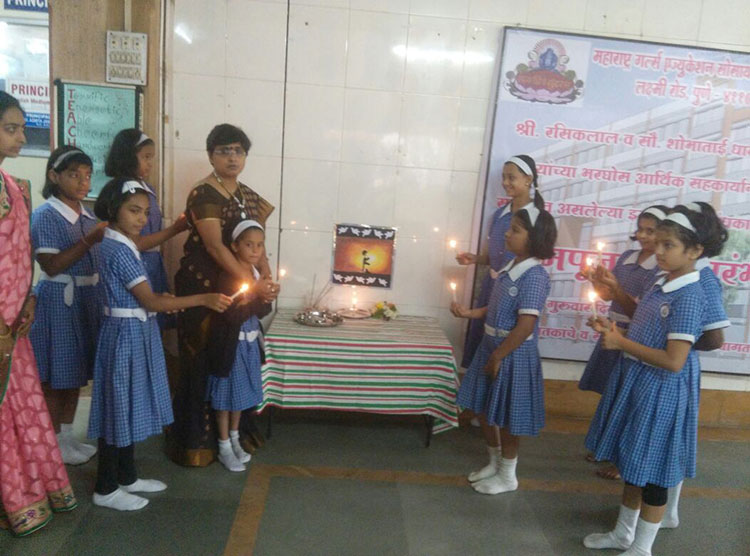 Nagpanchami Celebration in Huzurpaga.
Nag Panchami is a traditional worship of snakes or serpents observed by Hindus throughout India .The worship is offered on the fifth day of bright half of Lunar month of Shravan (July/August), according to the Hindu calendar. In Huzurpaga English Medium Primary School, Laxmi Road, Nagpanchami was celebrated. The students made house of snakes known as "Varul" and worshipped the snakes. This activity was carried so that these rituals which are followed in our Indian culture, children become aware of it and can perform them to save snakes. A PowerPoint presentation made by Computer teacher, Priyanka Paldhikar was shown to the children which gave them knowledge about types of snakes and Friends of snake. The activity was carried out under the guidance of their Principal Mrs. Asmita Janrao.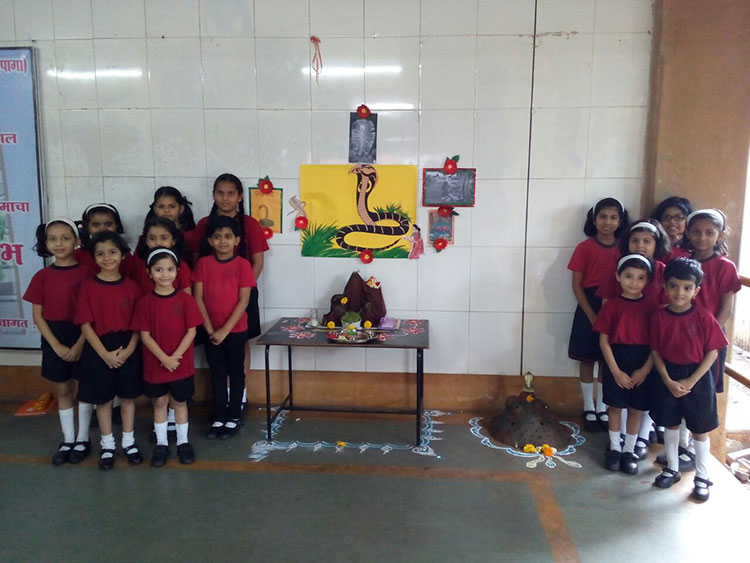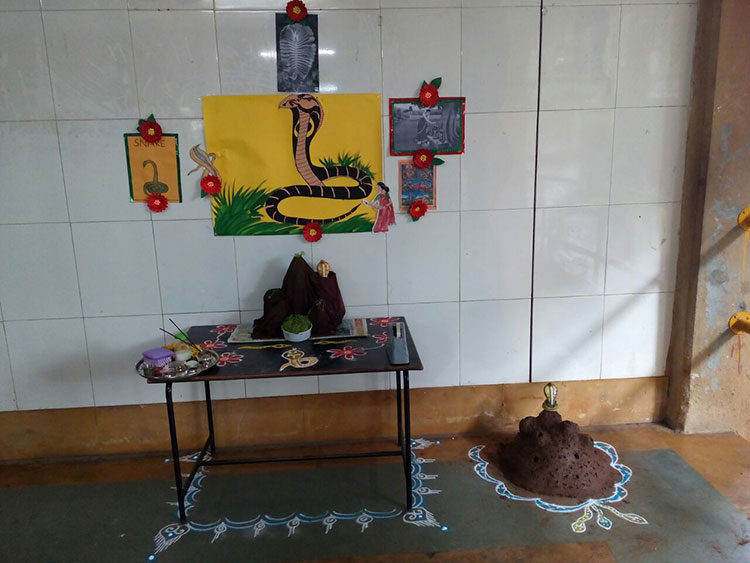 Yummy Ice-Cream Activity
Ice-Cream is something which people of all age group enjoy eating Student of std. V A and B made a drawing of their own imagination of Ice-Cream coloured it with their favorite colours and made cut-out of the same. From this colourful activity, we can observe the great imagination power of the students. All the students were very excited to show their cut-outs to the teacher and their friends.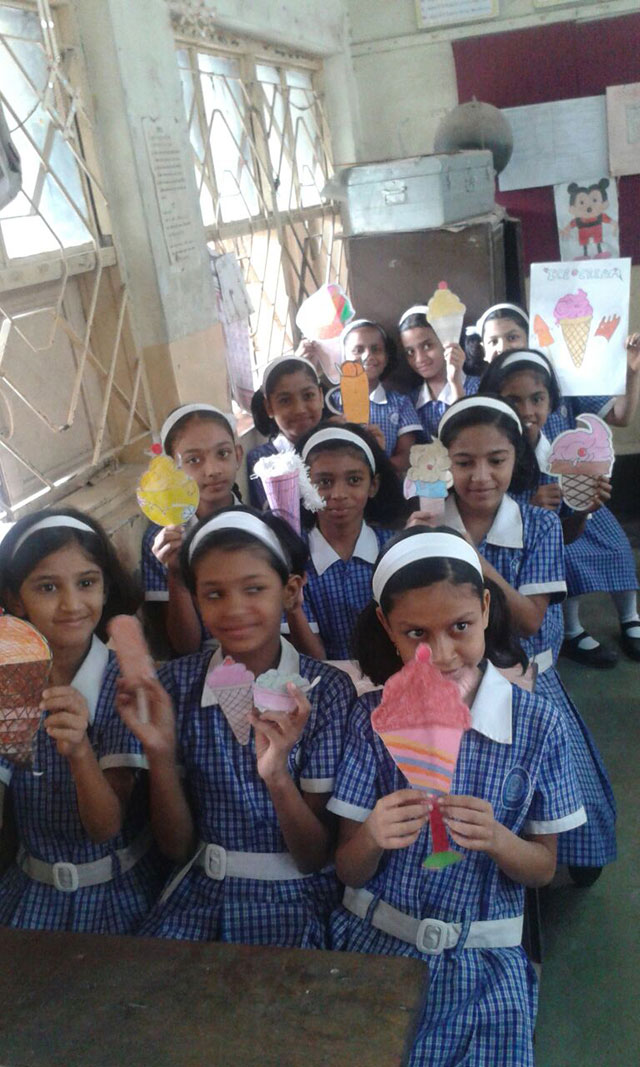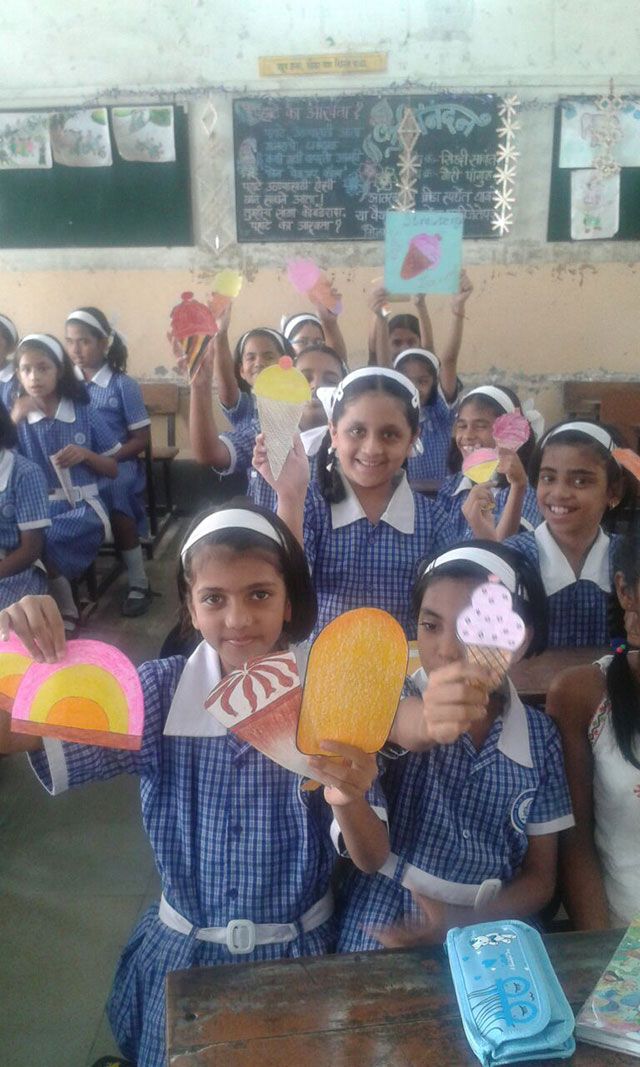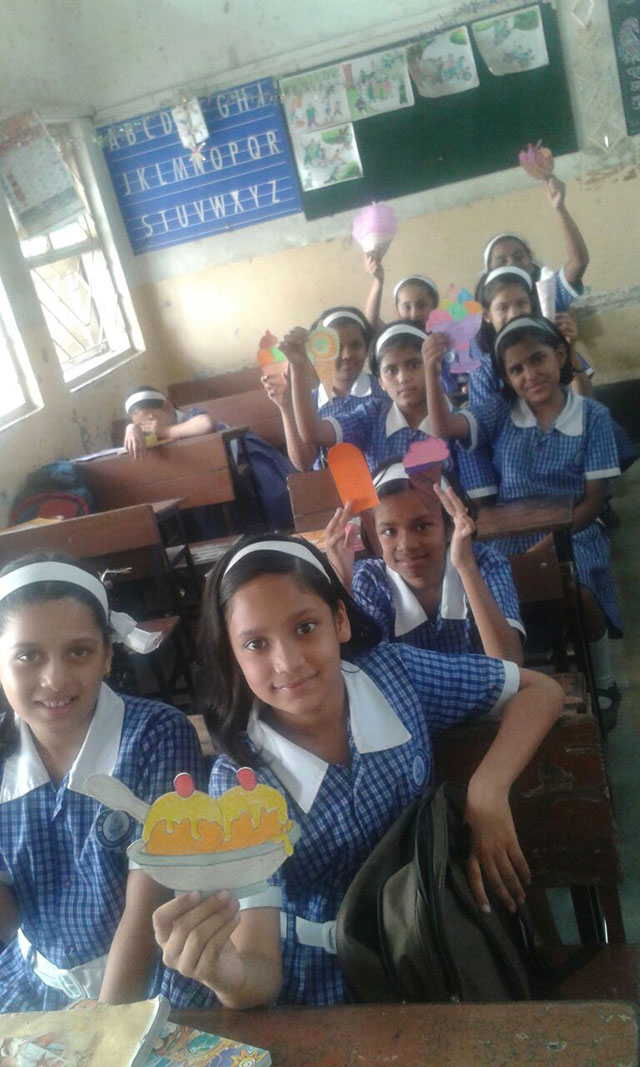 Chatpata Bhel Making Activity
Rainy season is a season in which we relish eating chatpata things like Bhel, chaat and Panipuri. An activity was arranged for the student of Std V A and B to give first-hand experience of making Bhel. Students brought all ingredients and other required material for making 'Bhel' this activity was related to the lesson "Khichdi". This activity gave the girls the experience of making food item themselves and sharing with their Friends.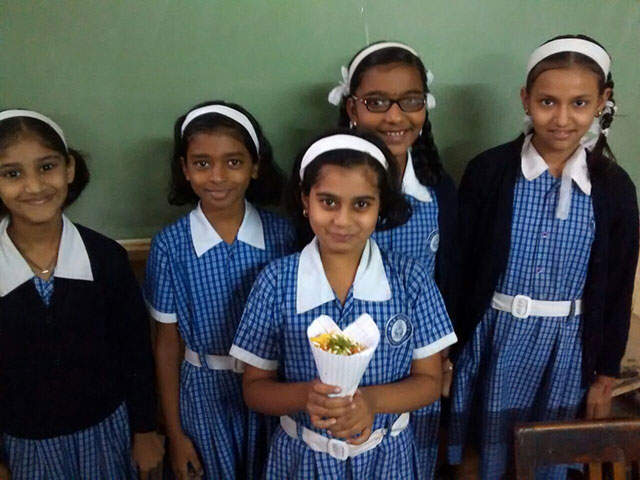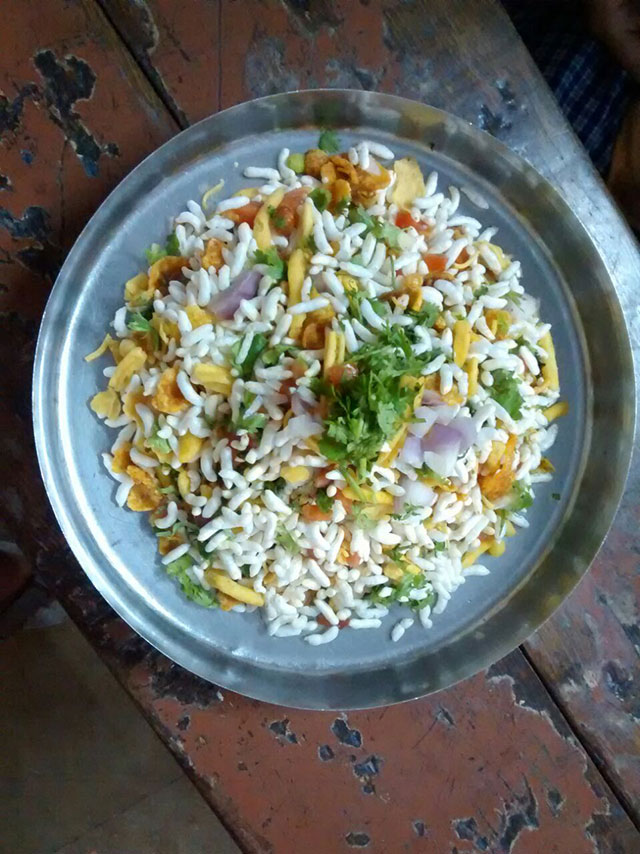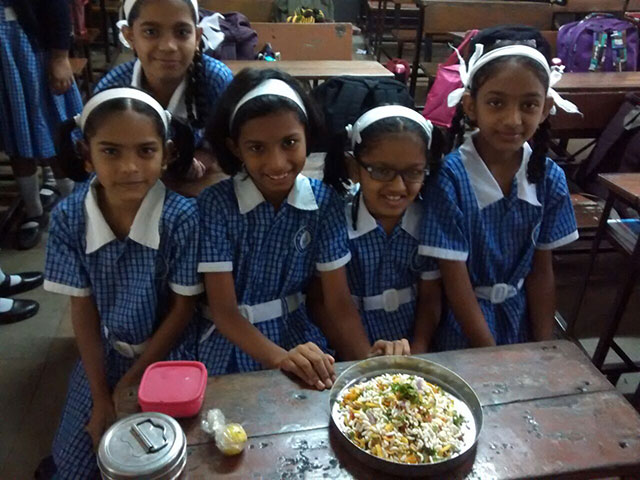 Palkhi Celebration
13 July 2016
Huzurpaga English Medium Primary School Celebrated "Ashadi Ekadashi" With full enthusiasm on 13th July 2016.The celebration started with Paduka Pujan by our Honorable Principal Mrs. Asmita Janrao. Melodious songs and energetic dance performance made the whole atmosphere cheerful. After the mesmerizing performances, the students enjoyed the Palkhi procession and sweets. The motive behind the celebration was to inculcate moral values of rich Indian culture.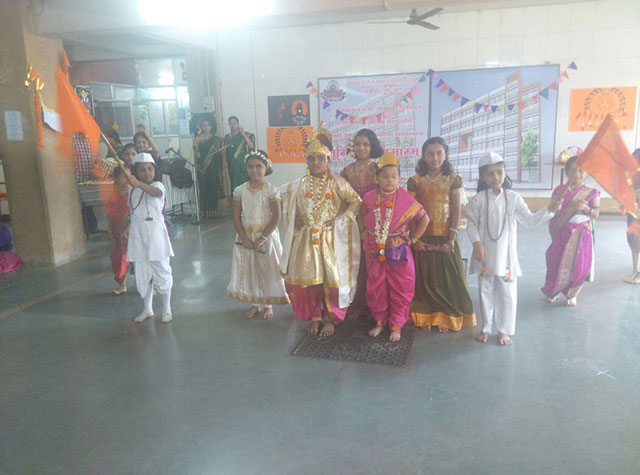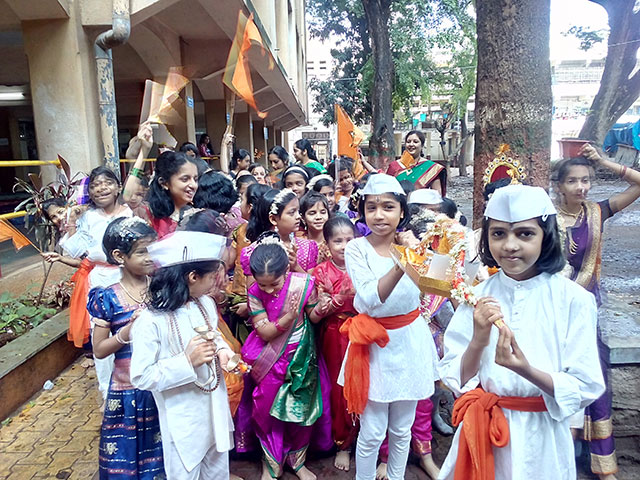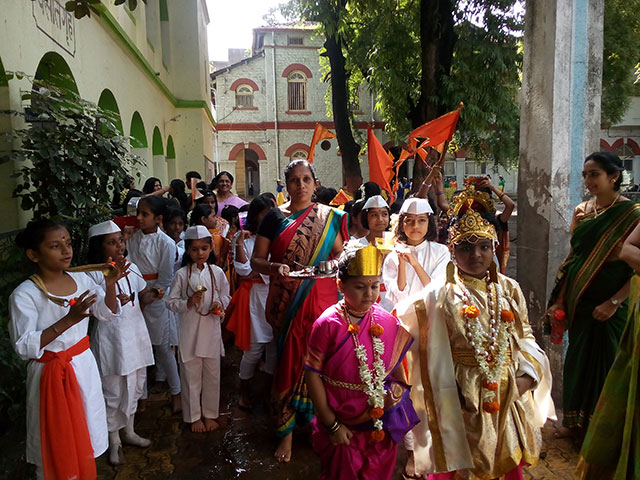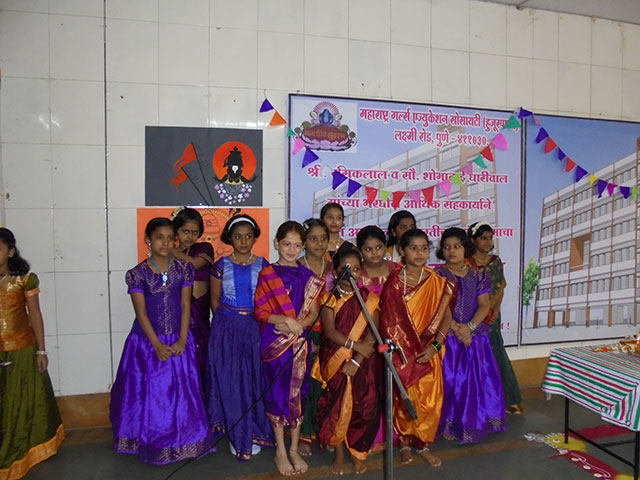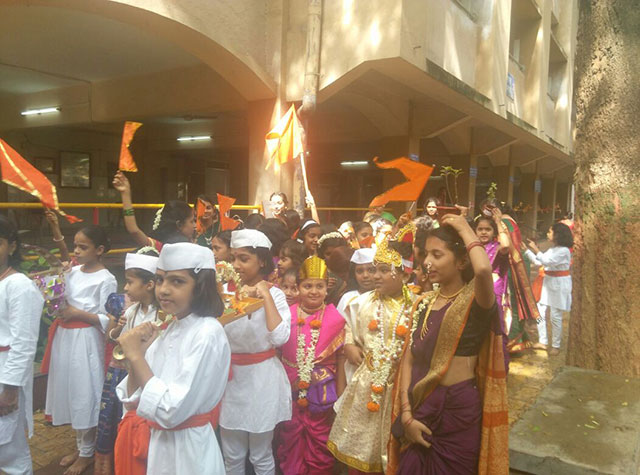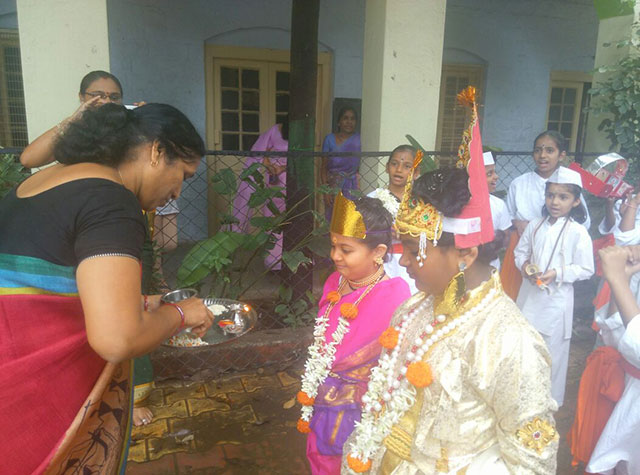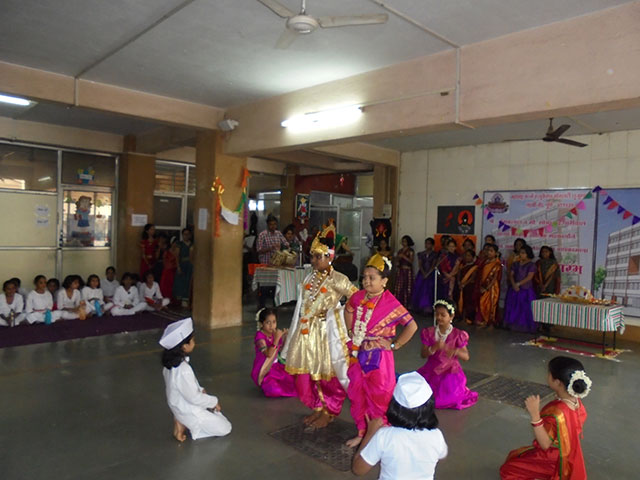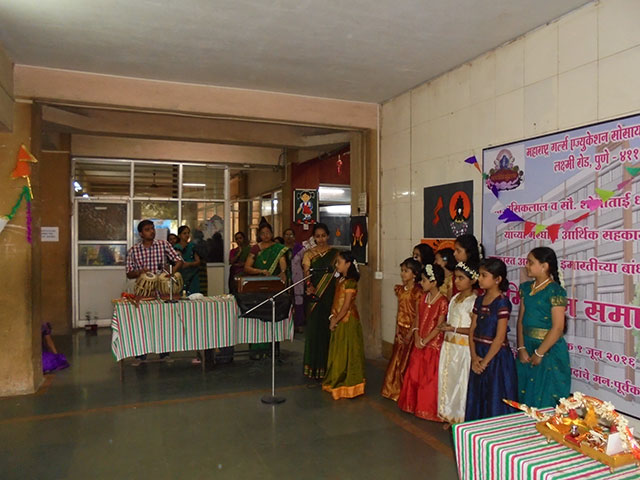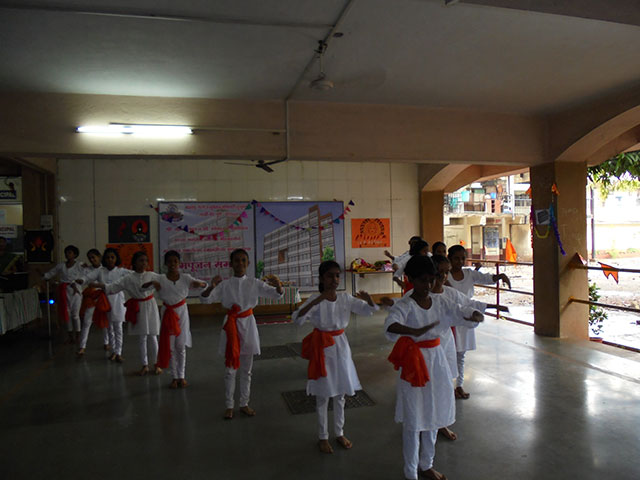 International Yoga Day Celebration in Huzurpaga
21 June 2016
On 21st June 2016, Huzurpaga English Medium Primary School Laxmi Road celebrated International Yoga Day. Yoga is an invaluable gift of India's ancient tradition. It embodies unity of mind and body, thought and action. Girls of Huzurpaga performed various Yogasans like Tadasan, Vruikshasana rdh-machhindrasan Pachhimatansan and VIR-Bhadrasan. Pt Teacher Miss. Komal Pathare guided the girls' in there yogasans. Girls were enlightened. by their Principal Mrs. Asmita Janrao. Who told the importance of healthy body and healthy mind and how Yoga removes the toxins from our body and keeps us healthy.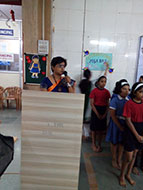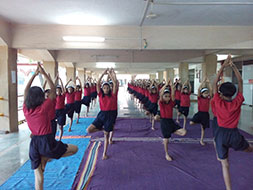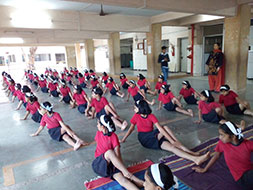 Huzurpaga celebrates World Music Day
21 June 2016
Music is the universal language of all of the mankind. It has no boundaries. Music is Life. That's why our hearts have heart beats. Huzurpaga English Medium Primary School, Laxmi Road celebrated World Music Day by organizing musical program for the students of the Primary section. The choir group presented the songs 'Tu Buddhi de, Tu tej de' and an English song 'Though we are many, we are one'. These two songs were very inspirational because each song had a message for the girls. This choir group on the pleasant morning created a musical environment in the school campus and proved that 'Music speaks what cannot be expressed, soothes our mind and gives it rest heals our heart and makes it whole. This choir group was trained by the music teacher Mrs. Bharati Khandelwal. This program was conducted efficiently under the able guidance of the Principal, Mrs. Asmita Janrao.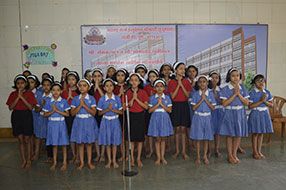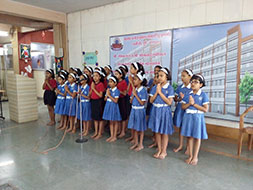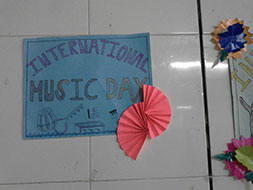 Orientation Meeting at Huzurpaga
18 June 2016
The first Parent Teacher Meeting of Huzurpaga Primary School wad held on 18th June 2016. This meeting was organized to elect class wise PTA members to later form Parent Teacher Executive Committee. The main agenda of this meeting was to establish a positive and constructive link between the parent and the school. The Principal Mrs. Asmita Janrao addressed all the Parents of STD I to VI together. The points discussed in the meeting were CCE. Pattern of CBSE, rules and regulations regarding fees, cleanliness and discipline. Parents were explained the importance of NIE in school education. The meeting was concluded with a vote of thanks and both parents and the school pledged to work together for the enhancement of students.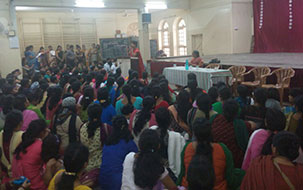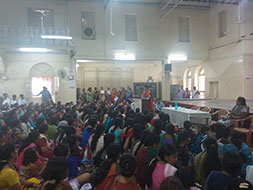 School reopens in joyous mood at Huzurpaga
15 June 2016
Huzurpaga English Medium Primary School, Laxmi Road on reopening day 15 June 2016 welcomed the children very warmly. A special assembly was conducted by the teachers in order to welcome their girls after a long and rejuvenating summer break. The assembly began with Saraswati Puja followed by prayer song. The prayer song sung by students and teachers together accelerated the atmosphere. The President of Huzurpaga English medium Primary School Committee, Smt. Usha Wagh & Secretary Huzurpaga English medium Primary School Committee, and Smt. Neelima Lokare was especially present to motivate the girls for a happy, prosperous and successful year. The Principal Mrs. Asmita Janrao urged the students to keep their classrooms and campus clean and tidy. The assembly was concluded by National Anthem.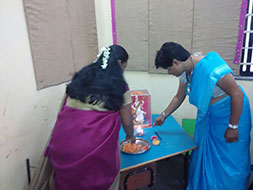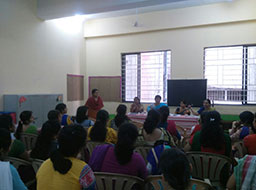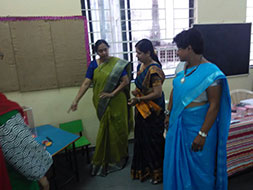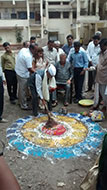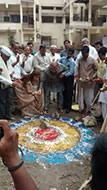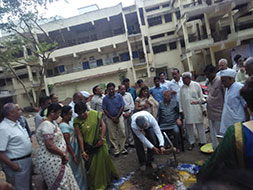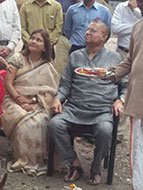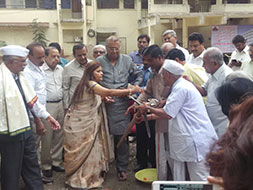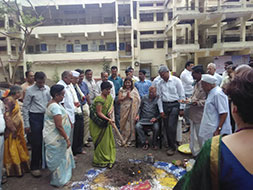 ---
Science exhibition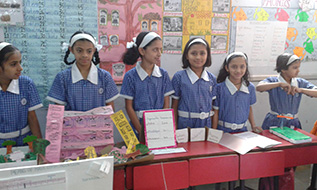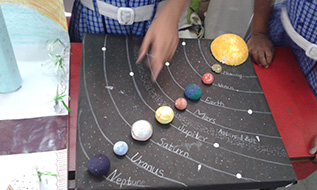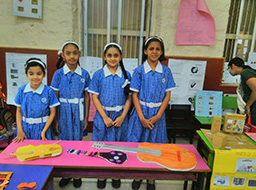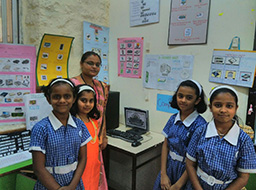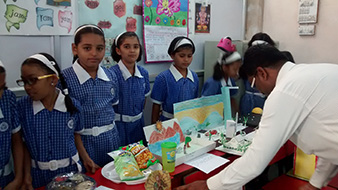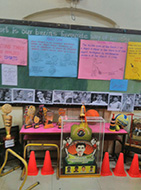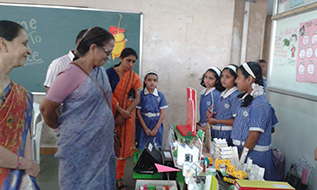 School activities